In late June, while most eyes were focused on the 2019 World Series of Poker (WSOP), the $10,000 buy-in MILLIONS Vegas at Aria attracted 536 entrants. It took four days of play for Tom Marchese to emerge victorious for $1,000,000, and one of the players he had to contend with was 888poker Ambassador Ana Marquez, who finished in third place for a career-best $445,000.
It was the continuation of an excellent summer for the Spanish pro after she finished 10th in the 2019 WSOP Event #19: $1,500 Millionaire Maker for $95,720 and 31st in the $1,000 WSOP Ladies Championship for $3,940.
Here's a look at Marquez's run in the tournament.
Surviving a Cooler
It wasn't all smooth sailing for Marquez. In Level 4 (400/800/800) on Day 1b of the tournament, she got involved in a big hand with 2016 Big One for One Drop champ Anson Tsang. It happened when Tsang raised under the gun only to have Marquez three-bet to 9,000.
Tsang pushed back with a four-bet to 28,000, and Marquez five-bet jammed all-in. Tsang called off for 95,300 holding the A♠A♦, which was ahead of Marquez's K♣K♦. The board ran out 5♣5♦4♣9♠Q♠, and Tsang doubled through.
Despite that road bump, Marquez went on to bag 172,000 at the end of the night.
Marquez's Turn for Pocket Rockets
On Day 2, Marquez got involved early when, in Level 12 (1,500/3,500/3,500), she three-bet an open from Ekrem Sanioglu. Damian Salas called, Sanioglu four-bet to 102,500, and Marquez five-bet jammed. Salas folded, and Sanioglu called.
Sanioglu: Q♥Q♠
Marquez: A♣A♥
This time it was Marquez waking up with the aces, and she chipped up to over 630,000 after the board ran out 3♦6♥8♥K♠J♥. At the end of the night, she was one of 83 survivors, and a stack of 1.099 million put her in a good position to make the money.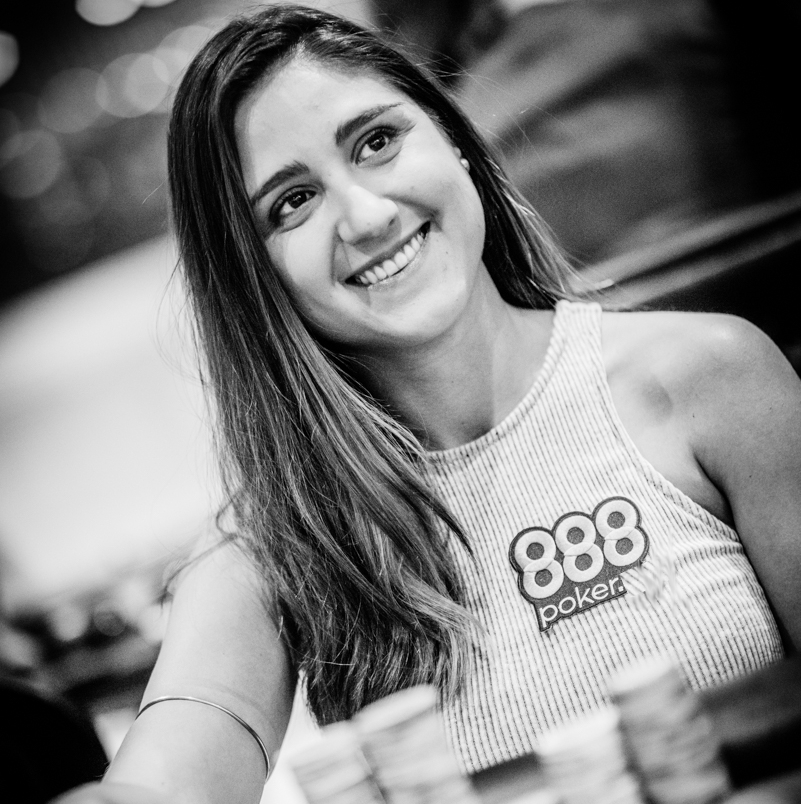 Marquez Ends the Night with a Double Elimination
Marquez not only made the money but made a deep run into it. With 15 players remaining in Level 28 (30,000/60,000/60,000), Josip Simunic jammed for 400,000, and Jeremy Pekarek moved all in over the top for 950,000 next to act. Marquez then four-bet all in for over 2 million and the rest of the players folded.
Simunic: A♦K♣
Pekarek: A♠Q♦
Marquez: K♠K♦
Marquez had both players beat, and she held after the board ran out a safe 10♥9♥5♠9♦7♣.
After Day 3 just 13 players remained including 2003 WSOP champ Chris Moneymaker, Sergio Aido, Freddy Deeb, Rainer Kempe, and WPT champ Frank Stepuchin. Marquez sat seventh in chips with 4.085 million.
Finishing Strong
On Day 4 Marquez got off to a rocky start when she turned top two pair only to see Sergi Reixach roll over a set of fives. Reixach doubled through and dealt a blow to Marquez, who would soon double through Moneymaker with ace-jack versus queen-jack suited.
With eight players remaining, Tobias Duthweiler got his stack in with king-jack and was flipping against the pocket eights of Marquez. The snowmen held, and Duthweiler was eliminated in eighth place for $100,000.
Marquez made it all the way to three-handed play when she got her last eight big blinds all-in preflop holding king-deuce against the ace-nine of Jeremy Ausmus., Marquez failed to improve and had to settle for third place and a $445,000 payday.
Congratulations to 888poker Ambassador Ana Marquez on yet another great result in 2019!