888poker continued its 20th-anniversary festivities with a CNP888poker LIVE Madrid series in the beautiful capital city of Spain, Madrid. This time around, 888poker partnered with CNP (Circuito Nacional de Poker) to present the LIVE Madrid Festival at the luxurious Casino Gran Madrid - Torrelodones.
The series kicked off on 10 November with an Opening Event and will run through 20 November. The jewel in the crown of the series was the €1,100 buy-in 888poker LIVE Madrid 20th Anniversary Main Event.
Team888 was out in force for the celebratory Main Event, and each had their eyes set on the top prize. After two Day 1s and registration kept open on Day 2, a total of 374 entries created a prize pool of €349,241 with 39 spots paid.
20th Anniversary Main Event – Day 1A
The first flight of our €1,100 888poker Live Madrid 20th Anniversary Main Event took place on 14 November. A total of 60 entries threw their hats into the ring, with 36 emerging victorious and punching their tickets to Day 2.
None of the Team888 crew played on Day 1A. But there was a very familiar face in the crowd - 2022 888poker LIVE Barcelona champ Sandro Hauser. He made it to Day 2 but ultimately finished in 51st place, short of the money.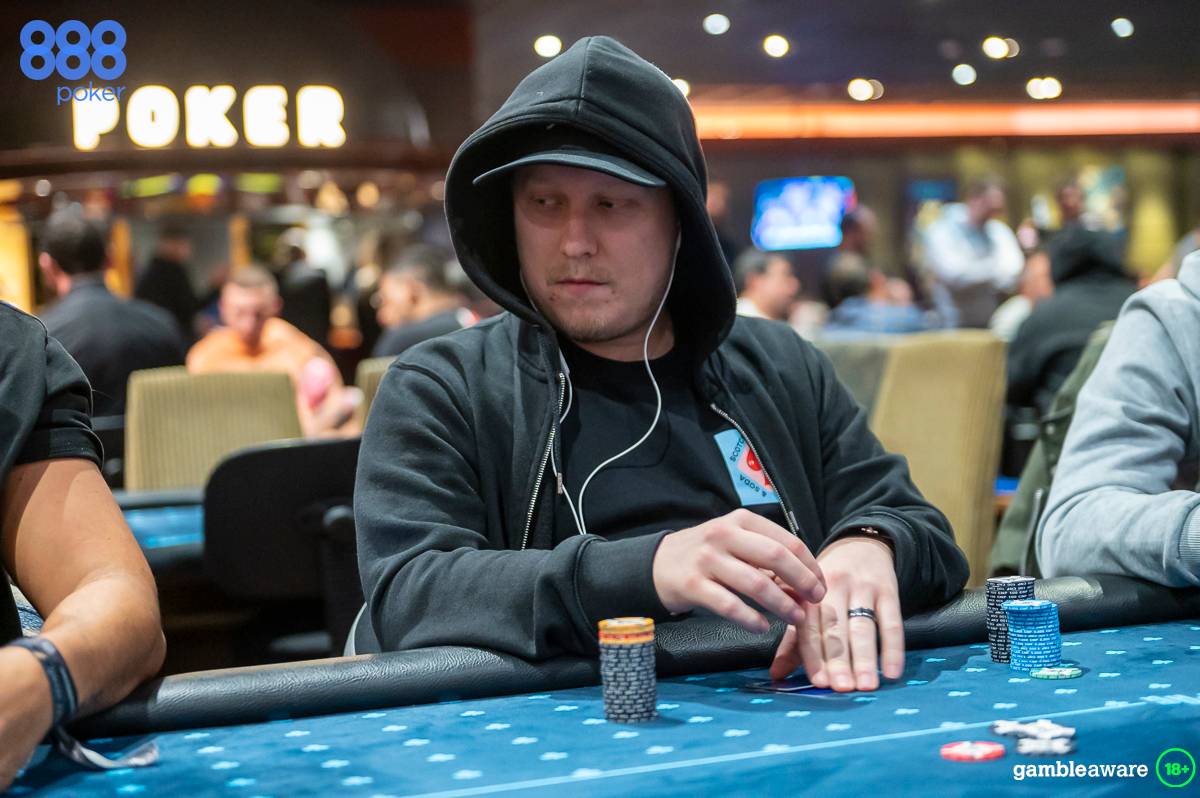 20th Anniversary Main Event – Day 1B
Day 1B proved to be the busiest of the two starting flights. A total of 204 entries recorded throughout nine levels resulted in 133 players bagging chips for Day 2.
Team888 players were out in force on Day 1B and determined to leave their mark on this event. But the latest cultural ambassador, Caue Moura, came out on top, bagging 216,500 chips.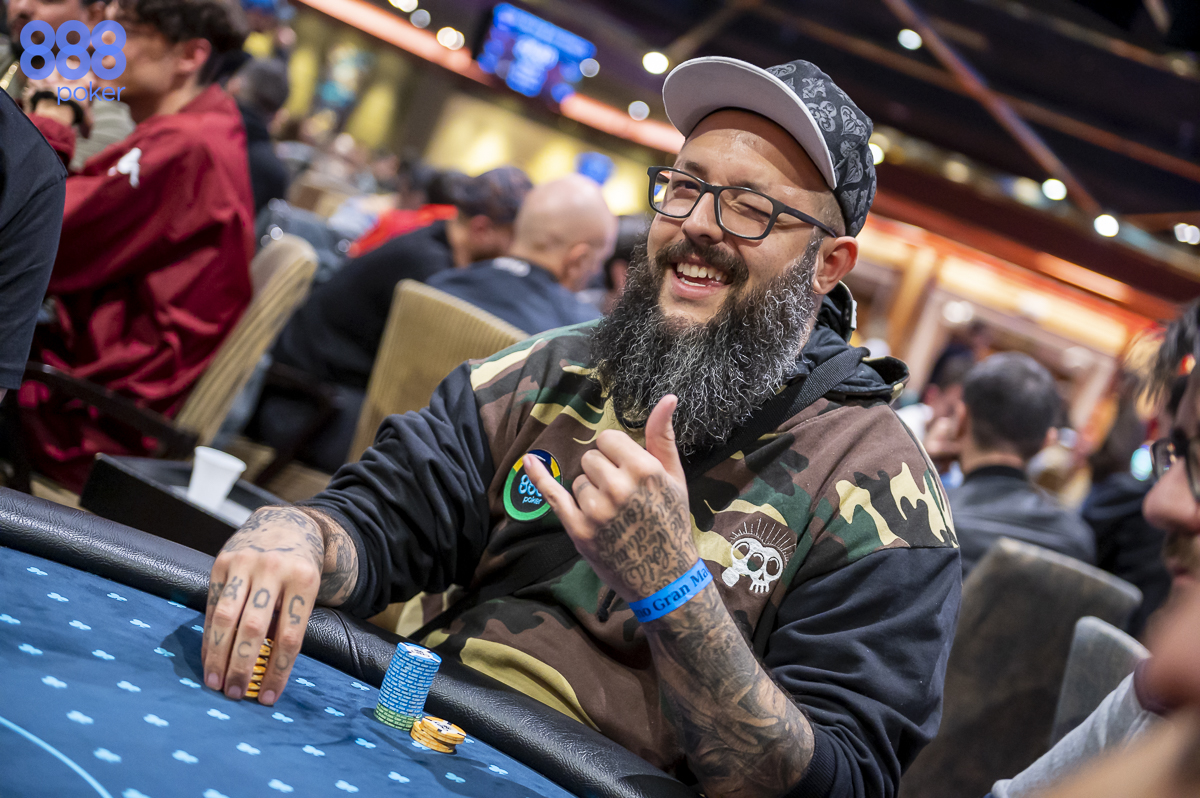 Also, bagging for the team on Day 1 B were the following 888poker ambassadors and StreamTeam members –
Chris Eubank Jr (158,000)
Jack Dean (98,500)
Alexandre Mantovani (80,500)
Ian Simpson (66,500)
Ricardo Mateus (64,500)
Josh Manley (50,500)
The ladies on the team weren't as lucky. Kara Scott, Vivian Saliba, and the newly announced member Lucia Navarro all busted out before the day was done.
Welcoming Lucia Navarro to the Team!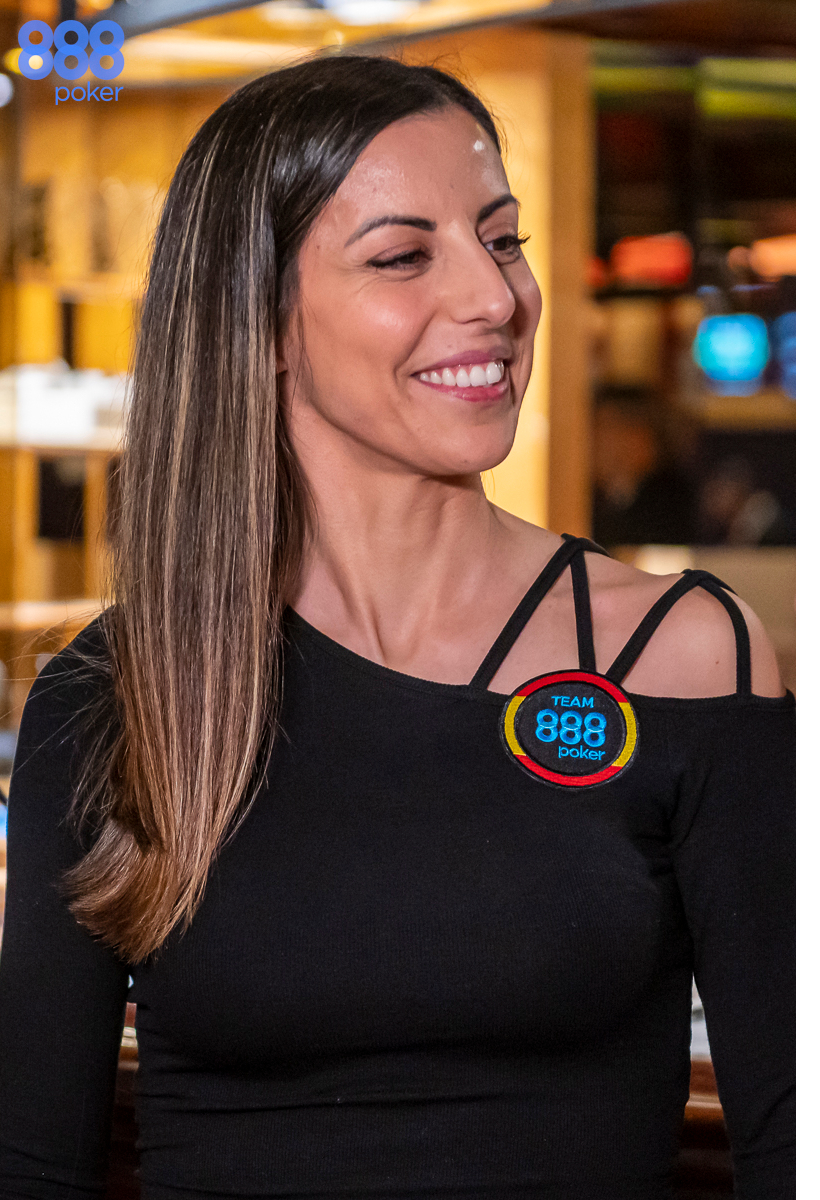 On Day 1B, we also welcomed our newest poker ambassador – Spanish pro Lucia Navarro.
Hailing from Alicante, Spain, Lucia has always had a love for cards. As early as she can remember, her family said she was always chasing anyone down to play a game of cards.
Card playing and poker, in particular, are truly part of her DNA!
Starting primarily as a cash game player, she has had much success on the CNP888 tournament circuit. She won titles in 2014 in Valencia and then later in 2019 in her hometown of Alicante.
"With so much love for the game and an eye to making it even more player-focused, I look forward to representing 888poker with pride. Thank you for the opportunity."
20th Anniversary Main Event – Day 2
After two starting flights of the €1,100 888poker Live Madrid 20th Anniversary Edition, 169 players returned. A large contingent of Team888 returned for Day 2, including a few who rebought at the start of the day.
By the close of registration at the end of level 4, we had tallied up 374 entries and a prize pool of €349,241. Thirty-nine places would get paid, and the min-cash was €2,100.
Team888 players fought the good fight, but only Ian Simpson survived the fray to make Day 3. He ended the day on 415K chips. Alexandre "Caviloto" Mantovani put in a strong showing but was eliminated just short of the money.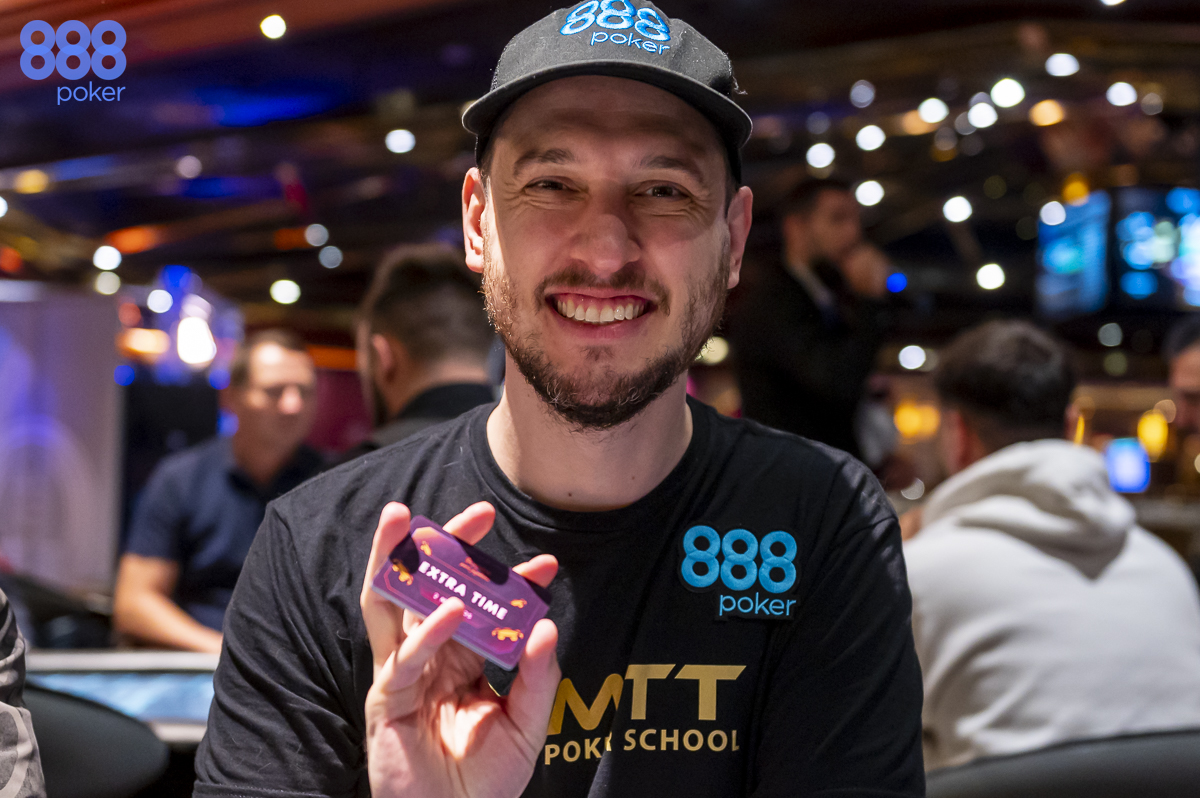 Leading the charge into Day 3 was Spanish player Sebastian Moreno. He topped the leaderboard as the bubble burst. The 39 remaining players returned the following day to play for Day 3.
20th Anniversary Main Event – Day 3
Although 39 players made it to Day 3, they were all already in the money. So, the action was fast and furious at first, with a flurry of bustouts, which included the last Team888 player standing, Ian Simpson. His AsJs lost to Sergi Miralles' AdKd but finished a respectable 26th place for €2,600.
When the final table was reached, Abel Gongora had a massive chip lead, sitting on 94BB! He had been steadily building his stack and losing very little ground, if any, in the hands he played.
It helped that the deck was stacked in his favour – particularly in this hand where he busted Paulo Castelo in third place.
Paulo raised to 550K on the button, and Abel defended from the big blind.
The flop came down KdJd9h
Abel checked, and Paulo continuation-bet for 550K.
Abel check-raised to 1.3M, and Castelo shipped for 8.8M.
Abel snap-called!
Paulo Castelo held KsQh
Abel Gongora had QdTd for the flopped nut straight with a straight flush draw.
The 7s on the turn and 6s on the river brought no relief, and Castelo was on the rail for €36,000.
Now we were heads-up, and Abel had 90% of the chips in play! In less than 30 minutes, it was over.
We had a champ!
Bernart Carreras walked away with €50,000 for his efforts, but Abel Gongora bagged the lion's share with a €70,000 payday. It's the Spaniard's largest cash in his career – so far!
20th Anniversary Main Event – Final Table Payouts
| | | | |
| --- | --- | --- | --- |
| Place | Player | Country | Prize (EUR) |
| 1st | Abel Gongora | Spain | € 70,000 |
| 2nd | Bernat Carreras | Spain | € 50,000 |
| 3rd | Paulo Castelo | Portugal | € 36,000 |
| 4th | Antonio Dascenzo | Italy | € 28,000 |
| 5th | Miguel Mora | Spain | € 22,000 |
| 6th | Jose Puente | Spain | € 17,500 |
| 7th | Palma Ferro | Spain | € 13,400 |
| 8th | Bienvenido Sanchez | Spain | € 10,000 |
| 9th | Sebastian Moreno | Spain | € 7,841 |