We're going all out this February with an entire series jam-packed with mystery bounties! For the first time ever, every tournament in the series will feature a mystery bounty.
So, you don't have to finish in-the-money to win massively in this poker series – possibly win up to $30K cash in one single knockout!
The Mystery Bounty Festival has buy-ins suitable for all player levels and bankrolls, ranging from micro to high rollers. The highlight of the event will be the affordable $160 buy-in $300K GTD Main Event, which will also be a multi-flight tournament.
The series will run from 19 February through 7 March with over $2 million in guarantees.
Mystery Bounty Festival Main Event Day 1 flights will start on 1 March and run until 6 March, culminating with Day 2 happening on 6 March. The final table will take place on 7 March and will be live-streamed on our Twitch 888pokerTV channel.
Another multi-flight tourney happening during the series is the MB Festival Event #18 –
$150,000 Mystery Bounty 8-Max. Day 1s for this tournament will run from 23 through 27 February, with the Day 2 on the 27th at 20:00 GMT.
The final table will also be streamed on our 888pokerTV Twitch channel on 28 February.
Sign up to our DISCORD server HERE to stay on top of all the news, freerolls and ticket giveaway action during the series.
How to Get Your Mystery Bounty Festival Tickets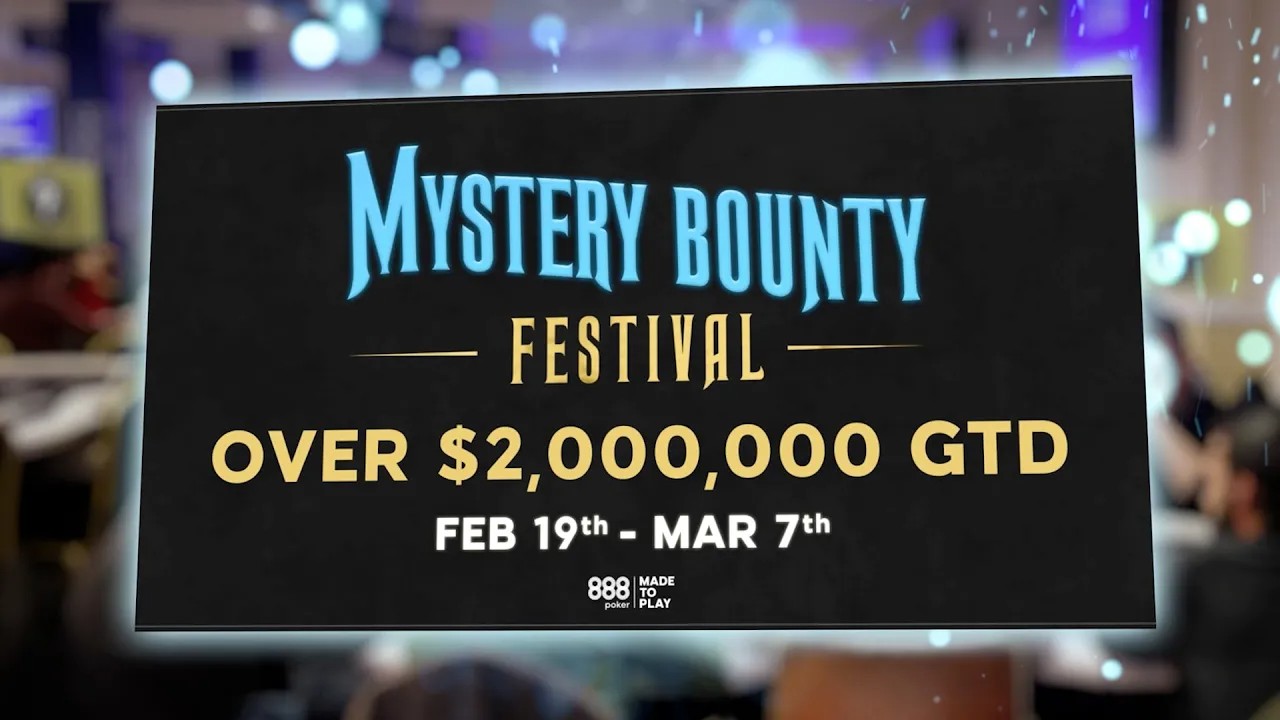 You'll be able to buy in directly to all the events along with satellites to many of the more significant tourneys. Satellites at $16.50 a pop will be available for the Main Event.
Here are three other ways to get your ticket for as little as one cent!
Play daily freerolls for a chance to play the Mystery Bounty Main Event.
Qualify via satellites to the Main Event for as little as $0.01.
Win a Main Event ticket in a Gift Drop.
We will stream the following tournaments on out 888pokerTV Twitch channel where you can also win free tickets, including coveted Main Event tickets.
20 Feb – MB Festival #03 - $120,000 Mystery Bounty Opening Final Table + Giveaways
28 Feb – MB Festival #18 - $150,000 Mystery Bounty 8-Max Final Table + Giveaways
7 Mar - MB Festival Main Event Final Table - $300,000 GTD
In addition, the StreamTeam, along with our ambassadors, will play and stream various events during the series. Make sure to follow their changes for ticket giveaways to Mystery Bounty Festival tournaments.
For full terms and conditions for this promotion, click here.
Mystery Bounty Festival Full Schedule
Check out all the mystery bounty tournaments on offer during the series:
Date

Time

(GMT)

Event

Buy-in

GTD

Sun 19.02

06:00

$1,200 MB Festival –

Early Mystery Bounty 11

$11

$1,200

11:00

$3,000 MB Festival –

Mystery Bounty 33

$33

$3,000

17:00

MB Festival #01 –

$20,000 Mystery Bounty Opening 11

$11

$20,000

18:00

$1,500 MB Festival –

Mystery Bounty 1

$1

$1,500

18:15

$5,000 MB Festival –

Mystery Bounty 8.80

$8.8

$5,000

18:30

MB Festival #02 –

$50,000 Mystery Bounty Opening 55

$55

$50,000

19:00

$8,000 MB Festival –

Sunday Mystery Bounty 5.50

$5.5

$8,000

19:00

MB Festival #03 –

$120,000 Mystery Bounty Opening 109

$109

$120,000

19:00

$25,000 MB Festival –

Sunday Mystery Bounty 22

$22

$25,000

19:30

$35,000 MB Festival –

Mystery Bounty 525

$525

$35,000

21:00

$2,000 MB Festival –

Mystery Bounty 2.20

$2.2

$2,000

21:15

$4,500 MB Festival –

Mystery Bounty 6-Max 55

$55

$4,500

22:30

$2,500 MB Festival –

Mystery Bounty Dash 16.5

$16.5

$2,500

23:30

$2,500 MB Festival –

Late Mystery Bounty Dash 33

$33

$2,500

01:00

$1,500 MB Festival –

Late Mystery Bounty 8.80

$8.8

$1,500

Mon 20.02

06:00

$1,200 MB Festival –

Early Mystery Bounty 11

$11

$1,200

11:00

$3,000 MB Festival –

Mystery Bounty 33

$33

$3,000

17:00

MB Festival #04 - $15,000

Mystery Bounty 8-Max 11

$11

$15,000

18:00

$1,500 MB Festival –

Mystery Bounty 1

$1

$1,500

18:15

$5,000 MB Festival –

Mystery Bounty 8.80

$8.8

$5,000

18:30

$15,000 MB Festival –

Mystery Bounty 55

$55

$15,000

19:00

$12,000 MB Festival –

Mystery Bounty 22

$22

$12,000

19:00

$5,000 MB Festival –

Mystery Bounty 5.50

$5.5

$5,000

19:30

MB Festival #05 –

$15,000 Mystery Bounty 8-Max 109

$109

$15,000

21:00

$2,000 MB Festival –

Mystery Bounty 2.20

$2.2

$2,000

21:15

$4,500 MB Festival –

Mystery Bounty 6-Max 55

$55

$4,500

22:30

$2,500 MB Festival –

Mystery Bounty Dash 16.5

$16.5

$2,500

23:30

$2,500 MB Festival –

Late Mystery Bounty Dash 33

$33

$2,500

01:00

$1,500 MB Festival –

Late Mystery Bounty 8.80

$8.8

$1,500

Tue 21.02

06:00

$1,200 MB Festival –

Early Mystery Bounty 11

$11

$1,200

11:00

$3,000 MB Festival –

Mystery Bounty 33

$33

$3,000

17:00

$10,000 MB Festival –

Mystery Bounty 11

$11

$10,000

18:00

$1,500 MB Festival –

Mystery Bounty 1

$1

$1,500

18:15

$5,000 MB Festival –

Mystery Bounty 8.80

$8.8

$5,000

18:30

$15,000 MB Festival –

Mystery Bounty 55

$55

$15,000

19:00

MB Festival #06 –

$15,000 Mystery Bounty Turbo Deep Mini 22

$22

$15,000

19:00

$5,000 MB Festival –

Mystery Bounty 5.50

$5.5

$5,000

19:00

MB Festival #07 –

$25,000 Mystery Bounty Turbo Deep 320

$320

$25,000

21:00

$2,000 MB Festival –

Mystery Bounty 2.20

$2.2

$2,000

21:15

$4,500 MB Festival –

Mystery Bounty 6-Max 55

$55

$4,500

22:30

$2,500 MB Festival –

Mystery Bounty Dash 16.5

$16.5

$2,500

23:30

$2,500 MB Festival –

Late Mystery Bounty Dash 33

$33

$2,500

01:00

$1,500 MB Festival –

Late Mystery Bounty 8.80

$8.8

$1,500

Wed 22.02

06:00

$1,200 MB Festival –

Early Mystery Bounty 11

$11

$1,200

11:00

$3,000 MB Festival –

Mystery Bounty 33

$33

$3,000

17:00

$10,000 MB Festival –

Mystery Bounty 11

$11

$10,000

18:00

$1,500 MB Festival –

Mystery Bounty 1

$1

$1,500

18:15

$5,000 MB Festival –

Mystery Bounty 8.80

$8.8

$5,000

18:30

$15,000 MB Festival –

Mystery Bounty 55

$55

$15,000

19:00

MB Festival #08 –

$15,000 Mystery Bounty 6-Max Mini 22

$22

$15,000

19:00

$5,000 MB Festival –

Mystery Bounty 5.50

$5.5

$5,000

19:30

MB Festival #09 –

$20,000 Mystery Bounty 6-Max 109

$109

$20,000

21:00

$2,000 MB Festival –

Mystery Bounty 2.20

$2.2

$2,000

21:15

$4,500 MB Festival –

Mystery Bounty 6-Max 55

$55

$4,500

22:30

$2,500 MB Festival –

Mystery Bounty Dash 16.5

$16.5

$2,500

23:30

$2,500 MB Festival –

Late Mystery Bounty Dash 33

$33

$2,500

01:00

$1,500 MB Festival –

Late Mystery Bounty 8.80

$8.8

$1,500

Thu 23.02

06:00

$1,200 MB Festival –

Early Mystery Bounty 11

$11

$1,200

11:00

$3,000 MB Festival –

Mystery Bounty 33

$33

$3,000

17:00

$10,000 MB Festival –

Mystery Bounty 11

$11

$10,000

18:00

$1,500 MB Festival –

Mystery Bounty 1

$1

$1,500

18:15

$5,000 MB Festival –

Mystery Bounty 8.80

$8.8

$5,000

18:30

MB Festival #10 –

$20,000 Mystery Bounty 55

$55

$20,000

19:00

$12,000 MB Festival –

Mystery Bounty 22

$22

$12,000

19:30

MB Festival #11 –

$6,000 Mystery Bounty 5.5

$5.5

$6,000

19:30

$12,000 MB Festival –

Mystery Bounty 109

$109

$12,000

21:00

$2,000 MB Festival –

Mystery Bounty 2.20

$2.2

$2,000

21:15

$4,500 MB Festival –

Mystery Bounty 6-Max 55

$55

$4,500

22:30

$2,500 MB Festival –

Mystery Bounty Dash 16.5

$16.5

$2,500

23:30

$2,500 MB Festival –

Late Mystery Bounty Dash 33

$33

$2,500

01:00

$1,500 MB Festival –

Late Mystery Bounty 8.80

$8.8

$1,500

TBD

MB Festival #18 –

$150,000 Mystery Bounty 8-Max

(Day 1s are running 23.02-27.02)

$109

$0

Fri 24.02

06:00

$1,200 MB Festival –

Early Mystery Bounty 11

$11

$1,200

11:00

$3,000 MB Festival –

Mystery Bounty 33

$33

$3,000

17:00

$10,000 MB Festival –

Mystery Bounty 11

$11

$10,000

18:00

$1,500 MB Festival –

Mystery Bounty 1

$1

$1,500

18:15

$5,000 MB Festival –

Mystery Bounty 8.80

$8.8

$5,000

18:30

$15,000 MB Festival –

Mystery Bounty 55

$55

$15,000

19:00

$12,000 MB Festival –

Mystery Bounty 22

$22

$12,000

19:00

$5,000 MB Festival –

Mystery Bounty 5.50

$5.5

$5,000

19:30

$12,000 MB Festival –

Mystery Bounty 109

$109

$12,000

21:00

$2,000 MB Festival –

Mystery Bounty 2.20

$2.2

$2,000

21:15

$4,500 MB Festival –

Mystery Bounty 6-Max 55

$55

$4,500

22:30

$2,500 MB Festival –

Mystery Bounty Dash 16.5

$16.5

$2,500

23:30

$2,500 MB Festival –

Late Mystery Bounty Dash 33

$33

$2,500

01:00

$1,500 MB Festival –

Late Mystery Bounty 8.80

$8.8

$1,500

TBD

MB Festival #18 –

$150,000 Mystery Bounty 8-Max

(Day 1s are running 23.02-27.02)

$109

$0

Sat 25.02

06:00

$1,200 MB Festival –

Early Mystery Bounty 11

$11

$1,200

11:00

$3,000 MB Festival –

Mystery Bounty 33

$33

$3,000

17:00

$10,000 MB Festival –

Mystery Bounty 11

$11

$10,000

18:00

$1,500 MB Festival –

Mystery Bounty 1

$1

$1,500

18:15

$5,000 MB Festival –

Mystery Bounty 8.80

$8.8

$5,000

18:30

MB Festival #12 –

$20,000 Mystery Bounty 55

$55

$20,000

19:00

$12,000 MB Festival –

Mystery Bounty 22

$22

$12,000

19:00

$5,000 MB Festival –

Mystery Bounty 5.50

$5.5

$5,000

19:30

$12,000 MB Festival –

Mystery Bounty 109

$109

$12,000

21:00

$2,000 MB Festival –

Mystery Bounty 2.20

$2.2

$2,000

21:15

$4,500 MB Festival –

Mystery Bounty 6-Max 55

$55

$4,500

22:30

$2,500 MB Festival –

Mystery Bounty Dash 16.5

$16.5

$2,500

23:30

$2,500 MB Festival –

Late Mystery Bounty Dash 33

$33

$2,500

01:00

$1,500 MB Festival –

Late Mystery Bounty 8.80

$8.8

$1,500

TBD

MB Festival #18 –

$150,000 Mystery Bounty 8-Max

(Day 1s are running 23.02-27.02)

$109

$0

Sun 26.02

06:00

$1,200 MB Festival –

Early Mystery Bounty 11

$11

$1,200

11:00

$3,000 MB Festival –

Mystery Bounty 33

$33

$3,000

17:00

MB Festival #13 –

$20,000 Mystery Bounty 11 8-Max

$11

$20,000

18:00

$1,500 MB Festival –

Mystery Bounty 1

$1

$1,500

18:15

$5,000 MB Festival –

Mystery Bounty 8.80

$8.8

$5,000

18:30

MB Festival #14 –

$50,000 Mystery Bounty 55 8-Max

$55

$50,000

19:00

MB Festival #15 –

$15,000 Mystery Bounty 5.5 8-Max

$5.5

$15,000

19:00

$25,000 MB Festival –

Sunday Mystery Bounty 22 8-Max

$22

$25,000

19:30

$35,000 MB Festival –

Mystery Bounty 525

$525

$35,000

21:00

$2,000 MB Festival –

Mystery Bounty 2.20

$2.2

$2,000

21:15

$4,500 MB Festival –

Mystery Bounty 6-Max 55

$55

$4,500

22:30

$2,500 MB Festival –

Mystery Bounty Dash 16.5

$16.5

$2,500

23:30

$2,500 MB Festival –

Late Mystery Bounty Dash 33

$33

$2,500

01:00

$1,500 MB Festival –

Late Mystery Bounty 8.80

$8.8

$1,500

TBD

MB Festival #18 –

$150,000 Mystery Bounty 8-Max

(Day 1s are running 23.02-27.02)

$109

$0

Mon 27.02

06:00

$1,200 MB Festival –

Early Mystery Bounty 11

$11

$1,200

11:00

$3,000 MB Festival –

Mystery Bounty 33

$33

$3,000

17:00

MB Festival #16 –

$15,000 Mystery Bounty 11 6-Max

$11

$15,000

18:00

$1,500 MB Festival –

Mystery Bounty 1

$1

$1,500

18:15

$5,000 MB Festival –

Mystery Bounty 8.80

$8.8

$5,000

18:30

$15,000 MB Festival –

Mystery Bounty 55

$55

$15,000

19:00

$12,000 MB Festival –

Mystery Bounty 22

$22

$12,000

19:00

$5,000 MB Festival –

Mystery Bounty 5.50

$5.5

$5,000

19:30

MB Festival #17 –

$15,000 Mystery Bounty 109 6-Max

$109

$15,000

20:00

MB Festival #18 –

$150,000 Mystery Bounty 8-Max (Day 2)

$109

$150,000

21:00

$2,000 MB Festival –

Mystery Bounty 2.20

$2.2

$2,000

21:15

$4,500 MB Festival –

Mystery Bounty 6-Max 55

$55

$4,500

22:30

$2,500 MB Festival –

Mystery Bounty Dash 16.5

$16.5

$2,500

23:30

$2,500 MB Festival –

Late Mystery Bounty Dash 33

$33

$2,500

01:00

$1,500 MB Festival –

Late Mystery Bounty 8.80

$8.8

$1,500

TBD

MB Festival #18 –

$150,000 Mystery Bounty 8-Max

(Day 1s are running 23.02-27.02)

$109

-

Tue 28.02

06:00

$1,200 MB Festival –

Early Mystery Bounty 11

$11

$1,200

11:00

$3,000 MB Festival –

Mystery Bounty 33

$33

$3,000

17:00

$10,000 MB Festival –

Mystery Bounty 11

$11

$10,000

18:00

$1,500 MB Festival –

Mystery Bounty 1

$1

$1,500

18:15

$5,000 MB Festival –

Mystery Bounty 8.80

$8.8

$5,000

18:30

MB Festival #19 –

$20,000 Mystery Bounty 55

Turbo Deep 6-Max

$55

$20,000

19:00

$12,000 MB Festival –

Mystery Bounty 22

$22

$12,000

19:00

MB Festival #20 –

$6,000 Mystery Bounty 5.5

Turbo Deep 6-Max

$5.5

$6,000

19:00

MB Festival #18 –

$150,000 Mystery Bounty 8-Max (FT)

-

-

19:30

$12,000 MB Festival –

Mystery Bounty 109

$109

$12,000

21:00

$2,000 MB Festival –

Mystery Bounty 2.20

$2.2

$2,000

21:15

$4,500 MB Festival –

Mystery Bounty 6-Max 55

$55

$4,500

22:30

$2,500 MB Festival –

Mystery Bounty Dash 16.5

$16.5

$2,500

23:30

$2,500 MB Festival –

Late Mystery Bounty Dash 33

$33

$2,500

01:00

$1,500 MB Festival –

Late Mystery Bounty 8.80

$8.8

$1,500

Wed 01.03

06:00

$1,200 MB Festival –

Early Mystery Bounty 11

$11

$1,200

11:00

$3,000 MB Festival –

Mystery Bounty 33

$33

$3,000

17:00

MB Festival #21 –

$15,000 Mystery Bounty 11 8-Max

$11

$15,000

18:00

$1,500 MB Festival –

Mystery Bounty 1

$1

$1,500

18:15

$5,000 MB Festival –

Mystery Bounty 8.80

$8.8

$5,000

18:30

$15,000 MB Festival –

Mystery Bounty 55

$55

$15,000

19:00

$12,000 MB Festival –

Mystery Bounty 22

$22

$12,000

19:00

$5,000 MB Festival –

Mystery Bounty 5.50

$5.5

$5,000

19:30

MB Festival #22 –

$15,000 Mystery Bounty 109 8-Max

$109

$15,000

21:00

$2,000 MB Festival –

Mystery Bounty 2.20

$2.2

$2,000

21:15

$4,500 MB Festival –

Mystery Bounty 6-Max 55

$55

$4,500

22:30

$2,500 MB Festival –

Mystery Bounty Dash 16.5

$16.5

$2,500

23:30

$2,500 MB Festival –

Late Mystery Bounty Dash 33

$33

$2,500

01:00

$1,500 MB Festival –

Late Mystery Bounty 8.80

$8.8

$1,500

TBD

MB Festival –

$300,000 Main Event

(Day 1s are running 01.03-06.03)

$160

-

Thu 02.03

06:00

$1,200 MB Festival –

Early Mystery Bounty 11

$11

$1,200

11:00

$3,000 MB Festival –

Mystery Bounty 33

$33

$3,000

17:00

$10,000 MB Festival –

Mystery Bounty 11

$11

$10,000

18:00

$1,500 MB Festival –

Mystery Bounty 1

$1

$1,500

18:15

$5,000 MB Festival –

Mystery Bounty 8.80

$8.8

$5,000

18:30

MB Festival #23 –

$20,000 Mystery Bounty 55

$55

$20,000

19:00

$12,000 MB Festival –

Mystery Bounty 22

$22

$12,000

19:00

MB Festival #24 –

$6,000 Mystery Bounty 5.5

$5.5

$6,000

19:30

$12,000 MB Festival –

Mystery Bounty 109

$109

$12,000

21:00

$2,000 MB Festival –

Mystery Bounty 2.20

$2.2

$2,000

21:15

$4,500 MB Festival –

Mystery Bounty 6-Max 55

$55

$4,500

22:30

$2,500 MB Festival –

Mystery Bounty Dash 16.5

$16.5

$2,500

23:30

$2,500 MB Festival –

Late Mystery Bounty Dash 33

$33

$2,500

01:00

$1,500 MB Festival –

Late Mystery Bounty 8.80

$8.8

$1,500

TBD

MB Festival –

$300,000 Main Event

(Day 1s are running 01.03-06.03)

$160

-

Fri 03.03

06:00

$1,200 MB Festival –

Early Mystery Bounty 11

$11

$1,200

11:00

$3,000 MB Festival –

Mystery Bounty 33

$33

$3,000

17:00

$10,000 MB Festival –

Mystery Bounty 11

$11

$10,000

18:00

$1,500 MB Festival –

Mystery Bounty 1

$1

$1,500

18:15

$5,000 MB Festival –

Mystery Bounty 8.80

$8.8

$5,000

18:30

$15,000 MB Festival –

Mystery Bounty 55

$55

$15,000

19:00

$12,000 MB Festival –

Mystery Bounty 22

$22

$12,000

19:00

$5,000 MB Festival –

Mystery Bounty 5.50

$5.5

$5,000

19:30

$12,000 MB Festival –

Mystery Bounty 109

$109

$12,000

21:00

$2,000 MB Festival –

Mystery Bounty 2.20

$2.2

$2,000

21:15

$4,500 MB Festival –

Mystery Bounty 6-Max 55

$55

$4,500

22:30

$2,500 MB Festival –

Mystery Bounty Dash 16.5

$16.5

$2,500

23:30

$2,500 MB Festival – L

ate Mystery Bounty Dash 33

$33

$2,500

01:00

$1,500 MB Festival –

Late Mystery Bounty 8.80

$8.8

$1,500

TBD

MB Festival –

$300,000 Main Event

(Day 1s are running 01.03-06.03)

$160

-

Sat 04.03

06:00

$1,200 MB Festival –

Early Mystery Bounty 11

$11

$1,200

11:00

$3,000 MB Festival –

Mystery Bounty 33

$33

$3,000

17:00

$10,000 MB Festival –

Mystery Bounty 11

$11

$10,000

18:00

$1,500 MB Festival –

Mystery Bounty 1

$1

$1,500

18:15

$5,000 MB Festival –

Mystery Bounty 8.80

$8.8

$5,000

18:30

MB Festival #25 –

$20,000 Mystery Bounty 55 8-Max

$55

$20,000

19:00

$12,000 MB Festival –

Mystery Bounty 22

$22

$12,000

19:00

$5,000 MB Festival –

Mystery Bounty 5.50

$5.5

$5,000

19:30

$12,000 MB Festival –

Mystery Bounty 109

$109

$12,000

21:00

$2,000 MB Festival –

Mystery Bounty 2.20

$2.2

$2,000

21:15

$4,500 MB Festival –

Mystery Bounty 6-Max 55

$55

$4,500

22:30

$2,500 MB Festival –

Mystery Bounty Dash 16.5

$16.5

$2,500

23:30

$2,500 MB Festival –

Late Mystery Bounty Dash 33

$33

$2,500

01:00

$1,500 MB Festival –

Late Mystery Bounty 8.80

$8.8

$1,500

TBD

MB Festival –

$300,000 Main Event

(Day 1s are running 01.03-06.03)

$160

-

Sun 05.03

06:00

$1,200 MB Festival –

Early Mystery Bounty 11

$11

$1,200

11:00

$3,000 MB Festival –

Mystery Bounty 33

$33

$3,000

17:00

MB Festival #26 –

$20,000 Mystery Bounty 11 6-Max

$11

$20,000

18:00

$1,500 MB Festival –

Mystery Bounty 1

$1

$1,500

18:15

$5,000 MB Festival –

Mystery Bounty 8.80

$8.8

$5,000

18:30

MB Festival #27 –

$50,000 Mystery Bounty 55 6-Max

$55

$50,000

19:00

MB Festival #28 –

$15,000 Mystery Bounty 5.5 6-Max

$5.5

$15,000

19:00

$25,000 Mystery Bounty 22

$22

$25,000

19:30

$35,000 MB Festival –

Mystery Bounty 525

$525

$35,000

21:00

$2,000 MB Festival –

Mystery Bounty 2.20

$2.2

$2,000

21:15

$4,500 MB Festival –

Mystery Bounty 6-Max 55

$55

$4,500

22:30

$2,500 MB Festival –

Mystery Bounty Dash 16.5

$16.5

$2,500

23:30

$2,500 MB Festival –

Late Mystery Bounty Dash 33

$33

$2,500

01:00

$1,500 MB Festival –

Late Mystery Bounty 8.80

$8.8

$1,500

TBD

MB Festival –

$300,000 Main Event

(Day 1s are running 01.03-06.03)

$160

-

Mon 06.03

06:00

$1,200 MB Festival –

Early Mystery Bounty 11

$11

$1,200

11:00

$3,000 MB Festival –

Mystery Bounty 33

$33

$3,000

17:00

MB Festival #29 –

$15,000 Mystery Bounty 11

$11

$15,000

18:00

$1,500 MB Festival –

Mystery Bounty 1

$1

$1,500

18:15

$5,000 MB Festival –

Mystery Bounty 8.80

$8.8

$5,000

18:30

$15,000 MB Festival –

Mystery Bounty 55

$55

$15,000

19:00

$12,000 MB Festival –

Mystery Bounty 22

$22

$12,000

19:00

$5,000 MB Festival –

Mystery Bounty 5.50

$5.5

$5,000

19:30

MB Festival #30 –

$15,000 Mystery Bounty 109

$109

$15,000

20:00

MB Festival –

$300,000 Main Event (day 2)

-

$300,000

21:00

$2,000 MB Festival –

Mystery Bounty 2.20

$2.2

$2,000

21:15

$4,500 MB Festival –

Mystery Bounty 6-Max 55

$55

$4,500

22:30

$2,500 MB Festival –

Mystery Bounty Dash 16.5

$16.5

$2,500

23:30

$2,500 MB Festival –

Late Mystery Bounty Dash 33

$33

$2,500

TBD

MB Festival –

$300,000 Main Event

(Day 1s are running 01.03-06.03)

$160

-

Tue 07.03

19:00

MB Festival –

$300,000 Main Event (FT)

-

-