The latest 888poker LIVE Festival wrapped up its second stop on the live poker schedule at the prestigious Grosvenor Victoria Casino, also known as "The VIC" in London.
A whopping 385 entries created a £385,000 prize pool, with £93,000 (after a final table deal, winner cashed £83,100) and the coveted 888poker LIVE Main Event trophy going to the ultimate winner.
The series ran from 12-23 April 2023, highlighted by the multi-flight £1,100 buy-in Main Event. Day 1A kicked off on 20 April, with Day 1B happening on 21 April. Day 1C Turbo also played out on 21 April.
Main Event Day 1A Tournament Big Turnout
Day 1A of the 888pokerLIVE London Main Event saw 114 entries throwing their chips into the ring. Only 33 were lucky to bag and tag for Day 2, including 888poker ambassador Lucia Navarro! She secured a 46,000 chipstack for Day 2.
Leading the way on Day 1A was Jiaze Li, who dominated the last few levels of the night, amassing a whopping 375,500 in chips.
Several of Lucia's 888poker teammates were also in the in the field for Day 1A including, Ian Simpson, Josh Manley, Vivian Saliba, and Nick Eastwood.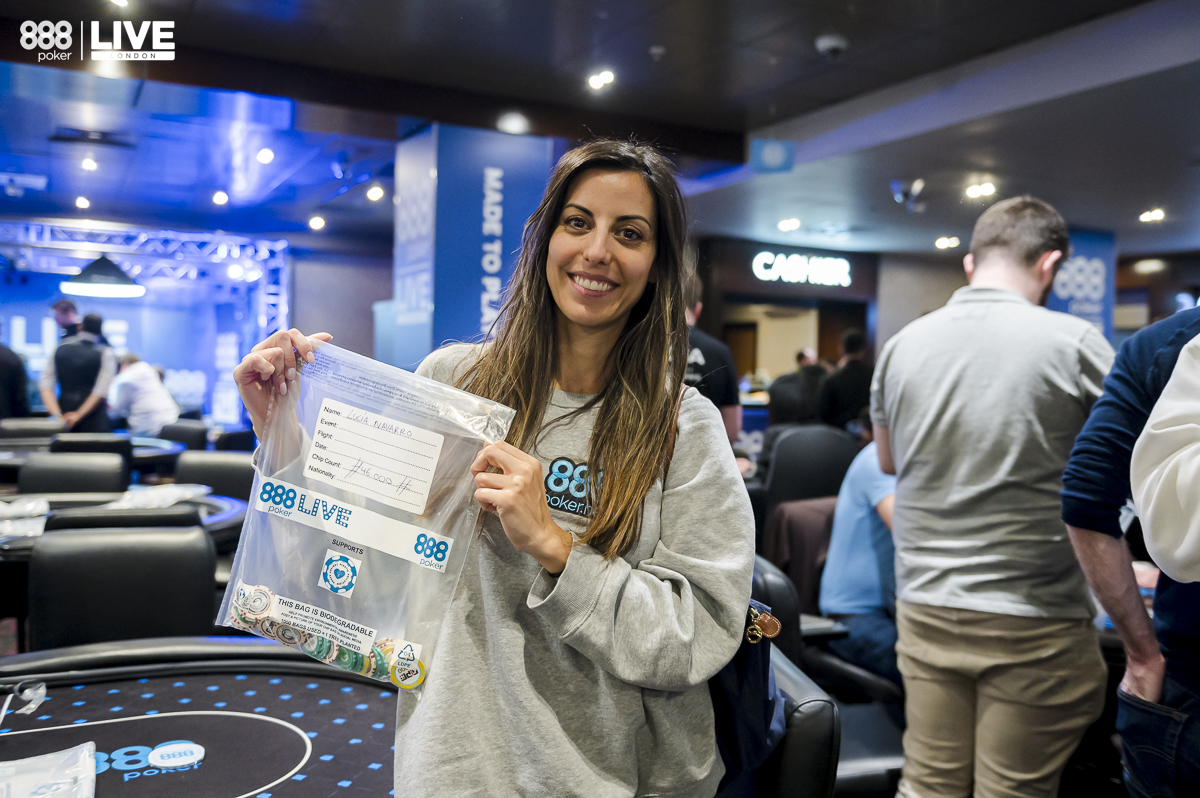 Also in the fray were the 888poker Royal Squad winners. Adam Gilbert and his two friends, David Swain and Thomas Hayton, won three Main Event seats along with flight, accommodations and a VIP experience to a football game later that week.
Unfortunately, none of the three squad members advanced to Day 2.
But they did play a special sit-and-go the following day with Team888 ambassadors and StreamTeam members. It was an enjoyable event where the squad got the royal treatment from the team, who didn't cut them any slack in the game!
Nick Eastwood took top honours after chopping with Lucia Navarro.
They each received an 888poker LIVE Barcelona package!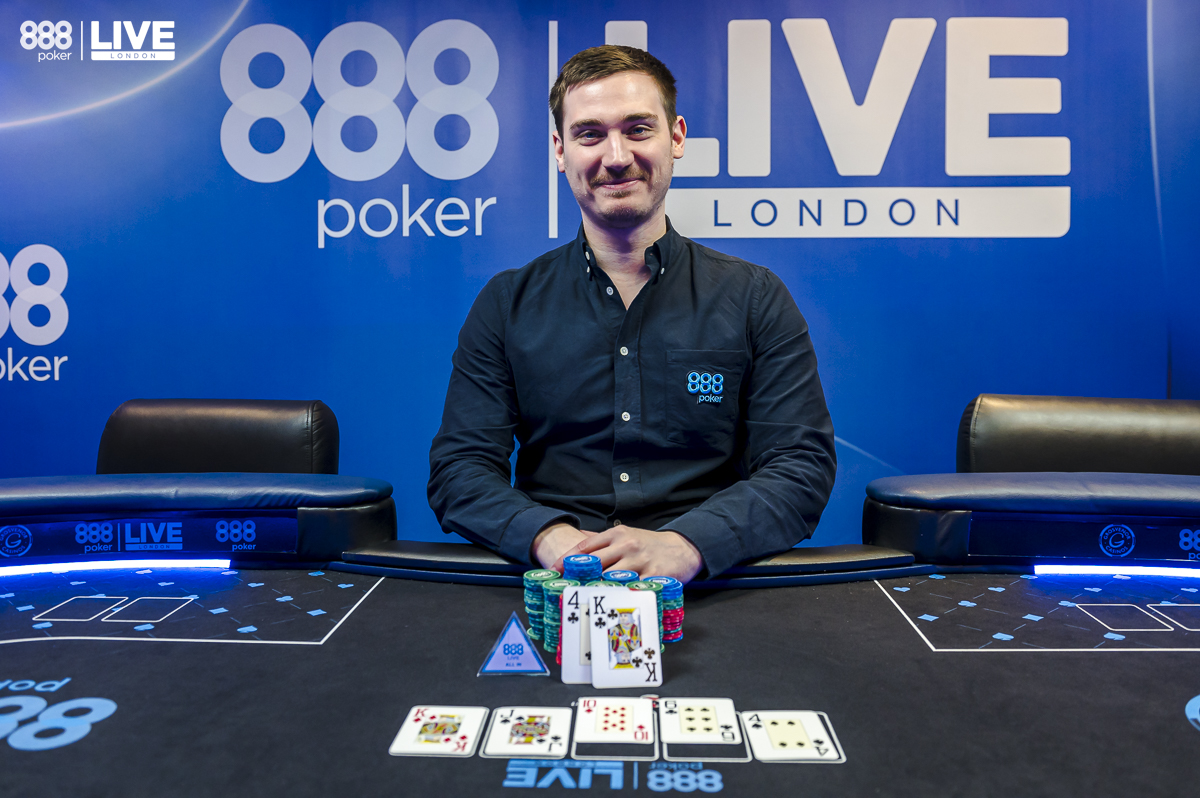 Main Event Day 1B - Biggest Entries!
A humongous 202 entries bought in on Day 1B of the 888poker LIVE London Main Event, with 62 players bagging and tagging for Day 2.
Several Team888 players tried their luck on Day 1B, including Ian Simpson, Vivian Saliba, and Ricardo Mateus. Unfortunately, none were able to find a bag to advance.
A familiar face in the field was Jack "pieface" McDermott, who ended the day with one of the biggest stacks. McDermott streams his online poker exploits on Twitch and YouTube but has yet to bink a major title on the live felt.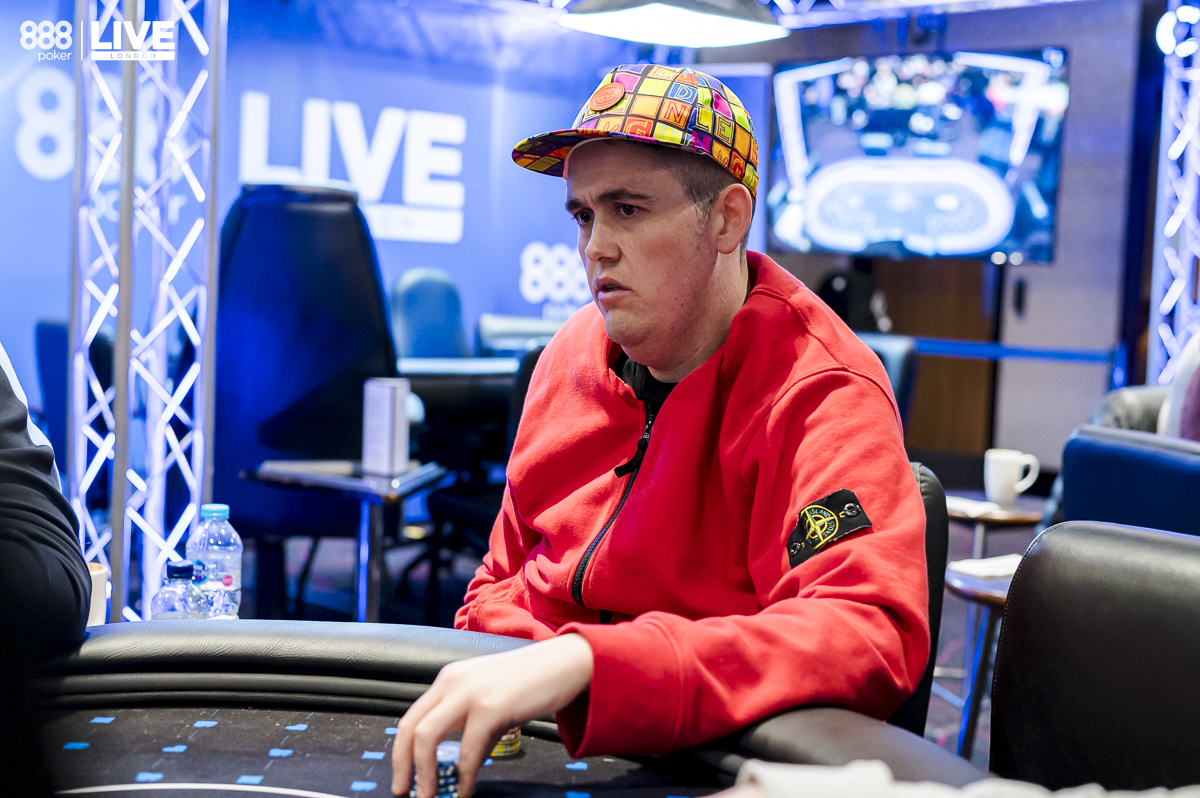 Day 1C kicked off later the same day. The turbo structure attracted 55 entries, with 29 players making it through to Day 2.
Main Event Day 2 – Making the Money!
A total of 138 runners played Day 2 (including late registrations) - all vying for a piece of the massive £385,000 prize pool!
38 places paid
£2,250 min-cash
£93,000 for 1st (after a final table deal, winner cashed £83,100)
Three 888poker ambassadors made Day 2, but all three failed to cash. Vivi Saliba finished (86), Lucia Navarro (95) and the StreamTeam's Ricardo Mat3us (121).
888Sport influencer Adam McIlroy (@AdamMcKola) made a deep run in the event but fell short of the money in 54TH place.
Flopped a straight with KQ.

All in for a pot that would've made me chip lead.

Opponent rivers a full house. Not far from the money. 😑

Thanks to @888poker for a great few days of poker!

Go get 'em @Chelsearory! ♥️

(Here's a pic before it went horribly wrong!) pic.twitter.com/PMzcBAQWw9

— Adam McKola (@AdamMcKola) April 22, 2023
After 12 hours of poker on Day 2, Hong Pham led the way into Day 3 with a very comfortable 2M+ chipstack. Pham has accumulated nearly $100,000 in winnings dating back to 2021.
But she looked like a seasoned pro, playing aggressively and showing no fear.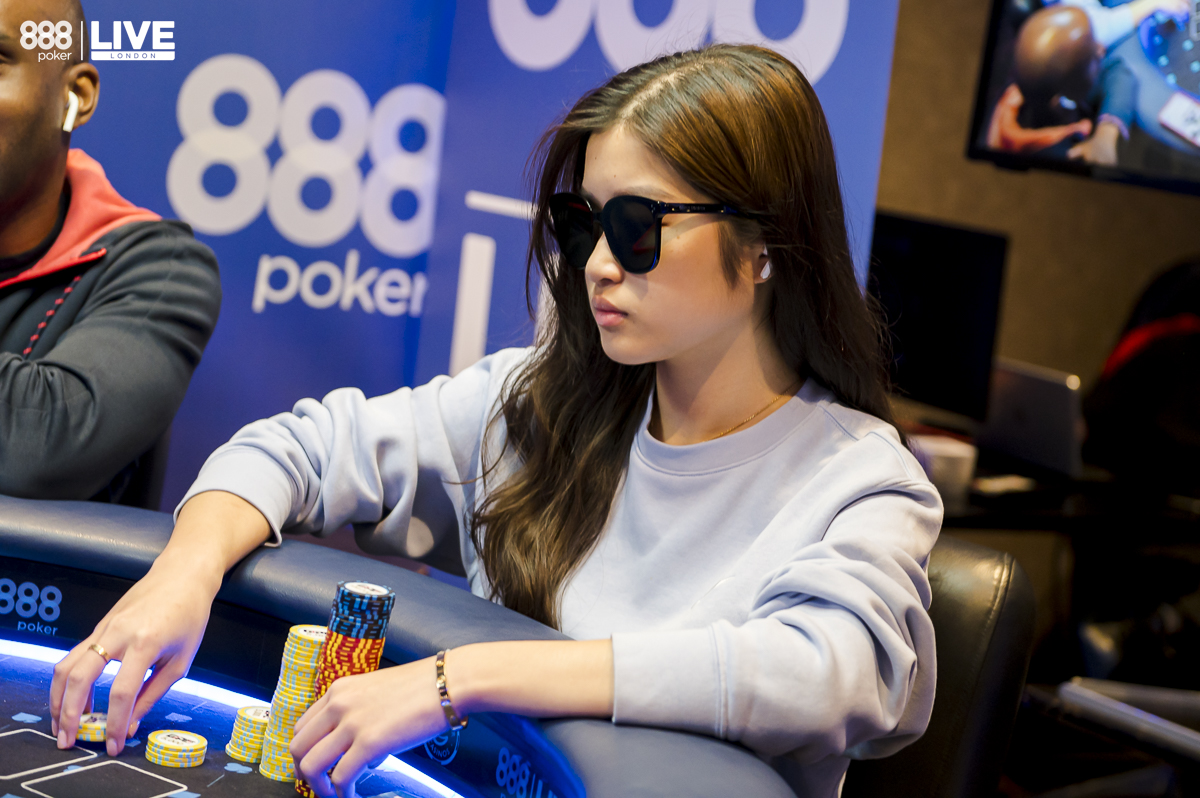 It took a tortuous two hours for the bubble to burst. Then there was a flurry of eliminations, taking less than an hour to go from 38 down to just 15 players, who locked up a minimum payout of £4,050 as they headed to Day 3.
Here is the 888poker LIVE London Main Event Payout Schedule:
| | | | |
| --- | --- | --- | --- |
| Place | Payout | Place | Payout |
| *1st | £93,000 | 12th | £5,100 |
| 2nd | £65,100 | 13th | £4,750 |
| 3rd | £39,500 | 14th | £4,400 |
| 4th | £25,250 | 15th | £4,050 |
| 5th | £16,450 | 16th - 17th | £3,650 |
| 6th | £12,100 | 18th - 19th | £3,300 |
| 7th | £8,750 | 20th - 22nd | £2,950 |
| 8th | £7,500 | 23rd - 25th | £2,750 |
| 9th | £6,400 | 26th - 29th | £2,550 |
| 10th | £5,850 | 30th - 33rd | £2,400 |
| 11th | £5,500 | 34th - 38th | £2,250 |
*after a final table deal, winner cashed £83,100
Main Event Day 3 – Final Table!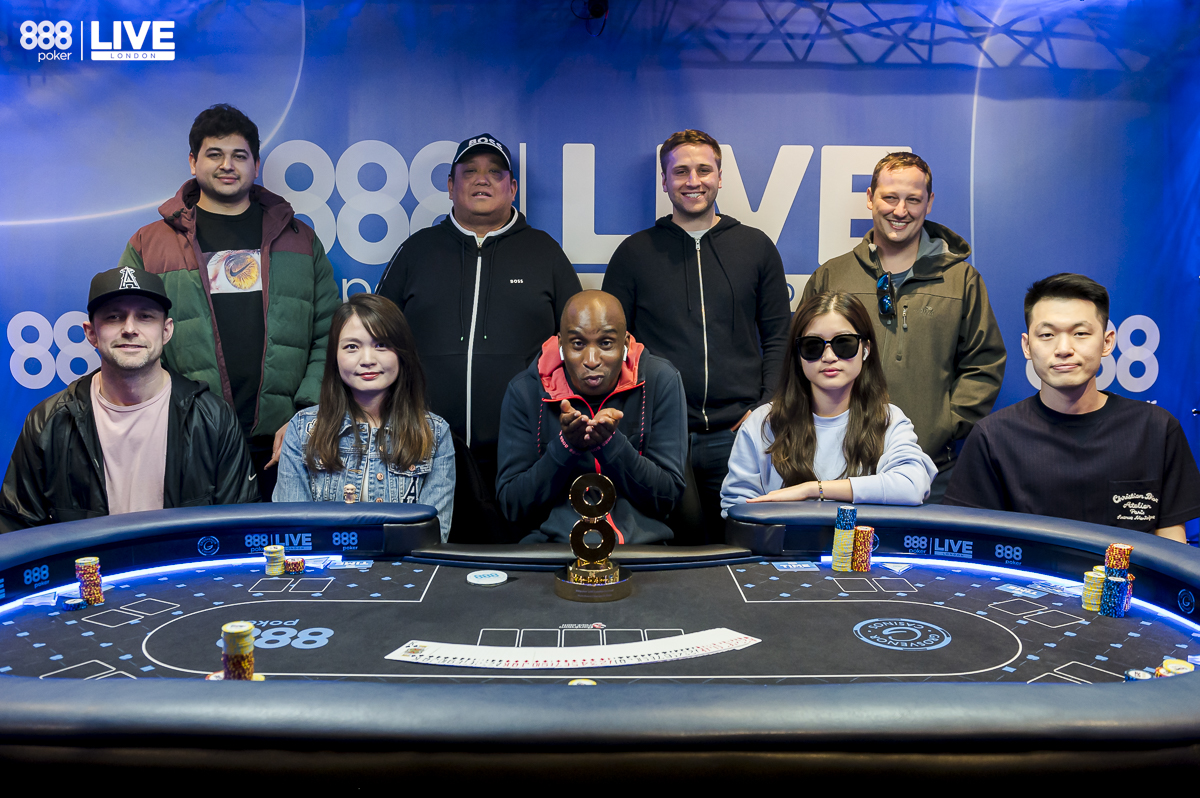 Day 3 started with Hong Pham holding a commanding lead, But this quickly evaporated when she made an ill-timed bluff against a fellow big stack, Francis Obadun. She eventually went out in sixth place.
It took a hefty three hours to whittle down the 15 runners who started the day to the final table of nine.
Seat

Player

Country

Chip Count

Big

Blinds

1

Hong Pham

Vietnam

2,080,000

69

2

Francis

Obadun

United

Kingdom

3,470,000

116

3

Dave

McConachie

United

Kingdom

1,330,000

44

4

Jiaze Li

United

Kingdom

315,000

11

5

Raymond

Caabay

United

Kingdom

705,000

24

6

Tobias Kirby

Hogarty

United

Kingdom

1,750,000

58

7

Smit Trivedi

United

Kingdom

525,000

18

8

Ryan Otto

New Zealand

960,000

32

9

Bixi Yao

United

Kingdom

430,000

14
Going out in 9th place for £6,400 was Raymond Caabay. He shipped it all-in for his last 185K with pocket sevens. But it was not to be as Francis Obadun's Ks8h spiked a king on the turn, sending Caabay to the rail.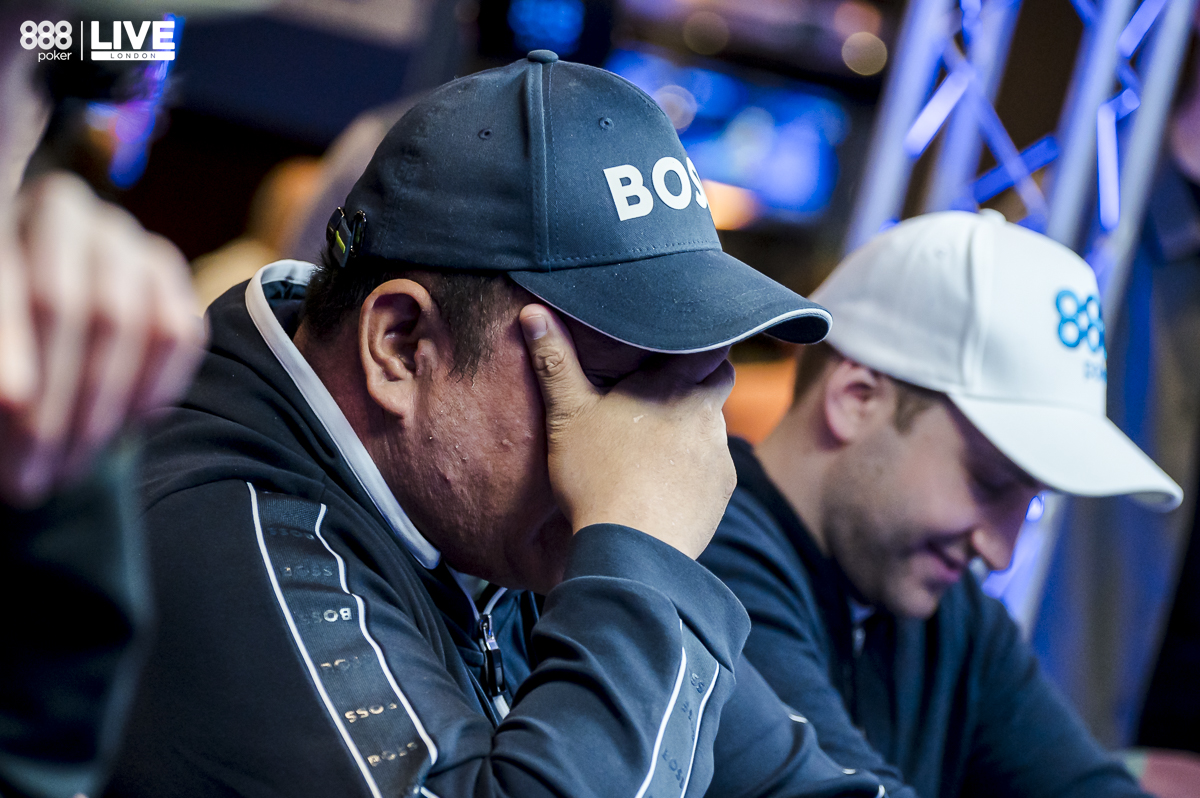 Next to say his goodbyes was Tobias Kirby Hogarty, who ran AJo into the pocket kings of Jiaze Li. Tobias walked away in 8th place, bagging £7,500 for his efforts.
After the first break, Bixi Yao found her ticket to the rail when she ran Ah5h into Smit Trevedi's Ac6h. What looked like it was going to end in a chopped pot didn't. The 2c on the river gave Smit the win.
Bixi banked £8,750 for her 7th place finish.
The last woman standing was Hong Pham, who had held the chip lead for a good portion of the tournament. Unfortunately, her Kc9s was no match for Obadun's Jh5s. His trips on the turn sent her to the rail in sixth place for £12,100.
Out in 5th place went Jiaze Li – and it was also at the hands of Francis Obadun. Jiaze's Ac4d fell short to Obadun's turned straight, holding 6s5c. Li took home £16,450 for his efforts.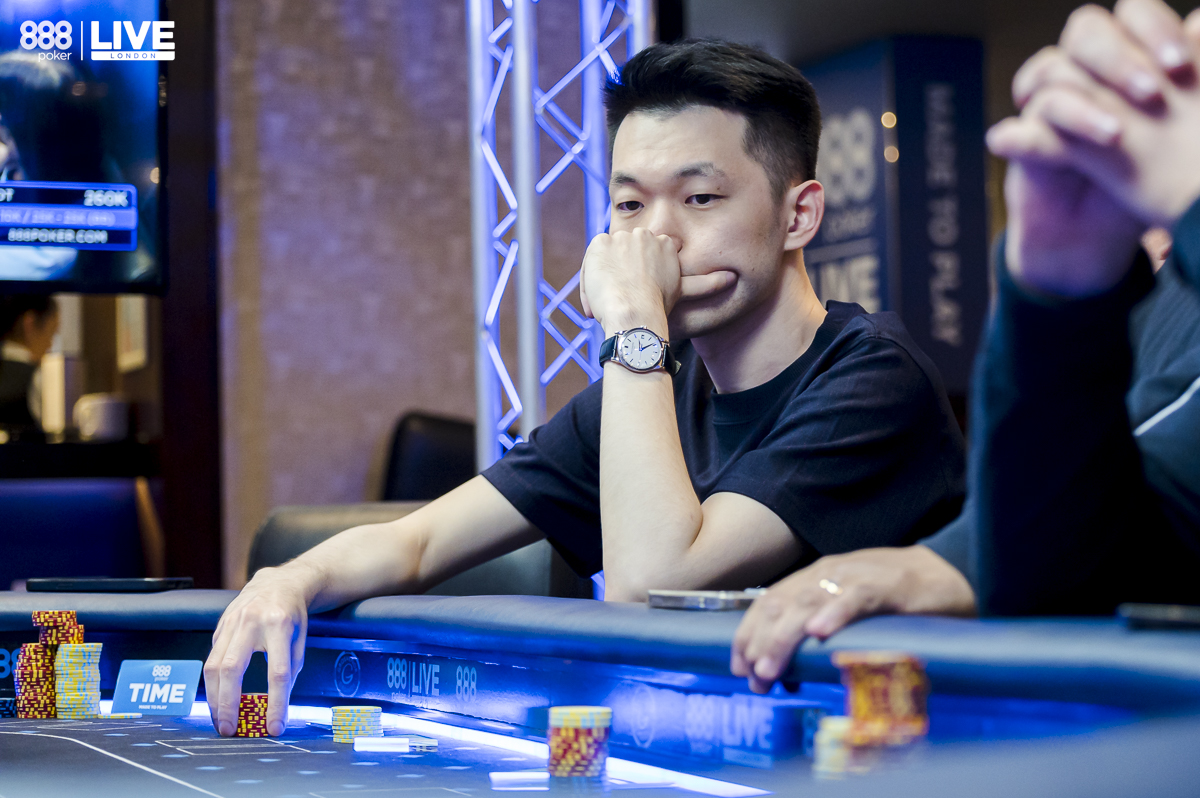 Fan-favourite Smit Trivedi was next to get his marching orders. Severely short-stacked, he called off his remaining chips from the big blind holding Qd2s. Unlucky for him, the raiser, Dave McConachie, had a real hand, Ac6s in the small blind.
Dave hit his ace, sending Smit to the rail in 4th place for £25,250.
Ryan Otto felt confident when he jammed all-in from the big blind holding KsTh after Obadun raised from the button with Jh8d. After a clean flop, the jack on the turn gave Francis the win, sending Otto to the rail in third for £39,500.
And then we were heads-up with Francis Obadun and Dave McConachie battling it out for the £93,000 top prize (after a final table deal, winner won £83,100)!
Main Event Day 3 – Heads-Up!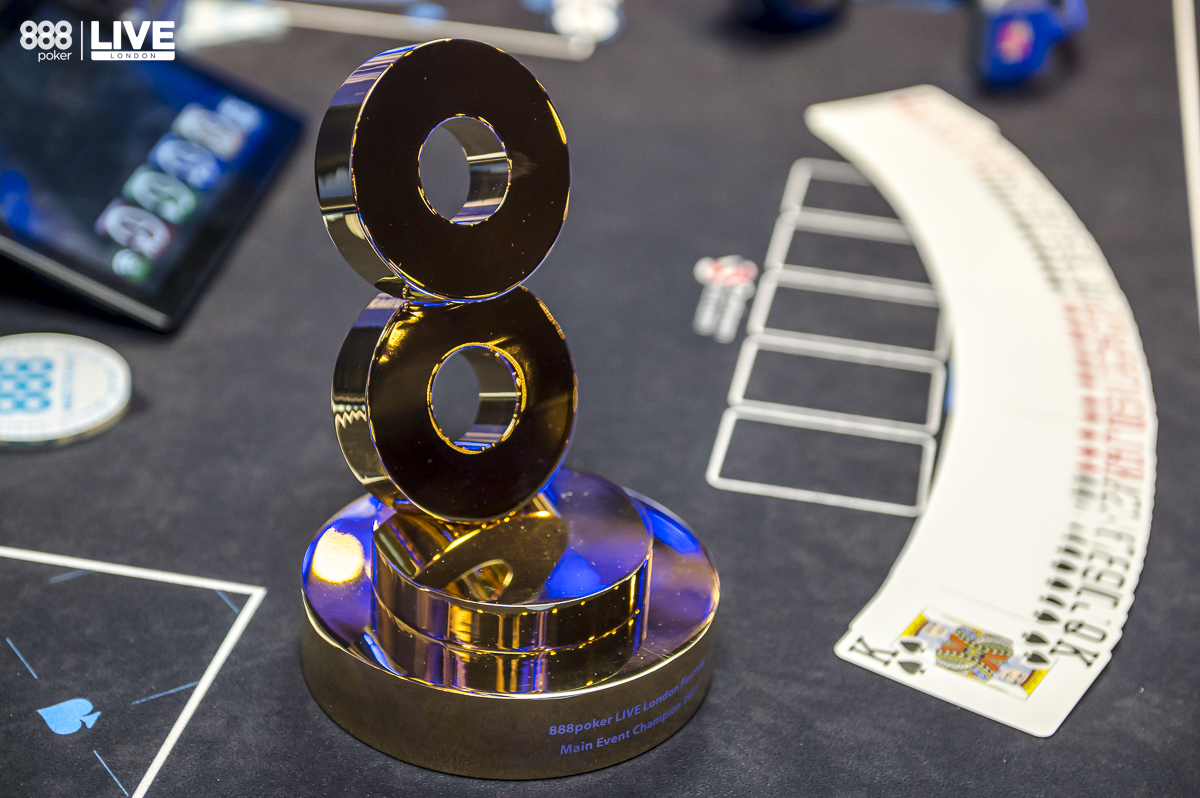 As we went to heads-up action, Francis Obadun had a commanding 3:1 chip lead. But it was not to last for long. McConachie gradually closed the gap until the stacks were practically even.
It was at this stage that both players paused the action to discuss a deal.
Both players agreed to bank £75,000 each and play for the £8,100 difference and the trophy.
In the final hand, Francis Obadun raised to 400K from the button. Dave McConachie 3-bet-shoved all-in from the big blind.
Obadun blinked for a second before calling off his remaining 5,000,000 chips:
Francis Obadun: Ad9s
Dave McConachie: AsJh
The flop came Ts-Th-7s, with some chop outs in the cards. The 10d gave everyone a bit of a sweat, but the 3s on the river sealed the deal for Dave.
Team888's Ian Simpson Takes Down Big Shot!
As a big side note, 888poker ambassador Ian Simpson took top honours in the £330 buy-in Big Shot. He binked a tidy £18,000 for his efforts!
Congrats and well played all. See you next in Barcelona!