Home games are big news in the poker world currently. 888poker have listened to players and introduced this popular feature on our mobile app!
So, now you can play from home with your friends – anywhere!
Once the game has been set up from a PC, your invited friends can jump into the game from any mobile device with the 888poker app..
Now, they won't have any excuse to stand you up at your next weekly home game!
Check out what 888poker ambassador Kara Scott has to say about this innovative new feature for mobile poker games:
How to Join a Friend's 888poker Home Game from a Mobile
If you're already an 888poker player, just open the 888poker mobile app –
Select "Play with Friends" from the dropdown menu
Enter the Game Name and Game Password in the popup screen
* These details are in the email invitation or social network invitation page.
If you don't have an account, it's as easy as 1-2-3 to register for one!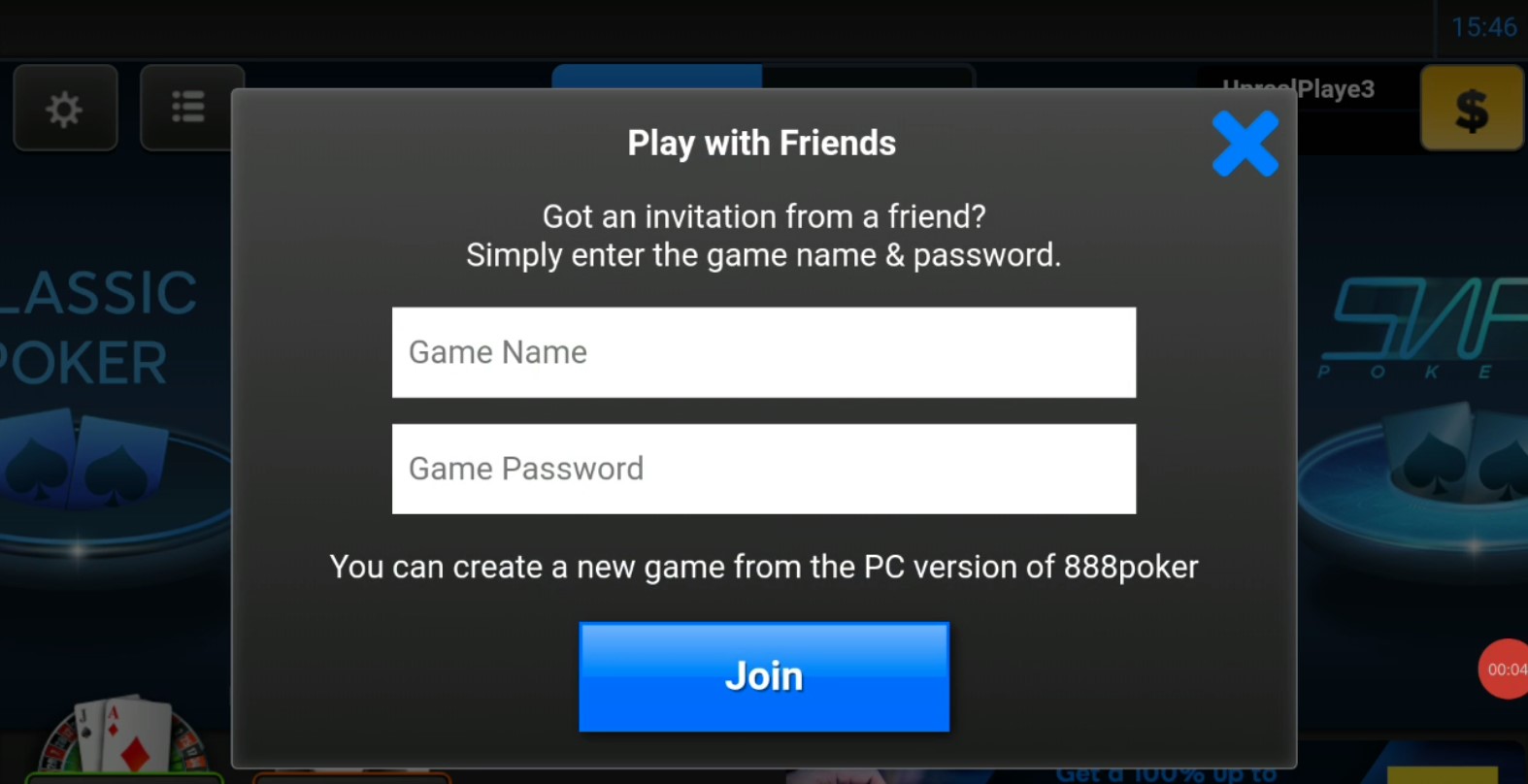 How Do I Create 888poker Mobile Home Games?
Before you can jump into a game with your friends on-the-go, someone has to create the game on the PC version of 888poker.
Creating your 888poker private cash game or tournament is very straightforward:
Login to the lobby & click on the 'Play with friends' tab (if you don't see the tab, please click on "extra games" located at the top of the lobby.)
Click 'Create New Game' and choose either 'Tournament' or 'Cash Game'.
Fill in your desired 'Game name', 'Game password', 'Starting time', etc.
Click 'Create'.
Your created 888poker Home Game will appear in the lobby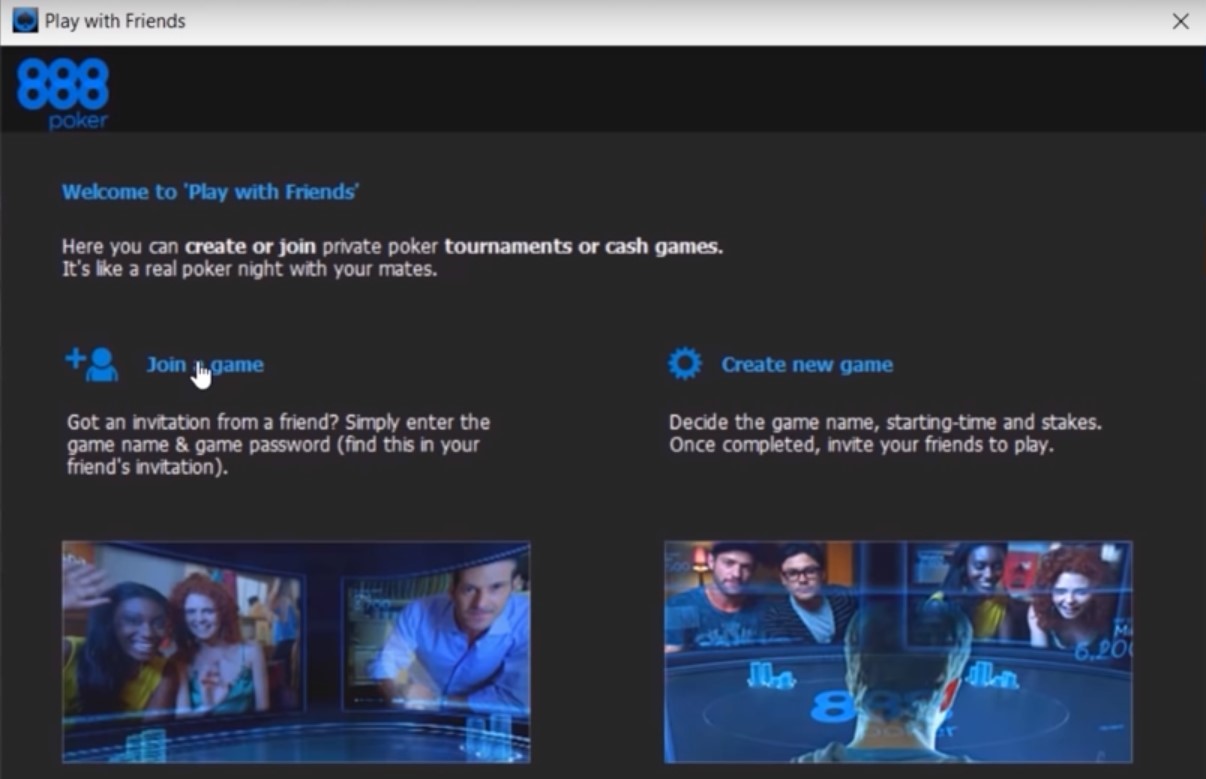 How Do I Invite Friends to My 888poker Mobile Home Game?
Once you've set up your game, it's easy to invite friends to play in your home game via the two following methods:
Email:

Enter your email address on the confirmation page
Click 'Send' & you'll receive a unique message with your game details
Forward this mail to your friends & contacts

Share:

Copy and paste a link wherever you like! Paste it on Facebook, Twitter, Skype, Zoom, chats, forums or even in emails and invite your friends to play!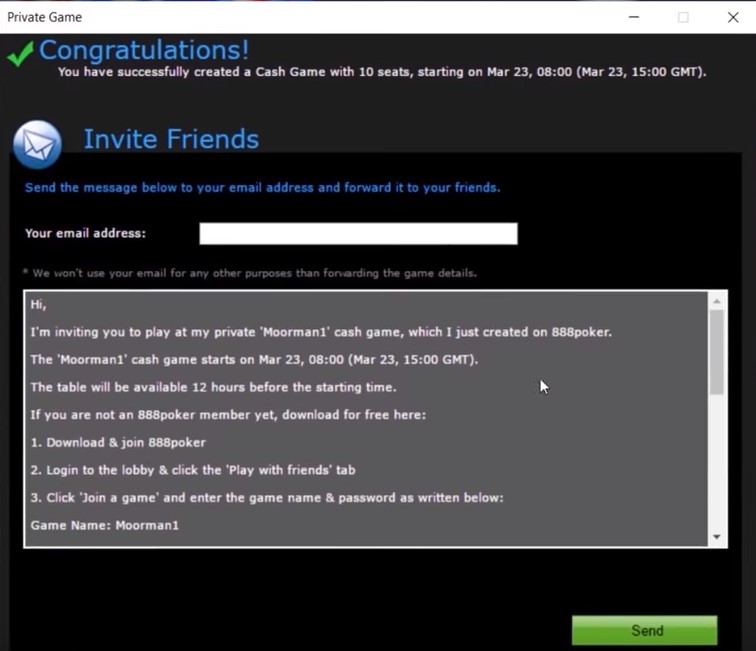 Now that "Play with Friends" is available on the 888poker mobile app, you'll be able to play your next home game from any place of your choosing!