The XL Spring Series kicked off on May 22 and is slated to run through June 7. The 37-event series is jampacked with affordable buy-in tournaments – starting as low as $11 with the majority ranging between $16.50 and $55.
The series culminates with a $500,000 GTD Multiflight Main Event, which costs just $250 to enter.
Through the first two days of the series, four tournaments have catered to 2,564 entrants and already awarded $184,100 in prize money.
Winners have hailed from Germany, Canada, Ukraine, and Malta.
Below is a look at some of the big winners and stories from the early goings of the 2022 XL Spring Series on 888poker.
Germany's Sxmon Wins Opening Event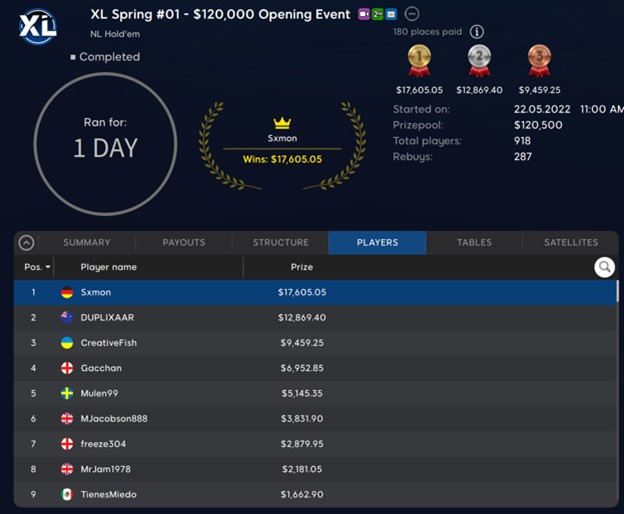 The series got underway on Sunday with the $109 buy-in, $120K GTD Event #1: Opening Event, which attracted 918 players who rebought 287 times. The 1,205-entry field squeaked past the guarantee as a $120,500 prize pool was on tap for the top 180 finishers.
Among those to make relatively deep runs were the following players:
"kiskutya23" (89th place for $289.20)
"sheeeeeeeeet" (64th place for $313.30)
"Clay_Born) (48th place for $361.50)
"Patsharpe" (22nd place for $566.35)
final table bubble "totiybr1" (10th place for $1,289.35)
The final table of nine players took a break before returning on Monday to play down to a winner. 2014 World Series of Poker (WSOP) Main Event champ Martin "MJacobson888" Jacobson was there. Bbut his run ultimately ended in sixth place for $3,831.90.
The title came down to Germany's "Sxmon" and New Zealand's "DUPLIXAAR", with the former coming out on top to claim a $17,605.05 first-place prize.
XL Spring Event #1 Final Table Results
1st – "Sxmon" (Germany) … $17,605.05
2nd – "DUPLIXAAR" (New Zealand) … $12,869.40
3rd – "CreativeFish" (Ukraine) … $9,459.25
4th – "Gacchan" (England) … $6,952.85
5th – "Mulen88" (Sweden) … $5,145.35
6th – Martin "MJacobson888" Jacobson (United Kingdom) … $3,831.90
7th – "freeze304" (England) … $2,879.95
8th – "MrJam1978" (United Kingdom) … $2,181.05
9th – "TienesMiedo" (Mexico) … $1,662.90
Canadian Victorious in Event #2: $25K PKO 6-Max
On Monday, May 23, the $88 buy-in Event #2: $25,000 PKO 6-Max saw 349 players rebuy 104 times, which resulted in a 453-entry field. The $36,240 prize pool split between the regular and bounty pools.
The top 42 finishers got a piece of the former including:
"LaserMammoth" (32nd place for $108.72 plus $140 in bounties)
"Trymalin" (22nd place for $154.02 plus $165 in bounties)
"leon_dies10" (14th place for $190.26 plus $557.50 in bounties)
"ItsOkay" (7th place for $453 plus $348.75 in bounties)
"samsungas" (4th place for $1,449.60 plus $705 in bounties)
New Zealand's "binkachu" bowed out in third place for $2,083.80 plus $1,319.70 in bounties. Then the final two players – Canada's "popsnpoker" and Brazil's "leoleo0505" – each locked up $3,288.78 in prize money.
Awaiting the winner was a $2,227.17 PKO bounty.
After nearly eight hours of play, it was the Canadian coming out on top for a total payday of $5,515.95.
XL Spring Event #2 Final Table Results
1st – "popsnpoker" (Canada) … $5,515.95
2nd – "leoleo0505" (Brazil) … $3,996.28
3rd – "binkachu" (New Zealand) … $3,403.50
4th – "samsungas" (Lithuania) … $2,154.60
5th – "jadou11" (Senegal) … $1,613.45
6th – "Kabosu69" (Malta) … $949.80
Other winners from Monday action included:
Ukraine's "MaxOn123" in the $44 buy-in Event #3: $15,000 Mini PKO 6-Max (434 entries; $17,360 prize pool), good for $3,238.49.
Malta's "ItsOkay" in the $22 buy-in Event #4: $10,000 Late PKO 6-Max (472 entries; $10,000 prize pool) for $1,739.82.
XL Spring 888pokerTV Action
Highlighting the series is the $500,000 GTD Main Event, which will be live-streamed on our Twitch 888pokerTV channel. Viewers can watch the action as it happens:
Live Stream Dates:
Mon 30 May - XL Spring 17- $120,000 Tune Up Final Table
Tue 7 June - XL Spring 37- $500,000 Main Event Final Table
What's Coming Up?
There are plenty of great tournaments remaining on the schedule. Among those coming up in the next week are the following:
$109 buy-in XL Spring Event #8: $30,000 PKO at 18:00 GMT on Wednesday, May 25
$160 buy-in Event #11: $30,000 PKO 8-Max at the same time on Thursday, May 26
$109 buy-in Event #17: $120,000 Tune Up at 18:00 GMT on Sunday, May 29.
That comes a day after Saturday's Champions Football Final, which is such a big deal 888poker is taking a day off from the XL Spring Series.
For full information and schedule click here
2022 XL Spring Series Winners Thus Far…
Date

Tournament

Buy-in

Total

Entries

Prize

Pool

Winner

Country

Prize

Sunday,

22/5

Event #1: $120,000

Opening Event

$109

1205

$120,500

Sxmon

Germany

$17,605.05

Monday

23/5

Event #2: $25,000

PKO 6-Max

$88

453

$36,240

popsnpoker

Canada

$5,515.95

Monday

23/5

Event #3: $15,000

Mini PKO 6-Max

$44

434

$17,360

MaxOn123

Ukraine

$3,238.49

Monday

23/5

Event #4: $10,000

Late PKO 6-Max

$22

472

$10,000

ItsOkay

Malta

$1,739.82