888poker is Made to Play! As part of that mission, we're introducing a revamped tournament schedule. After years of the same events – say goodbye to the BIG Fish, Dragon, Monsoon, and yes, even the Mega Deep!
We're presenting a new slate of clear and well-organised tournaments will be offered.
This new collection will offer the following -
Fewer re-entries
More payouts
Better options for recreational players
More tournaments in the evening during prime-time hours
Additionally, we will have higher GTDs each week with over $500,000 added. We'll offer more Progressive Knockout (PKO) tournaments and feature more tournaments with at least a $10,000 guarantee.
New Revamped Tournaments on Offer
The new slate of tourneys is designed to level the playing field. As a whole, the tournaments will be recreational-friendly. They'll be shorter in duration and pay out more players.
From 6-max tournaments to daily PKO events, deepstacks to turbos, and freezeouts to the "Main Event" of the day, there are plenty of new tournaments.
Here's a look at the new tournaments coming to 888poker:

The Big Shot: The main event of the day with the biggest prize pools.
The Classic: Freezeout with shorter late registration, play the "old skool" way.


The Dash: If you like it quick, these thrilling turbo tournaments are for you.
The Mayhem: Fast-paced and action-packed 6-max tournaments.


The Rumble: Daily PKO tournaments – knock out your opponents and claim as many bounties as you can.
The Voyage: Take your time and enjoy the experience in deepstack tournaments.

Massive Giveaway Promotion
In 888poker's new tournament collection, there is something for everyone. We're celebrating this incredible change by giving away over $200,000 in tickets and seats to the new tournaments!
This promotion will start on February 25 and running through April 2.
Tickets will be granted via –
Winner Spinner
Gift Drops
"Discount Sale" through the 888poker loyalty club
Gift Drop prizes are random prizes granted to random players. So, literally, anyone can win!
Also, the daily "no-ticket needed" freerolls will grant seats and tickets to our new tournaments.
In fact, most tickets will be awarded in these freerolls. So, you'll definitely want to get in there and grind!
Click here for more details on the new tournament collection.
Highlights for the New Daily Tournament Schedule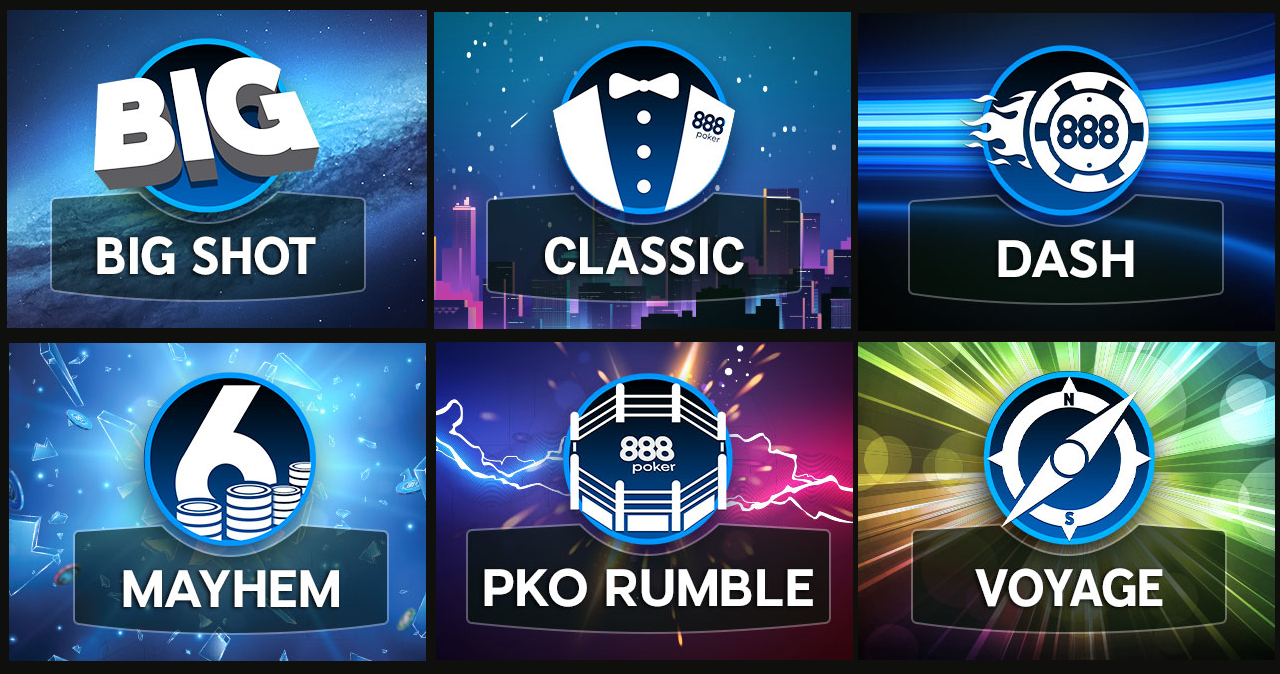 Here's a look at the daily highlight tournaments coming to 888poker. (Please note the guarantees and hours are subject to change.)
Mondays-Saturdays
| | | | | | |
| --- | --- | --- | --- | --- | --- |
| Event | Stakes | Time (GMT) | Tournament | Buy-In | Guarantee |
| Voyage | Low | 15:45 | Voyage | $8.80 | $3,000 |
| Big Shot | Mid | 16:00 | Big Shot | $33 | $15,000 |
| Rumble | Mid | 17:30 | PKO Rumble | $22 | $10,000 |
| Big Shot | High | 18:00 | Big Shot 55 | $55 | $15,000 |
| Big Shot | Mid | 19:00 | Big Shot | $22 | $15,000 |
| Big Shot | High | 19:00 | Big Shot | $109 | $20,000 |
| Mayhem | High | 21:00 | 6-Max Mayhem | $55 | $7,500 |
| Dash | Low | 23:30 | Dash | $8.80 | $2,000 |
Sundays
| | | | | | |
| --- | --- | --- | --- | --- | --- |
| Event | Stakes | Time (GMT) | Tournament | Buy-In | Guarantee |
| Sunday Big Shot | Low | 14:45 | Big Shot | $5.50 | $5,000 |
| Big Shot | Mid | 16:00 | Big Shot | $33 | $15,000 |
| Big Shot $100K 1C* | High | 17:00 | Big Shot | $525 | $100,000 |
| Big Shot Main Event | High | 19:00 | Big Shot | $109 | $150,000 |
*Big Shot $100K Day 2 at 21:35 GMT