Last Sunday, the inaugural XL Spring Series kicked off on 888poker. The festival will run through this Sunday, June 6, is comprised of 25 events.
Buy-ins range from $5.50-$250, offering more than $1 million in combined guaranteed prize pools.
As of Wednesday night, the series passed its halfway point as 13 events have crowned winners. Through the first half of the series, a combined 10,088 entrants have competed and $319,115 in prize money has been awarded.
Brazilian players have captured four titles, while players from the UK are hot on their heels with three wins.
Meanwhile, Canada and Ukraine have two titles apiece, while other winners hail from Belarus and Russia.
Strong Performance by Brazil on R&A Day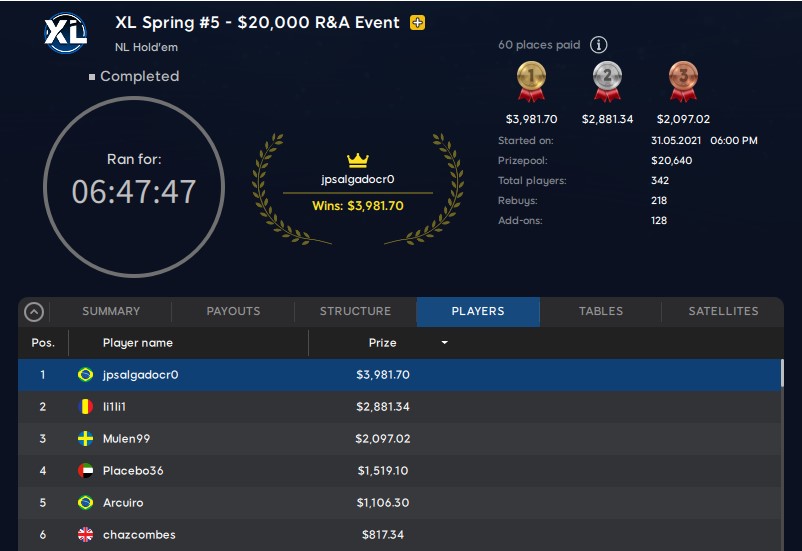 On Monday, which was Memorial Day in the United States, a trio of Rebuy & add-on (R&A) tournaments were held. In the $33 buy-in Event #5: $20,000 R&A, Brazil's "jpsalgadocr0" topped a 560-entry field to claim a $3,981.70 first-place prize.
In the $5.50 buy-in Event #6: $8,000 Mini R&A, 647 players rebought 436 times to create a 1,063-entry field. Brazil's "D.AQUINO92" came out on top and turned his five-dollar buy-in into a $1,306.40 payday.
Brazilian players nearly completed the clean sweep in Event #7: $8,000 Late R&A, a tournament that had 300 players rebuy 232 times.
Unfortunately, Brazil's "BrunoZika1" came up one spot short finishing in second place for $1,172 to the UK's "Invented21st", who won a $1,621.60 top prize.
Canada's "leblond1996" Wins XL Spring High Roller
On Tuesday, the $320 buy-in Event #8: $50,000 High Roller squeaked by its guarantee as 123 players rebought 45 times to generate a $50,500 prize pool.
One player to compete was 888poker Ambassador Dominik "888Dominik" Nitsche, who failed to make the money after losing a flip with his ace-king failing to overcome pocket tens.
The top 24 finishers got paid. And after "plush0292" was eliminated as the bubble boy, the in-the-money bustouts included the following players –
"Ove_Pipcorn" (23rd - $715.68)
888poker Ambassador Vivian "Vivi.888." Saliba (20th - $715.68)
"MarkBurtoni" (14th - $750.96)
Final table bubble boy "algsxr" (10th - $781.20)
The final table was streamed on 888pokerTV with David Tuchman and Nick Wealthall on the call. The action, kicked off with a bang when "leblond1996" scored a double elimination!
He flopped a full house holding pocket jacks against the pocket tens of "andrew_flash" and kings of "ankapupu".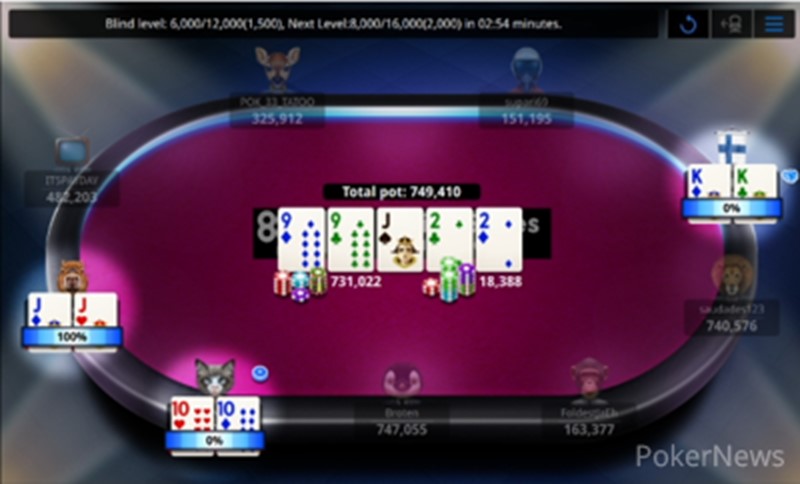 With three players remaining, "leblond1996" once again used pocket jacks to win a big pot. He made a strong river call on a king-high board after streamer Adam "IT5PAYDAY" Neal trued to execute a bluff with nine-ten.
Neal took home $6,048 for his third-place finish.
"leblond1996" began heads-up play against "saudades123" holding a 3:1 chip lead. It didn't take long for things to come to a head. It happened when "saudades123" got their stack of under 20 big blinds all-in preflop with the K♥10♥.
"leblond1996" had him at risk with the A♦5♠. The board ran out 5♦2♣J♣5♣3♠ and "leblond1996" improved to trip fives to seal the deal.
High Roller Final Table Results
1st – "leblond1996" (Canada) … $11,718
2nd – "saudades123" (N/A) … $8,392
3rd – Adam "IT5PAYDAY" Neal (United Kingdom) … $6,048
4th – "Broten" (Belarus) … $4,329
5th – "POK_33_TATOO" (Romania) … $3,044
6th – "supari69" (Canada) … $2,192
7th – "FoldestJaEh" (N/A) … $1,593
8th – "ankapupu" (Finland) … $1,164
9th – "andrew_flash" (Germany) … $852
Two other High Roller tournaments took place on Tuesday. The first was the $55 buy-in Event #9: $25,000 Mini High Roller, which attracted400 players who rebought 138 times.
Canada's "Pat14" prevailed over the 538-entry field to win a $4,920 first-place prize.
The other tournament was the $109 buy-in Event #10: $20,000 Late High Roller, which saw 134 players rebuy 51 times to create a 185-entry field.
Belarus' "Smartestcat" emerged as the last player standing to claim a $4,650 top prize.
Bounty Hunters Battle in Wednesday PKOs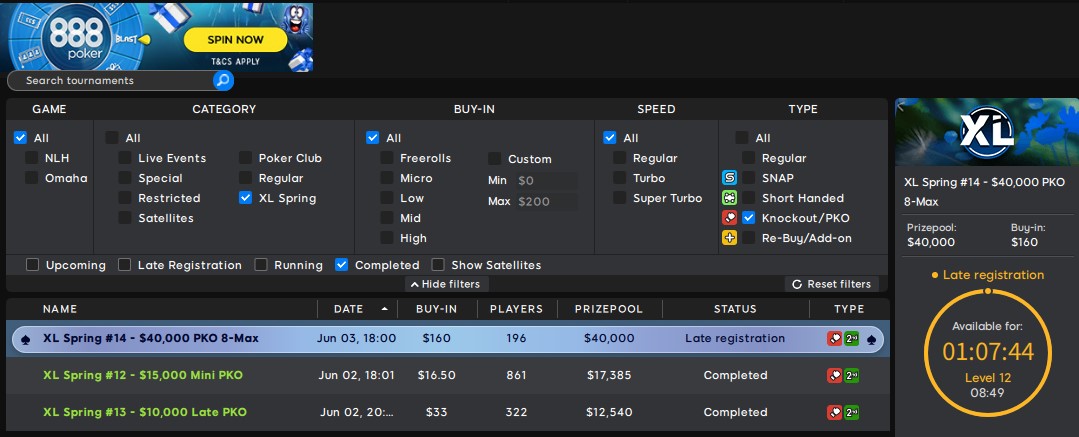 On Wednesday, a trio of Progressive Knockout (PKO) tournaments were held. First up was the $109 buy-in Event #11: $30,000 PKO, which cruised by its guarantee as 288 players rebought 88 times to create a $37,600 prize pool.
The top 48 finishers got a piece of the regular prize pool including the following players –
"cherrywine" (19th for $139.12 + $225 in bounties)
"algsxr" (12th for $223.72 + $450.01 in bounties)
888poker Ambassador Vivian "888." Saliba (7th for $560.24 + $413.67 in bounties)
The final two players, a pair of Brazilians, locked up $3,282.48 in prize money but were battling for the nearly-equal $3,270.84 PKO bounty.
After 7 hours and 45 minutes, it was "GoldHand2077" beating out his fellow countryman "mywifesT7i" to win the title for a total payday of $6,553.32.
Next up was the $16.50 buy-in Event #12: $15,000 Mini PKO, which drew an 1,159-entry field and offered up a $17,385 prize pool.
After nearly 10 hours of play, it was Russia's "ZDmitryS" coming out on top to the tune of $2,389.12.
Finally, the $33 buy-in Event #13: $10,000 Late PKO saw Ukraine's "Nzol888" top a 418-entry field to win the tournament. He took home $1,042.97 plus a $1,089.57 PKO bounty for a combined payout of $2,132.54.
What's Coming Up
The XL Spring Series runs through Sunday, June 6, and there are plenty of great events on the schedule. That includes the $250 buy-in Event #23: $500,000 Main Event at 5 p.m. GMT on Sunday, June 6.
Click here for a look at the full schedule.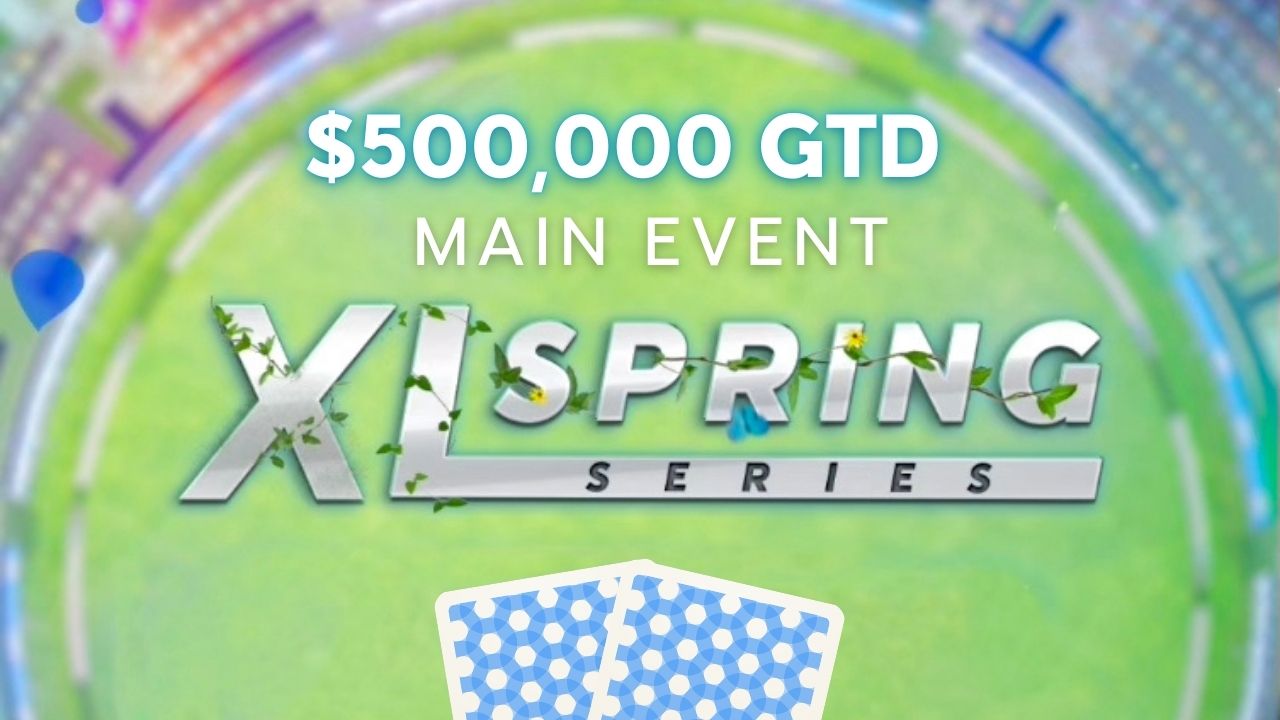 XL Spring Winners Thus Far
Date

Buy-in / Tournament

Entries

Prize Pool

Winner/ Country

Prize

Sunday,

May 30

$55 Event #1:

$50,000 Opening Event

1,353

$67,650

Christopher "MAKKAPAKKK" Johnson (UK)

$9,884

Sunday,

May 30

$16.50 Event #2:

$25,000 Mini Opening

1,520

$25,000

"Sultanhcik" (Ukraine)

$3,652.50

Sunday,

May 30

$5.50 Event #3:

$10,000 Micro Opening

1,735

$10,000

"lourimar" (Brazil)

$1,221.16

Sunday,

May 30

$33 Event #4:

$15,000 Late Opening

481

$15,000

"godfatheR2AA" (UK)

$2,743.50

Monday,

May 31

$33 Event #5:

$20,000 R&A Event

560

$20,640

"jpsalgadocr0" (Brazil)

$3,981.70

Monday,

May 31

$5.50 Event #6:

$8,000 Mini R&A

1,063

$8,000

"D.AQUINO92 (Brazil)

$1,306.40

Monday,

May 31

$11 Event #7:

$8,000 Late R&A

532

$8,000

"Invented21st" (UK)

$1,621.60

Tuesday,

June 1

$320 Event #8:

50,000 High Roller

168

$50,400

"leblond1996" (Canada)

$11,718

Tuesday,

June 1

$55 Event #9:

$25,000 Mini High Roller

538

$26,900

"Pat14" (Canada)

$4,920.01

Tuesday,

June 1

$109 Event #10:

$20,000 Late High Roller

185

$20,000

"Smartestcat" (Belarus)

$4,650

Wednesday,

June 2

$109 Event #11:

$30,000 PKO

376

$37,600

"GoldHand2077" (Brazil)

$6,553.32

Wednesday,

June 2

$16.50 Event #12:

$15,000 Mini PKO

1,159

$17,385

"ZDmitryS" (Russia)

$2,389.12

Wednesday,

June 2

$33 Event #13:

$10,000 Late PKO

418

$12,540

"Nzol888" (Ukraine)

$2,132.54