Poker and celebrities go together like sledgehammers and concrete. Why? It's one of the only forums in the world where the celebrity can be his or her authentic self in the midst of complete strangers.
Class, race, gender - none of that matters at the poker table.
It's the home of unity.
And that's why we see the likes of Neymar, Gerard Pique, and Denilson playing the game. It's why we see Kevin Hart, Aaron Paul, and Brad Garrett at the felt. It's why Shannon Elizabeth, Jennifer Tilly, and Ricki Lake put their faith in the deck.
Those mentioned above are top quality poker players, but are they the best?
I reached out to a selection of poker's finest and here are their recommendations.
1. Christian Bale
Tobias Reinkemeier has won over $11m playing in some of the highest stakes tournaments in the world, including the $1m buy-in Big One for One Drop at the World Series of Poker (WSOP).
The German star believes, Christian Bale, would make an excellent poker player, and this is why:
"If he approached poker with the same dedication and hard work as in his acting career, he would become pretty good. His body transformations are insane," said Reinkemeier.
Poker players will be hoping that Batman turns up to play and not the American Psycho.
2. Sam Harris
The three-time WSOP bracelet winner, Dutch Boyd, chose to go for brains rather than brawn, selecting the controversial author, philosopher and neuroscientist Sam Harris.
"I would nominate Sam Harris. I think he has the kind of analytical mind that would dominate a table, and his background in neuroscience would help him get into the heads of his opponents," said Boyd.
Someone would have to remind Harris that politics and religion don't mix well at the tables.
3. Bill Belichick
Earlier this year, Bryan Paris became only the second player in history to win more than $10m playing online poker multi-table tournaments (MTTs), and so his belief that the New England Patriots Head Coach, Bill Belichick, would excel at the tables should be respected.
"In many ways, American football is a turn-based strategy game much like poker, and Belichick has shown himself to be the best at thinking one step ahead of his opponents," said Paris. "With five super bowl titles in the bag, he's proven himself repeatedly in the highest leverage spots. It would be interesting to see if these skills translated to poker."
4. Tom Brady
Bryan Paris wasn't the only one who felt an NFL background would be a reliable operating system for a top poker player. Tyler Hancock picked out Tom Brady, and here's why.
'Tom Brady is someone who has always been told he wasn't good enough coming up through college, so I feel like he would have the heart and determination to prove people wrong," said Hancock. "He has enough money to not give a sh*t about the money he makes, which can be good and bad, but if he put his head down and decided he wanted to be a player, I think he could be great. Also, as a quarterback, you are a strategist and always looking a few steps ahead. This mindset would be a huge asset in poker."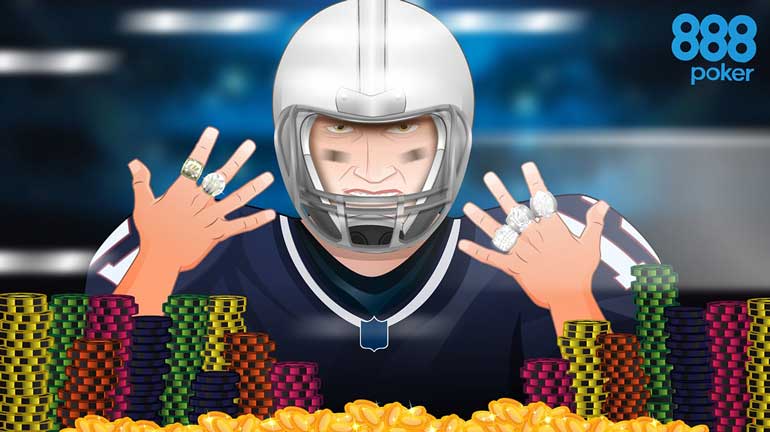 5. Jackie Chan
From the sports field to the stars of the silver screen, and ESPN sideline reporter and 888 Ambassador, Kara Scott, thinks that Jackie Chan has what it takes to see a few flops, turns, and rivers.
"I think Jackie Chan would make a great poker player. He's always done his own stunts and his movie credits often included 'blooper reels' showing the broken bones and injuries he'd suffer," said Scott. "The amount of pain he's put his body through would mean bad beats should be a walk in the park for him. Plus, he's so skilled in the martial arts that thinking multiple moves ahead and constantly trying to determine what his opponents are up to is probably second nature after so many years of practice."
6. Brian Baumgartner
As a writer and poker player, WSOP bracelet winner, Chad Holloway, has witnessed both celebrities and the very best poker players in action on the felt. He believes Brian Baumgartner can make the switch from fish to a shark.
"One celebrity I'd love to play poker with is Brian Baumgartner, who played Kevin on NBC's The Office," said Holloway. "In the show, his character was revealed to be the 2002 WSOP $2,500 No-Limit 2-7 Draw champion, even though such an event never actually existed (Thor Hansen won the $1,500 version). I once spoke to Baumgartner about it, and he revealed that he actually played poker, mostly at charity events, and once won a seat into the WSOP Main Event. Unfortunately, his work schedule prevented him from playing it. If he had the time and desire, I think he could be a great poker player. Contrary to the character he portrays, he is self-aware, understands pot odds, and is social. The sort of guy you don't mind losing to because he keeps you laughing and entertained."
7. Lady Gaga
As a former sideline reporter and professional poker player, Kristy Arnett has interviewed and played against some of the most high-profile celebrities in the business. Arnett looks to the world of music for her choice.
"Lady Gaga is incredibly emotionally intelligent, quick on her feet, intuitive, and takes a risk every day. Those are all factors that I believe make a great poker player."
She can also pen a wicked poker tune.
8. Clive Owen
Valerian and the City of a Thousand Planets star, Clive Owen, would have made an excellent James Bond. The British actor never did manage to step into Ian Fleming's world, but Scott O'Reilly believes he would have been a dab hand in the poker scenes.
"Clive Owen has played a vast range of roles, and I think that he could bring that diversity to the table and adapt accordingly to his surroundings," said Scott O'Reilly. "In 'Croupier' he was able to blend in, while in plain sight, that guy at the table you don't notice straight away, nipping the occasional pot here and there, before laying the smack-down and pulling in a monster.
"His calm and collected attitude give him that level head needed to avoid any poor tilt based decisions. He keeps his cards close to his chest whenever possible, an attribute that would only benefit him at the table. In all honesty, he would be the guy that's always near the top of the chip counts, making final tables but not taking that top spot, he's always in contention but keeps missing out (to Daniel Craig lol). Oh, and lastly the ace up his sleeve? Pulling out a carrot at the table, then you know s** gonna hit the fan."
Eat your vegetables, indeed.
9. Liam Neeson
Liam Neeson is one of the most diverse actors in Hollywood, and diversity is going to be a much-needed asset if he is going to make the grade at the poker table.
Take his character Bryan Mills from the Taken trilogy. Now that's a man with a specific skill set.
"I do have are a very particular set of skills. Skills I have acquired over a very long career. Skills that make me a nightmare for people like you." Bryan Mills - Taken
I believe him, and so does Kristy Arnett.
"Liam Neeson would make an excellent poker player," said Kristy Arnett. "He would stop at nothing! Is it wrong, I just assume the real Liam Neeson is just like his character in Taken?"
I think the same thing, Kristy.
10. Giancarlo Esposito aka Gus Fring
Giancarlo Esposito's most famous role to date is the chilling super villain Gus Fring in the hit TV show Breaking Bad. And with his co-star Aaron Paul joining the Global Poker League (GPL), I wouldn't put it past the two of them to have had a few matches of heads-up sometime during the 26 episodes the pair filmed.
Here's Scott O'Reilly's view on why Esposito's character, Gus Fring, would make a cracking poker player.
"Gus Fring would simply be impossible to read, can take lines that no one but himself could predict and has the potential to run that super quadruple-barrelled bluff at any given moment!"
He would also be a hit at the table supplying enough fried chicken to make your heart stop.
Now it's your turn, which celebrity do you think has what it takes to be a great poker player?