In recent years, players around the world have added a new way to celebrate the game they love – with a poker tattoo.
Perhaps it's their favourite hands or some art portraying the game. Nevertheless, players have become infatuated with showing off their love of poker with some ink.
This article investigates at the world of poker tattoos – from simple designs to quotes to entire poker scenes. Some players even expand beyond the game and depict images of all things gambling, casinos, and Las Vegas.
Whether you're a tattoo fan or not, there are players out there with some genuine creativity when it comes to adding a bit of poker to their bodies.
Table of Contents
Playing Cards, Suits and Poker Hands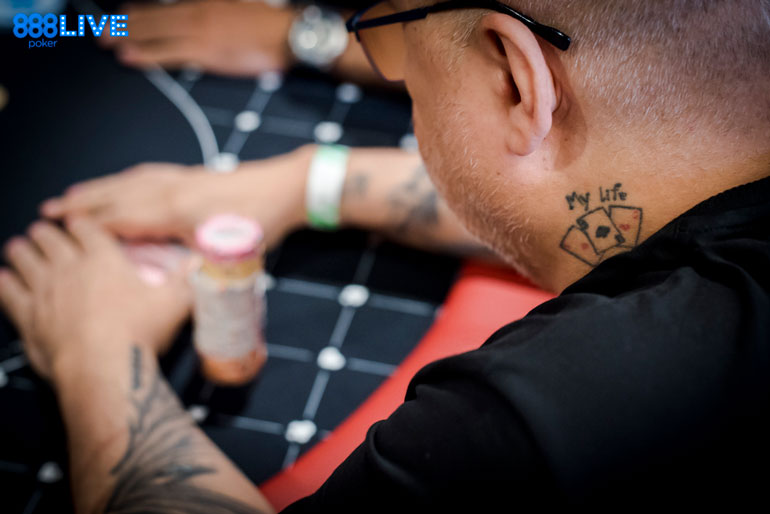 Playing Cards and Poker Hands
Some fresh ink with a favourite hand is popular with many poker tattoo fans. Many players have taken to Twitter, Facebook, and Pinterest to show off their designs.
Here's a look at just a few of those.
Favourite Hand Poker Tattoo
Mixing in some other forms of casino gaming is also a popular option. This gambler decided to go with a royal flush on the arm with some craps dice thrown in to show his general interest in gaming.
Spades seem to be a particularly preferred suit with many players as this player also selected spades.
Neymar - the Brazilian football superstar - also picked up a love of competition on the poker table. In 2018 he took sixth in a $1,400 event at the Brazilian Series of Poker for $21,072 for the biggest live score of his career. His love of the game is so deep that he has a poker tattoo covering his right calf since May 2022.
Card Suits Poker Tattoos
Solely adding the playing card suits can also be an option for players adding a poker tattoo. This person went with a more prominent symbol. But they added some intricate design in each with a brilliant red to show up those diamonds and hearts.
The second player decided on a vertical placement of suits running up the side of his torso.
This poker tattoo is an excellent example for those looking for something a bit more conservative. Maybe you're seeking something smaller or just a little squeamish about the pain involved with a tattoo needle.
This player simply went with a little Ace of Spades on the wrist. It's nothing huge but still sends a statement about the wearer's favourite game. This one probably didn't take too long but shows off that love of poker.
Famous Hand Poker Tattoos
Dead Man's Hand is probably poker's most famous hand. Old West legend Wild Bill Hickok supposedly held this hand when shot in the back and killed in 1876.
Aces & Eights – Dead Man's Hand
The famed lawman and gambler had been playing poker in the mining town of Deadwood in the Dakota territory. He was killed instantly and is believed to have held two Aces and two Eights. Many poker fans like depicting this bloody piece of card-playing history in tattoo form.
Poker Chips
A poker player's ammunition is a huge part of the game. The more chips you have, the better you are in a tournament or cash game.
Some tattoo and poker fans prefer spotlighting this part of the game on their bodies.
Chip Decoration Poker Tattoos
This poker tattoo combined some poker chip decoration with playing cards. But those chips apparently have some special meaning with the letters "M" and "J" as part of the design.
Maybe they're the player's own initials or, more likely, those of a loved one. Perhaps this player was just a big Michael Jordan fan?
The basketball superstar was a gambler, after all.
Viva Las Vegas! This player combined all his gambling interests into one huge poker chip right on his pec. This poker/gambling tattoo undoubtedly stands out and sends a message.
But why only a $100 chip? The Bellagio once offered a $25,000 chip.
Why not go all the way and make a loud high-stakes statement?
Multiple Chips/Chip Stack Poker Tattoos
Like many players, this human canvas mixes in several items with poker chips right in the centre of it all. This player opted for what most players crave – stacks and stacks of chips.
But this tattoo fan is a bit of a renaissance man and has interests away from the poker table as well.
Note the billiards balls mixed in with the design.
This person went with a design featuring five poker chips cascading down his forearm. They look like they might be getting tossed into a big pot. There's no mistaking where this person envisions himself at the tables.
The World Series of Poker logo plays out prominently on the chips. This player either has already won an iconic gold bracelet or, like many, dreams of taking one home someday.
Poker Players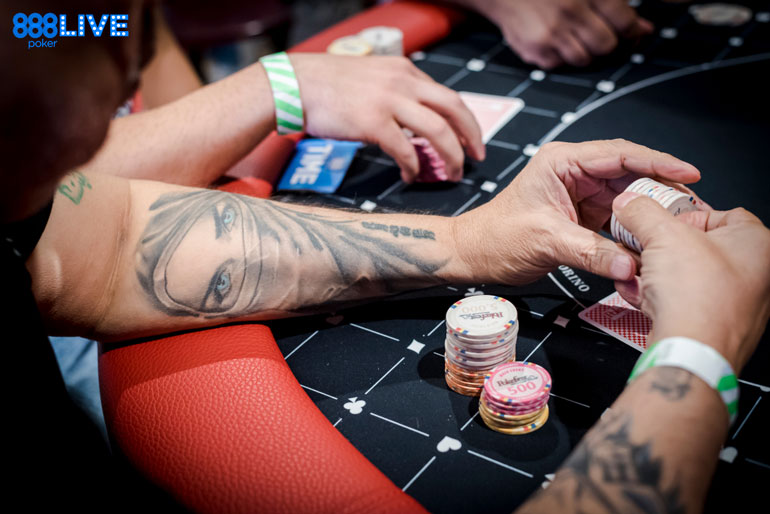 Poker Player People Tattoos
Some people decide to honour the players involved with moving chips and playing cards in their tattoo design. This image could be famous poker players or other depictions of general poker personas they may envision.
This tattoo depicts a whole scene and lifestyle with a poker player fittingly wearing sunglasses while battling it out at the tables.
The entire design takes up a player's full forearms but has some clever artistry showing the cool vibe that comes with poker.
Is the player the same guy who hosts the tattoo? That remains a mystery.
This next entry comes from none other than actress and poker player Jennifer Tilly. Poker legend Doyle Brunson is sending a hand to the muck against an unknown opponent.
Perhaps adding his iconic hand, 10-2, might have been a better fit? He held those cards in the last hand to win the WSOP Main Event in 1976 and 1977.
Here's something you don't see every day: a #DoyleBrunson tattoo! @TexDolly ♣️♥️♠️♦️ pic.twitter.com/0qgkETHKHN

— Jennifer Tilly (@JenniferTilly) February 15, 2019
Daniel Negreanu served as some inspiration for this woman looking for a tattoo on her lower back. She went all the way in depicting her favourite poker player – complete with the following –
Card suits
Negreanu's "Kid Poker" nickname
Even his autograph, capping it all off
#NeverForget pic.twitter.com/VRIvZnHqgS

— Remko Rinkema (@RemkoRinkema) November 27, 2016
Quotes and Sayings
Poker is full of interesting theories on life, sayings, and quotes. Some of those seem fitting to add to one's body permanently. So, many players choose to share their outlooks with the world around them.
This player chose to go with some vintage playing cards depicting a Broadway straight. Maybe this player prefers poker realism. This hand is much more likely than the royal flush many poker tattoo aficionados tend to ogle.
Whatever the case, the motto seems to say it all about his outlook on life:
"Born to lose, live to win."
Hopefully, he's doing more of the latter.
This simple tattoo not only depicts a saying uttered at some point by most poker players, but it also signals a message to the world – "all in."
The player has given his poker tattoo some real existential meaning –
He's all-in for poker and life.
Here's another player making a bigger statement – linking the game of poker to the larger context of life in general.
His poker scene includes the saying:
"It's not the cards you're dealt in life; it's how you play them."
Perhaps a better script would have helped make the saying stand out more and be more legible. But it's a great message for life in general, nonetheless.
Going Big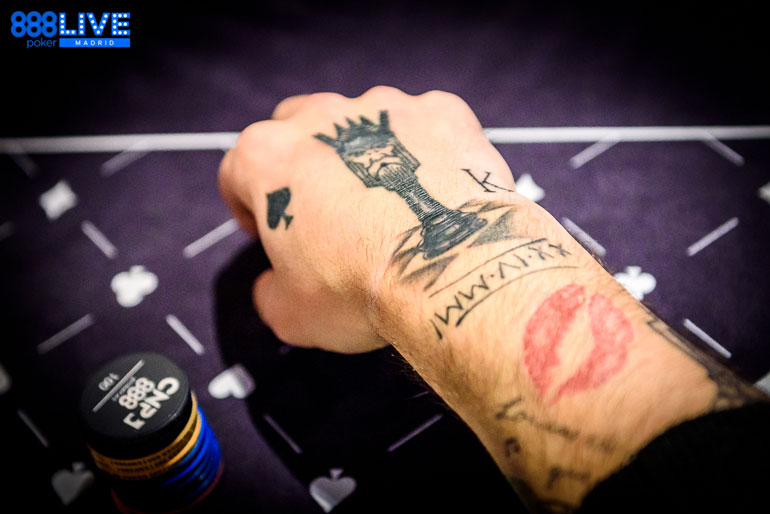 Poker Tattoos - Going Big
For some players, a tiny tattoo just won't cut it. These players prefer a much larger design – offering a complete view of their poker life or outlook. These scenes may depict a little of everything here with even more thrown in on top.
This poker player paints a complete gambling scene on his bicep.
The King and Queen of hearts are at the centre of the tattoo, complete with a broken heart separating the two.

There's even a roulette wheel and some craps dice also filling out the picture.

One addition is a stopwatch at the base of the design.
What does this part of the design mean?
Maybe it's the idea that time is constantly ticking down – and you only live once.
These larger tattoos tend to depict a player's complete poker and gambling lifestyle. This design not only shows a player's love for poker and gambling but also memorialises a friend.
No doubt, these two had plenty of fun times together at the tables and beyond.
This design has it all – poker, roulette, dice, and even a skull as the centrepiece. This poker-playing tattoo fan has his entire arm below the elbow showing his pride in playing some of his beloved games.
The skull only adds some extra toughness. This player is all-in.
Here's another player who went with a large design. This person designed a complete Las Vegas theme – cards, chips, dice, and the famous Sin City welcome sign.
There's no mistaking this guy's favoured place to vacation.