There are 50 players left in the 47th World Series of Poker (WSOP) Main Event when the dealer flicks the cards around one of the tables. The first player to look at his cards is Jan Suchanek from under the gun. He likes what he sees and bets 275,000. The action folds around to Fernando Pons in middle position, and he makes the call. Adam Krach then 3bets to 1.1m from the button; Suchanek moves all-in for 5.42m; Pons also moves all-in for 6.445m, and Krach folds.
Suchanek shows AsQc; Pons shows JsJd. It's a flip. If Suchanek doesn't find an ace or a queen, he is out in 50th place. If Pons doesn't hold, he will see his stack fall to one of the lowest in the contest. It is the tournament-defining hand for both players.
Pons adjusts his cap and waits for the dealer to lay down the most critical flop of his life.
Flop: Ad9s3s
Suchanek hits his ace.
Pons looks crushed.
He only has two outs and two more cards to come. He might not have to change his flight after all. He might not have to ask the boss for more time off work. The dream is surely over.
Miracles don't happen to men like Fernando Pons.
Turn: 3c
The anguish is written all over Pons' face.
Only the river can save him now, and there are only two cards in the deck that can keep the dream alive.
River: Jc
He's done it!
The deck has come to the salvation of Pons.
Perhaps miracles do happen.
Worker, Father, Husband and Amateur Poker Player
37-year-old Fernando Pons lives in Palma de Mallorca in the Spanish Balearic Islands. It's one of the most beautiful places on earth. There is an artistic vibe to the place; a creative feel that draws artisans from all over the world.
It's a far cry from the hustle and bustle of Las Vegas.
Pons has a wife and four-year-old daughter. He is an account executive for a retail chain. When he is not a father or husband, he likes to play poker, which he learned playing in home games with his friends for a bit of fun.
As fun as those games may have been, Pons always liked to win. He had been a winner all of his life. He loved to win every hand, every game, and as he improved, he liked to win money.
Pons always had his feet on the ground. He has always been a worker, father, and husband. Poker was always just a hobby, but it was a pastime that his friends and family supported him in. His wife continually gave Pons the confidence to succeed by reminding him what a great player he was when the cards were not producing the magic that he needed.
That support was never more prevalent than in 2012. Pons had reached a low in his poker career. It might have been a hobby, but suddenly, the winning sessions had dried up and the fun with it. It was a grind. The losses were affecting his relationships, his work, and pretty soon Fernando Pons started to believe he was a nobody in poker.
Then on the 30 Sep 2012 Pons finished runner-up to Carlos Ribas in a €660 buy-in event at the Gran Casino in Mallorca. The €14,858 brought him renewed confidence. When he returned home, his wife gave him that reassuring 'I told you so' look.
Turning €30 into $8 Million
The bankroll boost allowed Pons to open an online poker account at 888.es, where he would
multi-table online tournaments
after his daughter had gone to bed.
Then one night in May 2016, Pons entered a €30 Satellite for a €250 Satellite for the WSOP Main Event. Pons never thought he would win it. It was just one of the many tables he played that night.
He qualified.
He went to work.
He wondered if miracles existed.
The final Satellite took place on 22 May. There were 43 entrants. Pons snuggled up to his wife on the couch and started to open a few tables on his laptop. His wife had one hand on his knee and the other on the remote control watching TV. Their daughter was sound asleep upstairs completely unaware that her life was about to change irrevocably.
That was Pons' routine - the same routine that hundreds of thousands of amateur poker players around the world go through on a nightly basis. Only this time it was different. The account executive won. He was on his way to Las Vegas to compete in the $10,000 buy-in Main Event. It was the greatest tournament in the world. Pons had never even visited Las Vegas, let alone played in a WSOP event.
It's times like these that most amateur players wish they had the $10k cash instead - not Pons. Playing in the WSOP Main Event was a dream.
He had to know if miracles could happen.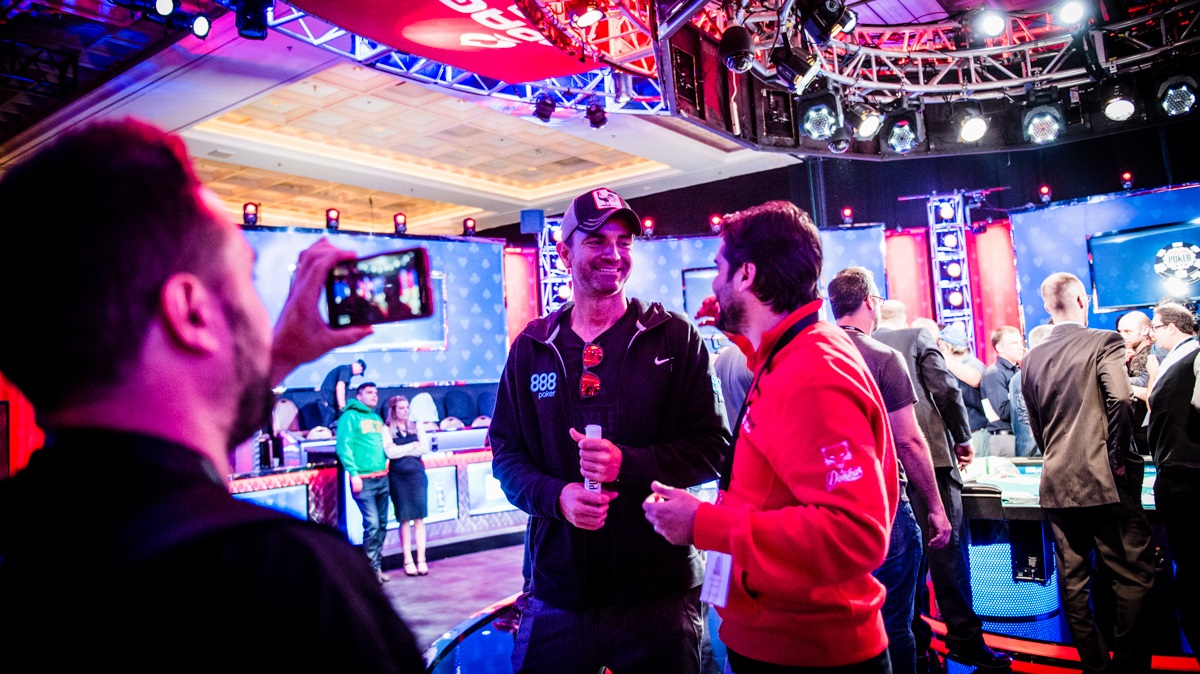 What Pressure?
One of the great things about qualifying for a $10,000 event for €30 is that you don't feel any pressure. Pons believed this was a critical success factor for him as he sat down and started to revel in the greatest poker tournament alive. He had nothing to lose. The Spaniard had stumbled across the perfect mindset.
His goal was to have fun, play each hand as optimally as he could, and to create memories that would last forever. And he kept thinking about his wife and daughter back home. When he looked over at the rail he wished they were there, cheering him on, his biggest supporters in one of the most significant moments of his life.
WSOP Main Event: Day 1 to 6
Pons played Day 1C with 4,239 other players making it the largest single-day flight in the 47-year history of the event. 3,252 players made it through to Day 2C, and Pons was well positioned finishing the day with 118,900 chips. Only 280 players had amassed more.
The WSOP Main Event is one of the toughest tournaments in the world. To reach the November Nine you have to compete in seven gruelling days of competition that are taxing both mentally and physically. You also need luck on your side. There are very few players who navigate their way through the pack without a few all-ins along the way.
So when Pons made Day 3 with 279,600 chips, he wasn't getting carried away. He wasn't thinking about winning the thing. He was getting through each day on adrenaline alone. Unable to sleep because of jet lag with no respite in between.
The goal had changed.
Pons desperately wanted to make the money.
He had qualified for €30.
$15,000 was pure profit.
It was a tough day for Pons. 798 players made it through, and he finished in 684th with 137,000 chips. He had fewer chips than he began the day with, but he was guaranteed $16,000. And, he had made Day 4. His phone calls home to his wife started to hold more belief. He began to think of Chris Moneymaker, the man who changed the landscape of poker forever with his WSOP Main Event victory after qualifying for $30. He also thought about Carlos Mortensen, the greatest Spanish player of all time and a WSOP Main Event winner.
Settle down.
There is nothing to lose.
You are already a winner.
Take each day as it comes.
Day 4 was hard. Pons was tired. At times he didn't believe there was a finishing line. He just wanted to sleep. His stack kept falling, but his hope never joined it. He was short-stacked throughout most of the day, and would have left the competition had his hero call for all of his chips not have been spot on. His energy may have been fading, but his poker mind was not.
251 players bagged up at the end of the day. Pons stood up and looked around. He saw the bald head of his friend Massa Paolo smiling like a beacon of hope at the rail with a thumb in the air signifying admiration. Mike Gorodinsky was bagging up chips beneath his 2015 WSOP Player of the Year banner, Daniel Colman was talking on his mobile phone, and Johnny Chan brushed his arm as he scurried past deep in conversation with a friend.
What was happening?
He was now guaranteed $36,000, the same amount of money Pons would have won had he beaten Carlos Ribas in the Spanish National Championships, a time when he believed he was a nobody in poker. It was surreal. He had 1.58m in chips. Later he would read the live updates and see that he was in 81st place, and nobody was talking about him. It was the perfect spot.
Day 5 saw the field dwindle to 80 players.
It was a tremendous day for Pons.
He bagged up 7.9m chips, and it was good for a Top 10 finish. If the tournament ended today, he would have won $650,000. But it wouldn't stop today. He still had two days to go. Life changing money was within his grasp.
His mind was buzzing.
What if?
Could he?
Each day he would wake up, go out and buy some new clothes. He had only packed for a five-day stay. He would have to change his flight. He would have to ring his boss and ask for more time off work.
"Why, what are you doing?"
How do you explain to your lords and masters that you are busy trying to win $8m playing poker on the other side of the world?
Would he even go back?
Day 6 and the unbelievable happens.
Pons finds himself all-in with pocket nines facing pocket aces. It's another one of those moments you hope never arrives, but secretly know that they will. It's the one moment that even the non-religious pray. It's the moment that we all believe in the Poker Gods.
Pons finds his nine.
He doubles up.
He is leading the WSOP Main Event with 46 players remaining. If the tournament ended now, he would be the World Champion. He would have $8m. His life would change forever. His daughter would want for nothing. He and his wife would have the freedom to pursue their dreams.
It was nothing short of a miracle.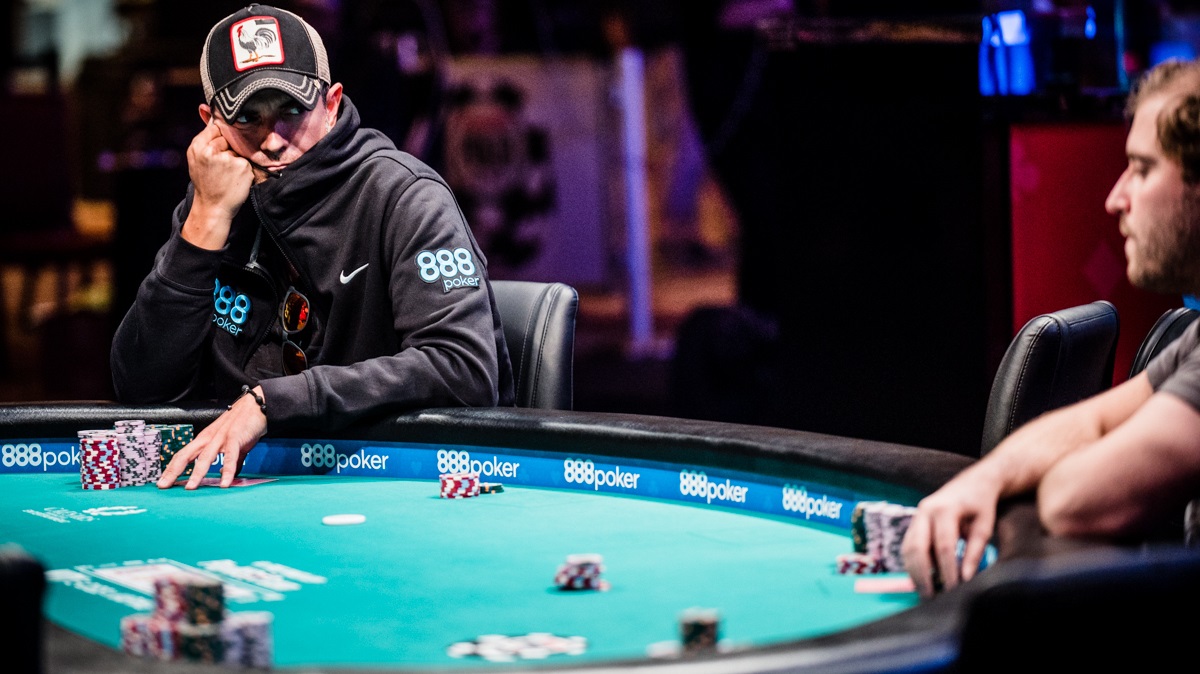 And then he wins the flip JJ v AQ flip against Jan Suchanek with the two outers on the river. It's happening. Pons could feel the surge of momentum carrying him through every single hand. He was exhausted. He was running on fumes. But he had hope; he had his dream, and he had fingers and toes crossed.
Only 27 players made it through to the final day of the summer.
Fernando Pons was in seventh place with over 17m in chips, and what a time to make a deep run. Pons, the nobody of poker, was sprinting for the finishing line with some of the greatest players in the world running alongside him.
Tom Marchese.
Griffin Benger.
Cliff Josephy.
James Obst.
Jared Bleznick.
Antoine Saout.
How could he beat these guys?
When would this end?
He had locked up $269,430. If it ended right now he would have surpassed his greatest expectations. He shouldn't go any further. He isn't supposed to be here, and yet Pons felt completely at home. Someone had flicked the pressure switch. What began as an anything will do journey had now become a laser-like goal of making the November Nine.
It was his first visit to Las Vegas.
He had only seen the inside of the Rio.
He desperately wanted a reason to return.
WSOP Main Event: Day 7
Day 7 of the WSOP Main Event was a day that was to rank up there with his wedding day and the birth of his daughter. By this time his flight had changed, more clothes had been bought, and his boss has kindly extended his period of leave.
27 players stood in the way of $8m and the title of World Champion. It would be the greatest Rocky story since Moneymaker. He called his wife. She reminded him that in 2012 when he thought he was a nobody in poker how she said he would one day make it big. Behind every great man is an even greater woman. Pons knew he would not be here today if it weren't for the unflinching support of the person he loved more than anyone else in the world. He would do it for her.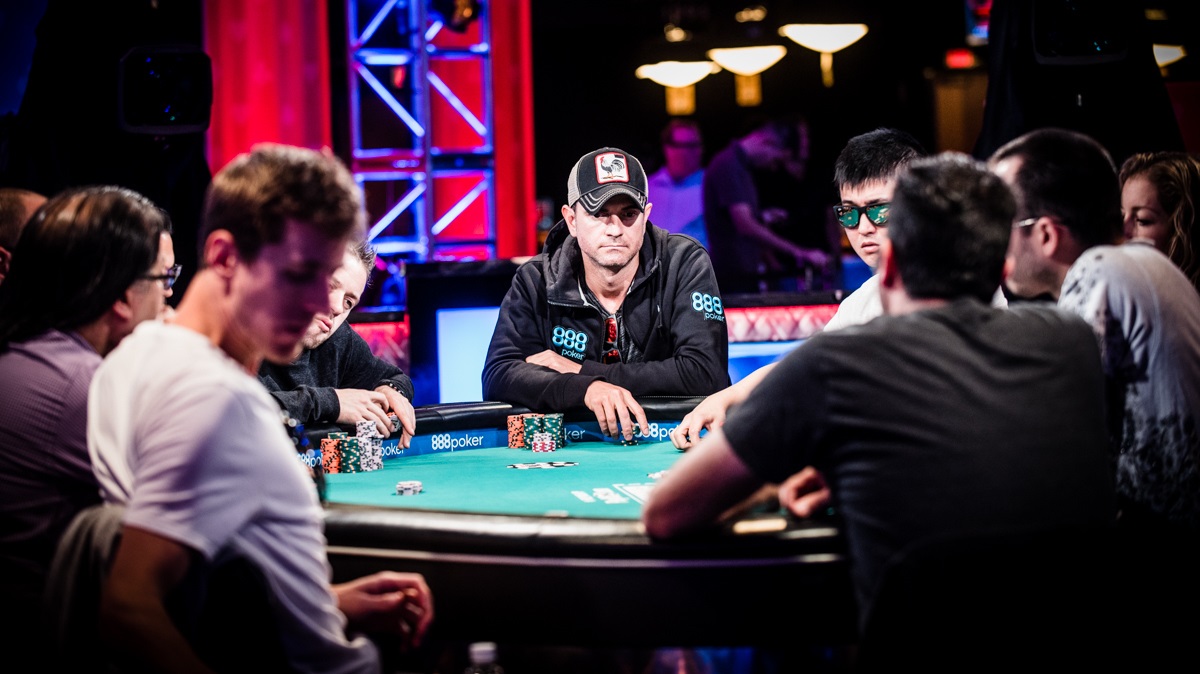 The End Game
He started with 86bb.
His plan was to play steady, play each hand as it came to him, and remain as composed as he could be.
He had plenty of chips.
He was hoping they would last.
So many players stood in the way of the Spaniard. Pons didn't know most of them, and that was a good thing. Had he known how good the likes of Matthew Moss or Antoine Saout were, it may have hurt his game.
He begins well, winning three hands in a row. He wins the blinds and antes with an open from the cutoff. He raises from the hijack, receives a caller in the shape of Thomas Miller on the button, and takes it down with a c-bet. Then Michael Ruane opens from the first position, and Pons calls from middle position. The flop is Ad9c3s; Ruane bets 575k and Pons calls. The turn is the 7c and both players check. The river is the Qs; Ruane checks, Pons bets 900k and wins the pot to move over 100bb.
Next, he takes on one of the strongest competitors in James Obst. The Australian opens the button, Pons 3bets to 1.3m from the big blind, and Obst calls. The flop is 9h8h2h; Pons bets 1.225m; Obst calls. The turn is the Jd; Pons checks, Obst bets 1.8m, and Pons check-raises to 9m and takes the pot.
Pons couldn't have hoped for a better start.
He felt comfortable.
He was in the zone.
Antoine Saout is eliminated in 25th place.
Then he loses a big pot against Mike Shin. His confidence it cut, but he doesn't show that he is hurt. Mike Shin opens the action from mid position, Qui Nguyen calls in the cutoff, and Fernando Pons calls on the button. The flop is Qh5c2c; Shin bets 750k; Nguyen folds and Pons calls. The turn is the Th; Shin checks and Pons checks. The river is the Qd; Shin bets 1.55m and Pons calls. Shin shows AhQs and Pons is forced to fold his queen because he is out-kicked. It's a setback, but he still has 79bb.
Valentin Vornicu is eliminated in 23rd place.
Pons opens to 700k in mid-position; Hakim 3bets to 1.5m in position and Pons calls. The flop is AcAh8h, and both players check. The turn is the 5d; Pons bets 1.5m and Hakim calls. The river is the Jh; Pons bets 5.125m, Hakim moves all-in for 6.275m and Pons calls. Hakim shows AsTs, but Pons knocks him out with KhQh for the flush and has 87bb.
He clashes with Mike Shin for the second time.
It works out a lot better than the first.
Pons opens from mid-position, and Shin calls on the button. The flop is Ks8c6h, Pons checks, and Shin also checks. The 8h hits fourth street, Pons bets 700k and Shin calls. The Jc hits the river; Pons bets 1.2m and Shin calls. Pons shows AsKh for two-pair and Shin folds. Pons now has 96bb
Matthew Moss is eliminated in 21st place
Pons looks around. Paolo gives him the thumbs up from the rail. It's good to feel like someone is on your side when you are in the midst of battle. There are two tables left - only two. Pons can't believe it. Griffin Benger takes a seat to his right. His stack has dwindled to 39bb. He doesn't want it to shrink any further. He intends to avoid the all-in and call.
Griffin Benger Eliminates Will Kassouf in 17th place.
Kenny Hallaert eliminates Jared Bleznick in 16th place.
Tom Marchese falls in 14th place
James Obst exits in 13th place
And Pons can't win a hand.
He raises and folds to 3bets. He 3bets and folds to 4bets. And his stack gets shorter and shorter. His heartbeat moves up a notch. He sweats. It's getting hot in here.
Mike Shin is out in 12th Place.
Pons holds on.
Chips are bleeding.
John Cynn is out in 11th place.
He has made the unofficial final table. He can't believe it. Paolo can't believe it. He is guaranteed $650,000, and he qualified for €30.
He sucks it in.
He takes three deep breaths, the deepest breaths he has taken in his life. There are ten people left. One more will leave, and the rest will become the November Nine. Lives will change. And there is a pay jump of $350,000. Someone is going to get seriously hurt.
Pons counts his chips. He has 18bb. Jerry Wong has 22bb, and Joshua Weiss has 7bb.
The action is snail-like.
Jack Effel makes them play hand-for-hand and removes the player's rights to call the clock because of the speed of the game.
Pons falls to 17bb, 16bb, 15bb.
He keeps looking at Weiss.
Make a move.
Make a move.
Kenny Hallaert opens the button, the small blind folds. Weiss is in the big blind with 3bb.
Go all-in, please go all-in.
Weiss folds.
Pons falls to 14bb, 13bb, 12bb.
He knows that his only move it to go all-in or fold. He doesn't want the decision. He wishes he could go for a long walk, return and find out that someone is out. Suddenly, it's not about $8m. It's not about making his wife proud.
It's all about making the November Nine.
It's all about staying alive.
But time is running out.
Please don't give me a hand.
The action folds to Weiss in early position, and he moves all-in. Pons' heart stops. It starts again. Michael Ruane and Gordon Vayo call in the blinds. Pons' heart is thumping so hard he puts his hand on his chest to prevent his ribs from splintering.
The whole table, except Weiss, knows what should happen next. It does. Ruane and Vayo check the action down to the river. Weiss shows Ad8c for ace high.
Oh no, that might be good, ace high might be good,
Vayo shows Qh7s for a pair of sevens.
It's all over.
Nobody notices that Ruane has won the hand with two pairs. Nobody cares. There is a moment where a consolatory handshake extends towards Weiss, and then everyone erupts.
Pons looks over at Paolo, and he gives him the thumbs up.
He is trembling.
He can't believe it.
He has made it to the November Nine.
He will start with 12bb and the smallest stack in the room. He is guaranteed $1m. He could win $8m. Then again it could be the shortest Las Vegas trip of his life. But that's what everyone thought would happen the first time he came here seven days ago.
Everyone except Pons.
Everyone except Paolo.
Everyone except his wife.
And when Pons thanked his boss for giving him the extra time off, he felt a little awkward asking for more time off in November.
"What's it for this time?" asked his Boss.
"I am going back to Las Vegas to see if miracles really do happen," replied Pons.