The 4 Types of Poker Chips You Need to Know
Poker chips aren't necessarily needed to play a poker cash game. Silver dollars could work as well as plain old cash. However, there's a reason those coloured disc markers came into use.
They just make playing and settling up at the end of the night a whole lot easier. Chips also make players more apt to loosen up at the tables – those chips don't always seem quite like real money.
When it comes to tournaments, poker chips are a definite necessity. Players start with an equal amount of chips and hope to be the last player standing and take home the title, the glory, and plenty of cash.
Whether you're just interested in poker chips or looking to buy a nice set for your home game, here's just about all you might want to know about poker chips.
Table of Contents

4 Types of Poker Chips: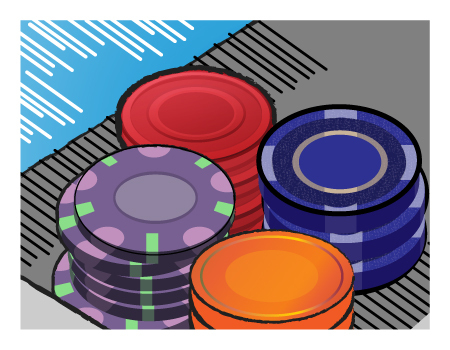 1. Plastic
2. Composite/Clay Chips
3. Ceramic Chips
4. Metal Chips
In poker, the value of a chip depends on the game or event. Values in cash games are used as a direct representation of cash. Players in a $1/$2 No Limit Hold'em game who buy in for $300 will receive that amount in chip value.
Colours vary by casino but tend to follow similar patterns at least for lower values.
For example, here's a look at chip values one might find in cash game in a Las Vegas Strip property:
Before the poker boom of the 2000s, these might be the type of chips you'd see at your father's penny-ante poker game with friends. They were available at grocery stores and other retail shops and came in the traditional red, white, and blue, but could be found in different colours as well. They're cheap, lightweight, and good for those not interested in taking their poker too seriously.
Those who grew up playing with friends and family may have seen these in vacation cabins, lodges, hunting camps, or the grandparents' game closet. They were perfect for learning the game and playing with relatives. And who could forget that "plink" sound the chips make when tossing a few in the pot.
Composite/Clay Chips
At one time, poker chips were made of clay and had a much better feel than cheap plastic chips. However, modern chips are not made of clay, but a composite material meant to mimic the touch and feel of those style of chips. Clay chips were standard in saloons and card rooms in the 1800s but haven't been used since the 1950s. They were replaced by clay composite because they're more durable and not brittle like the old clay chips.
Most chips come in traditional 11.5, or 13.5-ounce weights and make for an excellent game. They stack and riffle easily, are easy to slide along the table felt, and are indeed long lasting. Their heavier weight than the old plastic ones makes chip tricks easier and produce a deeper sound when splashing a pot.
With the growth of the game over the last two decades, these types of composite chips can be purchased easily online and even in some retail stores. They are relatively inexpensive with sets of 300 chip starting around $35. Those looking for a decent chipset that functions well would do well to purchase some of these.
Ceramic Chips
A step up from composite and clay chips, ceramic chips have a smoother surface, better quality, and a hardier durability. Ceramic chips are manufactured using injection moulding, and graphics are printed directly on the chip as opposed to an inlay or sticker used in lesser-quality chips. Because of this, ceramic chips are much more customisable with more elaborate designs.
These chips also slide well across a poker felt and make chip tricks even easier than clay composite. There are numerous options and customisations available online.
Ceramic chips can be more costly, with a set of 300 starting around $150. But for someone to make that home poker room really special, these are the way to go.
Metal Chips
While not near as common as ceramic and clay composite, metal poker chips are also available for those looking for a unique design of their poker chip setup. However, finding them requires some real effort and a keen eye on the lookout on sites like eBay.
These pewter chips below were sold by the Time Life company a couple of decades ago and came in silver, gold, and bronze shades. They are very difficult to come across today.

Pros and Cons of Various Types of Poker Chips
Ready to buy those poker chips? Here's a quick look at some things to keep in mind: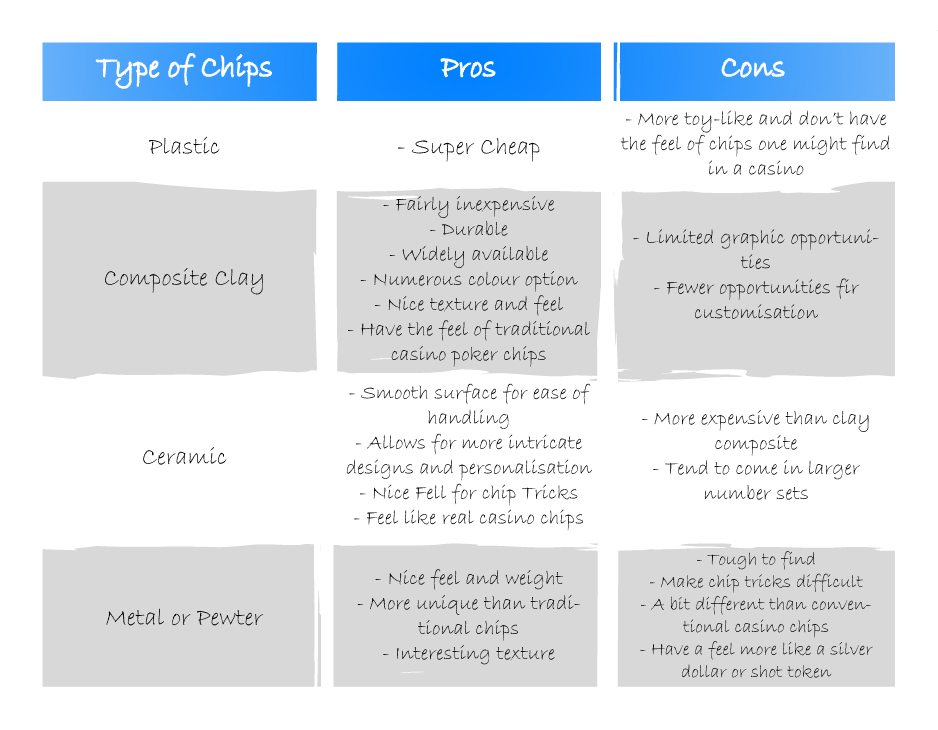 Poker Chips for a Home Game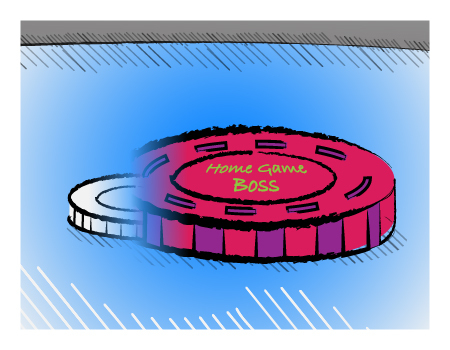 Getting some high-quality poker chips for that home game wasn't always easy, and they could be expensive. The age of Internet commerce has certainly changed that, and the poker boom of the 2000s made a chipset a much more sought-after commodity – and less expensive.
For players looking to organise that perfect poker game, here are some things to keep in mind when picking up that flawless set of chips.
And, hopefully, most of them are in your stack by the end of the night.
Poker Chipset Style
A quick Internet search and a poker shopper will come across almost any colour and design imaginable.
Here are a few things to keep in mind when considering the perfect style for that next game.
• Colours – When it comes to colour, it's always essential to have a few options for various denominations. Many basic sets tend to come in traditional colours like white, red, blue, black, and green. But a quick Internet search will find that there are numerous other choices available – from maroon to orange to yellow.
You can pick even more exotic colours like baby blue, turquoise, forest green, violet – with some offering multi-coloured combinations. There's a pretty good chance if you can dream it up, it's available.
• Denominations – Those players looking to purchase some chips for their home tournaments or cash games have a big decision to make. Do you want to include chip denominations printed on the chips? This design element would undoubtedly set your chips apart, but once that decision is made, they're not coming off. A positive is that denominations make determining chip values and counting out initial chip stacks much quicker and easier. It also makes cheating less likely – sneaking in chips from the outside isn't as easy when these are in play.
On the other hand, having those values printed on the chip face may be a bit confusing if you want to alter the denomination. Also, some players just like the traditional look of coloured chips without denominations. However, they do make a tournament look a little more official, but that choice is ultimately up to the buyer.
• Inexpensive Options – If value is the way you're looking to go, the clay composite route may save a player a few bucks. They're long-lasting and relatively inexpensive. The plastic-style chips aren't easy to handle like the traditional poker chips one might find in a casino. If your setup requires more intricate graphics, then ceramic will be the way to go with numerous sites online offering customisation.
Poker Chip Design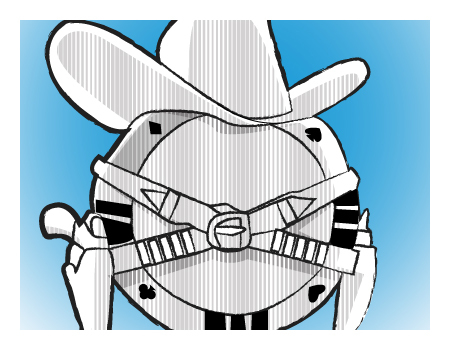 • Icons – There are a few designs that have become traditional when it comes to conventional chips in use in home games and casinos. The edges of many mass-produced chips have a few things in common. Some may have six dice numbered one through six around the side of each chip. Other options feature card suits (spades, hearts, clubs, and diamonds) and diamonds encircling the edges.
Some chips may be wooden or have a composite antique look to make them resemble clay, with no visible symbols or icons. These are meant to have a little Old West touch, so everyone feels a bit like Wild Bill Hickok battling it out at the tables in Deadwood.
• Personality – Just like colours, if you dream up a poker chip design or style, it's probably possible to create it. In fact, there are services available offering to customise chips for your home poker room. Players may want to design their own logos or include the name of their poker club or room – just like a real casino.
A quick look will find any number of designs, logos, fonts, and sayings to suit any taste or personality. When it comes to gambling-related options, the offerings range from poker hands graphics to card suits to those with unique poker club names like Monte Carlo, Nevada Jack's, and Ace High.
Old West fans may enjoy cards featuring pistols, sheriff badges, and cowboys. One company even produces a nice set of chips that features Wild Bill Hickok himself. Some other possible options include Harley-Davidson for bikers, beers for drinkers, and DaVinci masterworks for art lovers.
Those looking for even more bucks on the table may want to check out the brilliantly designed Greenbacks set – inspired by American currency and perfect for history lovers.

• Marketing – Poker chips have also become an excellent marketing tool in recent years with companies giving them away complete with their logo, phone number, and website. It's aninventive way to get customers and clients to remember your service and a fun thing to keep. Collectable chips have also become common with every president gracing a set from Washington to Lincoln to Kennedy to Trump.
Bars and restaurants have commissioned chips with "One Free Drink" printed on chips – indeed a winner for those seeking some lovely liquid refreshment at a great price.
• League or Poker Site – Fans of televised poker or online poker have plenty of options as well. Those heading to the Rio Hotel and Casino for the World Series of Poker (WSOP) during the summer will find sets featuring the logo for sale. They can also be found online at the series' official commerce site.
Fans of the World Poker Tour can also invest a chipset inspired by the tour that helped kick off televised poker. The company's shopping website has sets for sale.
Of course, no 888poker fan would want to be without his own chipset from their favourite online poker site.
The striking 888poker Sets are available at the 888 Shop and will undoubtedly impress your friends.