Standard Poker Chips Values and Colors 
It's something most players take for granted. They simply buy in, take a seat at the table, and start riffling those poker chips as they wait to get dealt in on the next hand. But along with those playing cards, chips are a huge part of any game. Poker chips of varying colors are used to represent money in a cash game, and also certain values during tournaments.

Poker Chip Values in Tournaments and Cash Games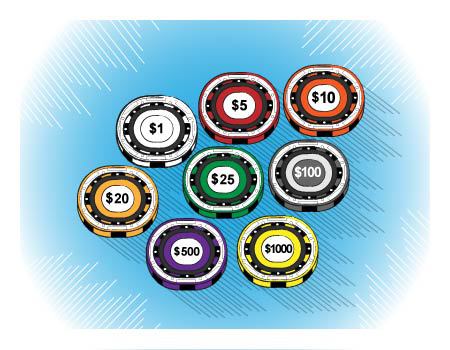 Chips have long been used to represent cash and make it easier for players and casinos to wager. A player's chips are his weapons and they vary  in color and denomination based on the stakes involved or level in a tournament. For example, here's a look at chip values one might find in cash game in a Las Vegas Strip property:
Common poker chip values and colors
White - $1
Red - $5
Orange - $10
Yellow - $20
Green - $25
Black - $100
Purple - $500
Maroon - $1,000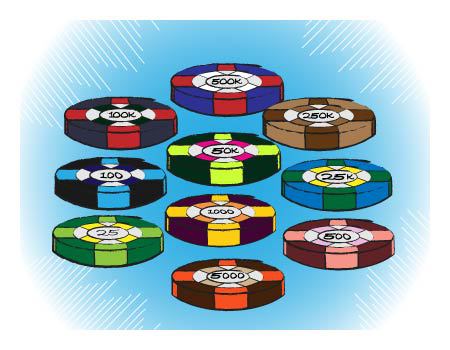 Tournament chip value and colors may differ and it's important to note that in most tournaments, chip values do not represent actual dollar values. These are merely amounts used throughout the tournament. Players start with a certain amount and hope to increase that as blind levels increase.
Blind levels are increased throughout a tournament so there is more action and so that players begin to get eliminated. Some tournaments may allow re-entries over a certain amount of time and players can receive another starting stack. As players progress through the tournament, lower value chip may be "colored off" with more colored chips with larger denominations being worked into the tournament.
The goal is to accumulate all the chips in play and ultimately have them all – that means you've won the tournament. Here's a look at some examples for tournament values. Notice that these do not represent any actual monetary values, so standard symbols for dollars, pounds, or euros aren't used.
Poker Chip Values and Colors in Poker Tournaments
White - 25
Red - 50
Orange - 100
Yellow - 500
Green - 1,000
Black - 5,000
Purple - 10,000

The Basics of Poker Chip Values and Colors
Like cash games, tournament chips are coloured to represent different values. Players begin with a standard number of chips and hope to buildthem up throughout the tournament. 
Those small colored markers come in numerous colors and weights, and are used in home games, cash games, and major tournaments around the world. Whether you just want to know the history of this critical part of the game or needs some ideas for some chip-shopping for your home poker room, 888poker Magazine has you covered with everything you might ever want to know about those multi-colored markers that mean so much to the game.
In poker, the value of a chip depends on the game or event. Values in cash games are used in a direct representation of cash. Players in a $1/$2 No Limit Hold'em game who buy in for $300 will receive that amount in chip value. Colors vary by casino, but tend to follow similar patterns at least for lower values.
There is definitely no certain casino standard, although white and red tend to be favored for $1 and $5 amounts. This is merely a guide as to what to expect at a poker room. Denominations can also go higher for players in some real high-stakes action.
However, for higher denominations some properties like the Borgata also have larger sizes than the standard chip including a $500 (purple/yellow) and $1,000 (orange/black). The larger sizes make it more difficult to confuse such a high value chip with others when playing in a game with such higher stakes. That may not be the case at every property however.
For an example of a high-stakes cash game, PokerGO's popular Poker After Dark show can serve as an example. The show, which is filmed at the PokerGO Studio at the Aria Resort and Casino has featured some of the game's biggest names as well as celebrities who enjoy mixing it up at the felt. Massive pots have been a major part of the action over the last few years. Buy-ins and chip stacks can vary, but here is a look at chip values from an episode that streamed in December 2019. The event was a Sit and Go tournament with players starting with 125,000 in tournament chips. Here's a look at the actual Aria tournament chips used in the event, with four different colors and values used to get the event started.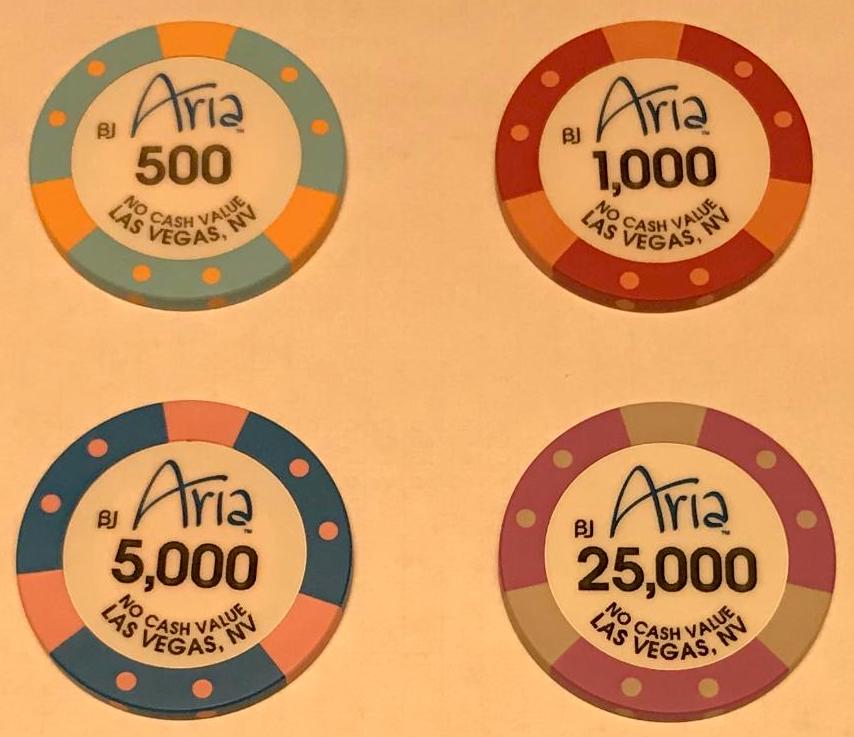 Determining Chip Values and Stack Sizes in a Home Game
If you're looking at hosting a home game with friends, there are a few things to keep in mind when planning out that cash game or tournament. It's important to figure out your tournament structure or cash game chip values.
For a cash game, figuring this out is much easier. A simple $1-2 No Limit Hold'em game with six to eight players should be fairly easy. One might decide to make white chips worth $1 and red chips worth $2. A player buying in for $100 might receive:
| Color | Value | Number of Chips |
| --- | --- | --- |
| white | $1 | 10 ($10) |
| red | $5 | 4 ($20) |
| blue | $10 | 1 ($10) |
If your stakes are a little larger and you're hosting a $2-5 No Limit Hold'em game with the same number of players, a similar guide can be crafted from the above. Most players will typically buy in a game for 50 to 200 big blinds. Players usually need more denominations equal to the big blind as that is what comes into play the most.
If you decide to raise the stakes even more, additional chip denominations may be needed. In a bigger game such as $5-10, a player buying in for $1,000 (100 big blinds) might receive the following:
| Color | Value | Number of Chips |
| --- | --- | --- |
| red | $5 | 10 ($50) |
| blue | $10 | 10 ($100) |
| green | $25 | 10 ($250) |
| black | $100 | 6 ($600) |
These give poker game organizers an idea on how many chips might be needed with several of each denomination. Having a few denominations make calling and raising in different values much easier.
Those hosting a tournament will also want to make sure they have enough chips and determine the value, number per player, and colors ahead of time. A small tournament of less than 40 people will generally need only four or five colors. A tournament starting with 1,500 chips will find players starting with 60 big blinds when beginning with Level 1 blinds of 25/25 before advancing to 25/50 and then 50/100. Obviously blind levels may depend on the tournament.
Here's a look at an example number of tournaments that players might start with in the above scenario.
| Color | Value | Number of Chips |
| --- | --- | --- |
| white | 25 | 10 (250) |
| red | 50 | 5 (250) |
| blue | 100 | 5 (500) |
| black | 500 | 1 (500) |
These starting stacks and chip values can be adjusted as needed, but this works well as a guide. Obviously, colors can also vary in both cash games and tournaments depending on the chips that you have in your home poker room.
A Look at Major Tournament Chip Values
Like cash games, tournament chips are colored differently to represent different values. Players begin with a standard number of chips and hope to increase throughout the tournament. Increasing blinds and antes throughout the tournament necessitate larger chip values are added throughout the tournament. Smaller valued chips are colored up and taken out of play.
The World Series of Poker can serve as an example of tournament colors and values. The annual event is the biggest spectacle in poker and has several tournaments underway on any given day during the series. The action is highlighted by the $10,000 Main Event, featured on television around the world, and because of so many events organizers use at least five different chip sets.
In general, most WSOP tournaments begin with green (25) and black (100) with colors switched up above those values for different events. For the Main Event, there has been a standard set of colors for the last several years. Here's a look at those chips with accent colors:
25 – green with forest green/yellow
100 – black with day blue/dark blue
500 – desert flower with maroon/pink
1000 – canary yellow with plum/sherbet orange
5000 – blaze orange with dark brown/tan
25,000 – forest green with blue/yellow
50,000 – hot pink with lime green/dark green (rarely used anymore)
100,000 – Hawaii flower with charcoal/metallic silver
250,000 – almond with bronze/butterscotch
500,000 – red with day blue/white
These values can also change, however, and have been known to be altered at the final table for better views when filming for television. Here's an example of the number of chips involved in an event of this size. In 2018, it was Illinois' John Cyn who took home the championship gold bracelet and $8.5 million after capturing all 393.8 million chips in play. It was a mountain of chips and a mountain of cash.
On the World Poker Tour, players usually start with 40,000 chips in most events. As an example, the Gardens Casino (located just outside Los Angeles) hosts two events each season – the $10,000 Gardens Poker Championship in January and the $5,000 Gardens Poker Festival in July. A player buying into either of those events can expect to receive the following breakdown of chips:
| Color | Value | Number of Chips |
| --- | --- | --- |
| black and blue | 100 | 10 |
| cotton candy (light blue and dark pink) | 500 | 8 |
| s'mores (brown and white) | 1,000 | 5 |
| Lemonade (light pink and yellow) | 5,000 | 5 |
Here's a look at the actual chips one would receive to start a WPT championship event at the Gardens: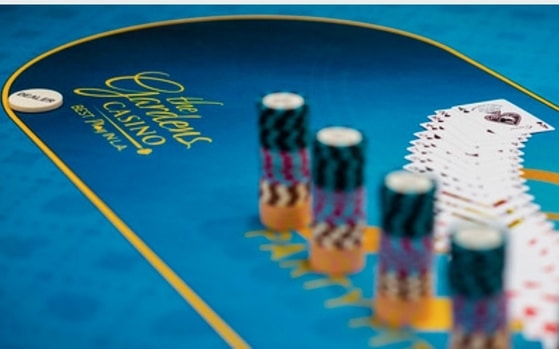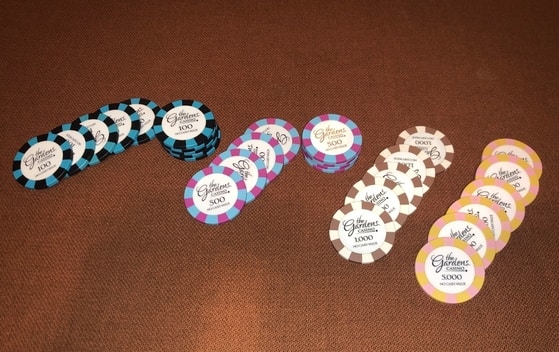 Poker Chip Colors in Europe and U.S.
Much of the above focuses on Las Vegas and other American casinos. Most U.S. casinos follow similar patterns as Vegas – multi-colored chips for tournaments and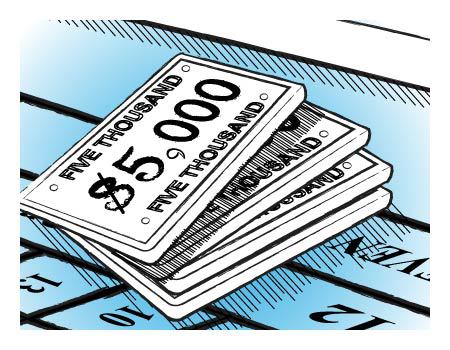 cash games, which are differentiated for security. Most are pretty similar and that goes for casino-heavy states like California, Florida, Nevada, New Jersey, and others.
In Europe, where poker continues to thrive, poker chips follow are similar to those found in the U.S. However, may properties also work in colored "plaques" for larger denominations. These rectangular objects are used the same as chips and often appear in the later stages of major tournaments.
The plaques are probably unique to most lower stakes players, but many feature unique colors and designs. They stand out among a player's chip stack and vary a bit in size. Players looking to add some pizzazz to those tournament stacks in their home games can find plenty of them for sale online.
Chips can be unique and feature logos, but also celebrate significant events or people. Binion's Horseshoe, the birthplace of the World Series of Poker, at one time honored poker legends at the property as seen in this Tweet.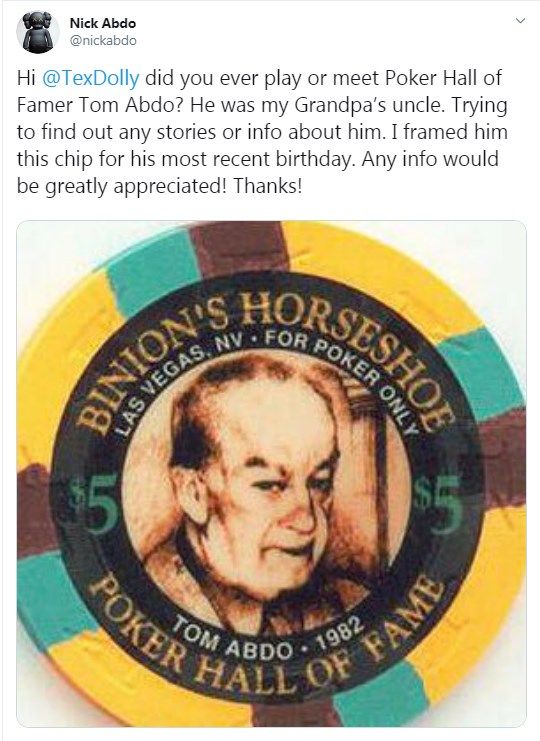 Chips remain an important part of poker and with some kind of money on the line as players bet and bluff with them. They're a big part of what sets poker apart from other games. As this guide shows, there are certainly many considerations that go into using them into a cash game or tournament.