The inaugural XL Spring Series that kicked off on 888poker is in the books!
After a week of play the following things occurred –
The 25-event festival offered buy-ins ranging from $5.50-$250.
More than $1 million in combined guaranteed prize pools was on the table.
The series catered to a combined 20,830 entries.
XL Spring awarded $1,085,560 in prize money.
The 25 titles were spread across players from eight counties. Brazil led the way with five victories, while the United Kingdom, Canada, and Russia weren't far behind with four apiece.
Both Ukraine and Germany had three titles to their credit, while Belarus and Denmark each had one.
Here are the highlights from the latter half of the 2021 XL Spring Series on 888poker.
"_DENGER_" Wins XL Spring Series Main Event
On Sunday, June 6, the $250 buy-in Event #23: $500,000 Main Event drew 1,321 players who rebought 333 times for a 1,654-entry field. All the action was live reported by PokerNews and streamed on 888pokerTV with hosts David Tuchman and Nick Wealthall.
The top 240 finishers got paid a minimum of $750.
888poker Ambassadors Sofia "sofialovgren" Lövgren and 888poker Streamer Josh "PumpkinKing" Manley were both in action but failed to make the money.
Meanwhile, 888poker Ambassadors Dominik "888Dominik" Nitsche and Vivian "vivi.888." Saliba both cashed. Vivi streamed her play on her own Twitch channel.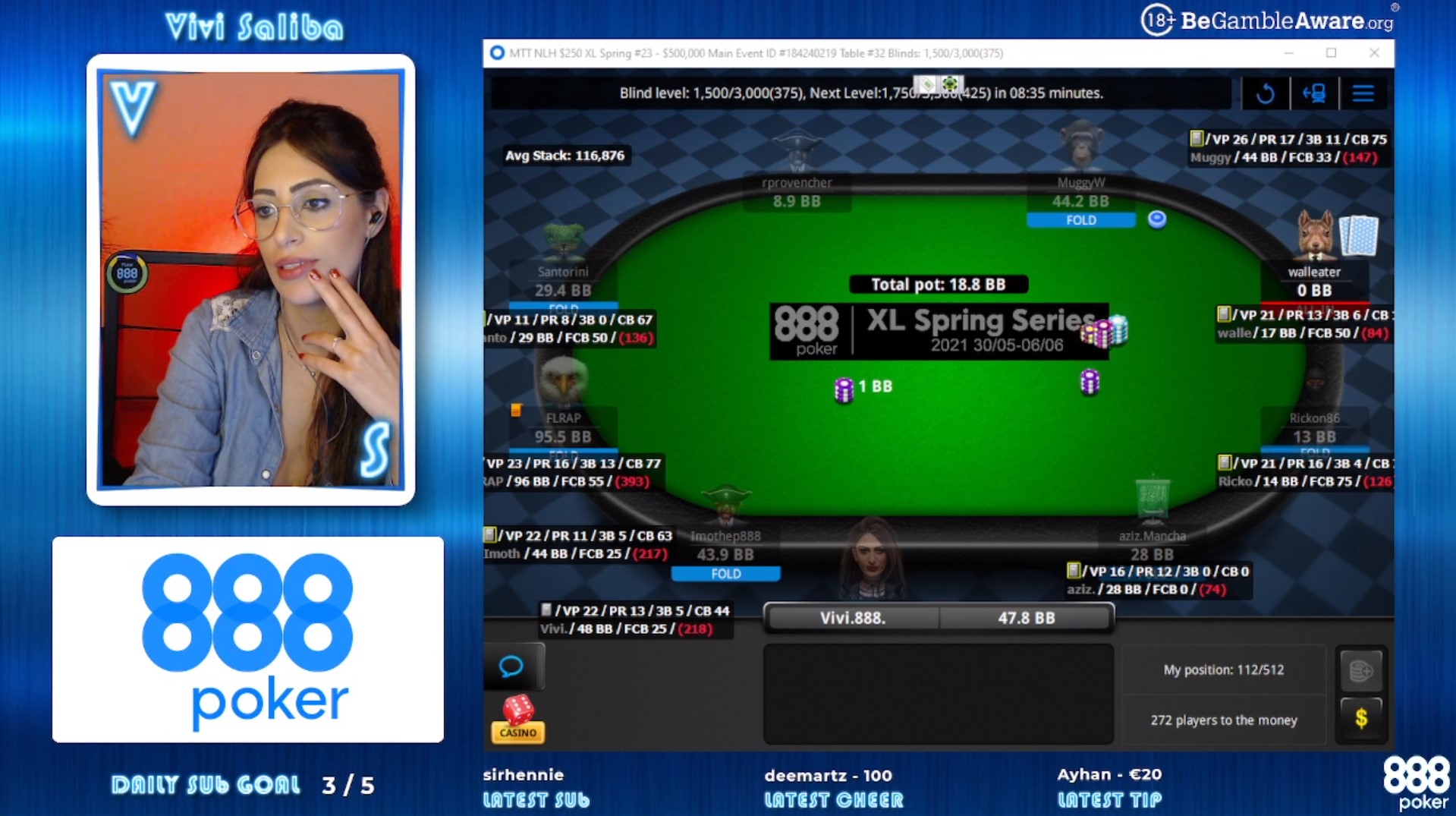 Nitsche notched a min-cash while Saliba was the last ambassador standing, ultimately finishing in 86th place for $1,050.
Her demise came in Level 28 (12,500/25,000/3,125) when she shoved her last 12 big blinds from the button with the 9♦7♦.
She was called by "GlobalHappi", who had the A♥3♦ in the small blind.
The K♣10♦5♠ flop didn't do anything for Saliba, but the 6♦ turn gave her both straight and flush outs to go with her live cards. Unfortunately for her, the A♣ river was a brick.
One recognisable name to make the final table was Brazil's Pedro "PaDiLhA10" Padilha, who saw his run come to an end in Level 44 (300,000/600,000/75,000).
It happened after "KiddPT" shoved from the big blind with king-jack off-suit and Padilha called off from the big with the A♦10♦. Unfortunately for Padilha, a king spiked on the river to send him to the virtual rail in fifth place for $20,300.
At that point, "KiddPT" held a nearly 30 million in chips with four remaining. Denis "_DENGER_" Kuznetsov was the short stack with 4.5 million, just four big blinds.
But Kuznetsov would bounce back, eliminate the next two players, and make it to heads-up play against "KiddPT" before winning a big race.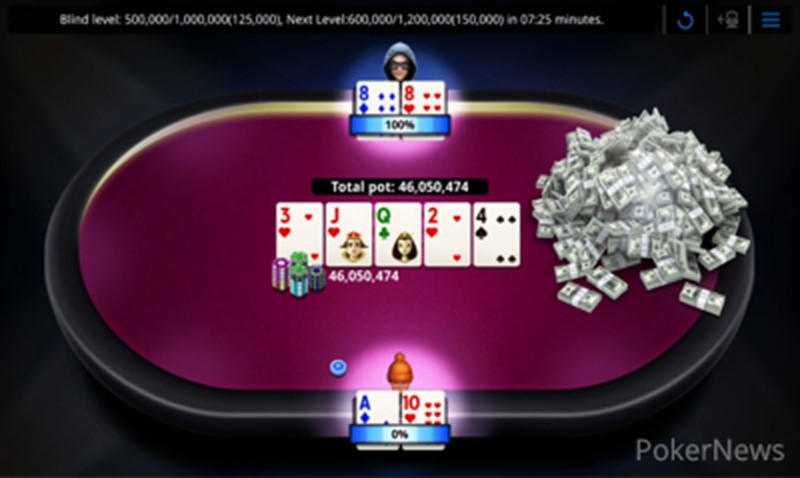 It took place in Level 46 (500,000/1,000,000/125,000) when "KiddPT" three-bet jammed with the A♦10♥.
Kuznetsov called off with the 8♥8♦. The board ran out 3♥J♥Q♣2♥4♠ and Kuznetsov's snowmen held to double big.
"KiddPT" was left short, doubled, and then a few hands later got their last seven Bigs in with the Q♠6♥ and lost another race.
This time he came up short to the pocket fives of Kuznetsov. "KiddPT" earned $50,400 for finishing as runner-up while Kuznetsov became champion for $69,050.
XL Spring Series Main Event Final Table Results
1st – Denis "_DENGER_" Kuznetsov (Russia) … $69,050
2nd – "KiddPT" (N/A) … $50,500
3rd – "FLRAP" (Ukraine) … $37,050
4th – "aziz.Mancha" (Brazil) … $27,450
5th – Pedro "PaDiLhA10" Padilha (Brazil) … $20,300
6th – "RLYZacEfron" (Brazil) … $20,300
7th – "nlfreddie" (United Kingdom) … $11,350
8th – "notaboutlove" (United Kingdom) … $8,600
9th – "Porto69" (Germany) … $6,550
In other Main Event news, the $33 buy-in Event #24: $50,000 Mini Main Event saw Russia's "eurisco" best a 1,618-entry field to win $7,305 in prize money.
Germany's "Jumbomcgee" topped a 2,235-entry field to turn a modest $5.50 buy-in into a $2,071.50 payday in Event #25: $15,000 Micro Main Event.
Trio of PKO Events on Thursday
On Thursday, it was another PKO day with a trio of tournaments. The $160 buy-in Event #14: $40,000 PKO 8-Max saw 202 players rebuy 37 times. So, the $40K prize pool was paid out to the top 32 finishers.
Among those to cash were the following players –
888poker Ambassador Vivian "888." Saliba (18th for $220.75 + $121.88 in bounties)
"Skrutten9" (10th for $441.50 + $206.25 in bounties)
"PokerBoob" (3rd for $2,538.62 + $1,128.52 in bounties)
After 7 hours and 34 minutes of play, it was Germany's "kalkiyali" besting Ukraine's "tenshj"in heads-up play.
He won the tournament for $3,947.08 plus the $4,331.18 PKO bounty for a total payday of $8,278.26.
Speaking of Saliba, she made a deep run in the $55 buy-in Event #16: $15,000 Late PKO 8-Max, finishing third in a 253-entry field for $1,416.55.
Coming out on top was Brazil's "rmilheiro", who took down a $1,551.16 top prize plus a $1,228.19 PKO bounty for a total payout of $2,779.35.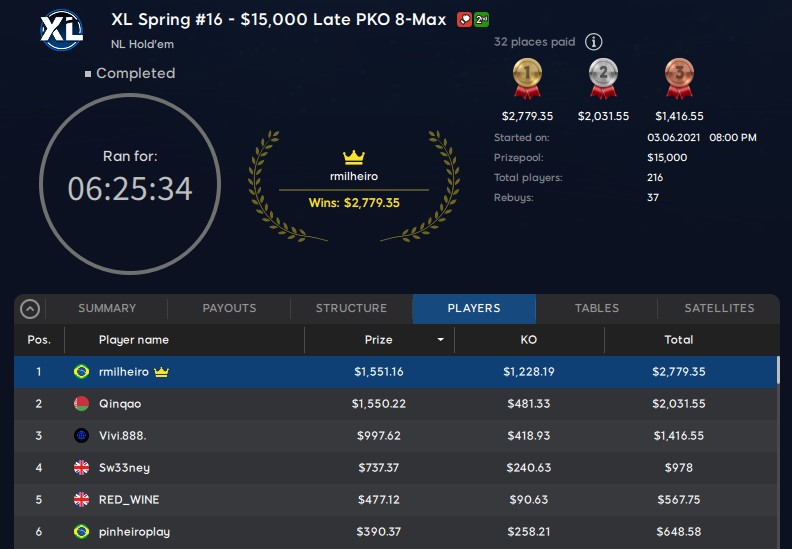 The other tournament to wrap on Thursday was the $22 buy-in Event #15: $15,000 Mini PKO 8-Max. This tourney drew 603 players who rebought 213 times.
Emerging victorious over the 816-entry field was Canada's "algsxr" taking down $2,414.62 in prize money.
Friday DeepStack Fun
On Friday, it was DeepStack day on 888poker. The premiere tournament was the $55 buy-in Event #17: $30,000 DeepStack. The event attracted 467 players who rebought 176 times.
The 643-entry field resulted in a $32,150 prize pool that was paid out amongst the top 72 finishers.
Among those to make deep runs were the following players –
"AUTISPOSTI" (34th - $170.39)
"MAHMOHT_T" (23rd - $176.82)
"Broten" (11th - $379.37)
"Lisa.1989" (4th - $2,256.93)
"8vincent8" (3rd - $3,089.61)
After nearly nine hours of play, it was Germany's "Edi0908" defeating "dothehessel" in heads-up play to claim the title and accompanying $5,880.39 first-place prize.
In the $16.50 buy-in Event #18: $15,000 Mini DeepStack, 819 players rebought 234 times to create a $15,795 prize pool.
Capturing the fourth title for the Canadian contingent was "averygrande", who won $2,445.88 in prize money.
Finally, the $33 buy-in Event #19: $10K GTD Late DeepStack cruised by its guarantee as 363 players rebought 101 times to generate a $13,920 prize pool.
Ultimately claiming the title was Denmark's "Farzi1279", who added $2,546.19 to their bankroll for doing the deed.
Saturday Filled with 6-Max Action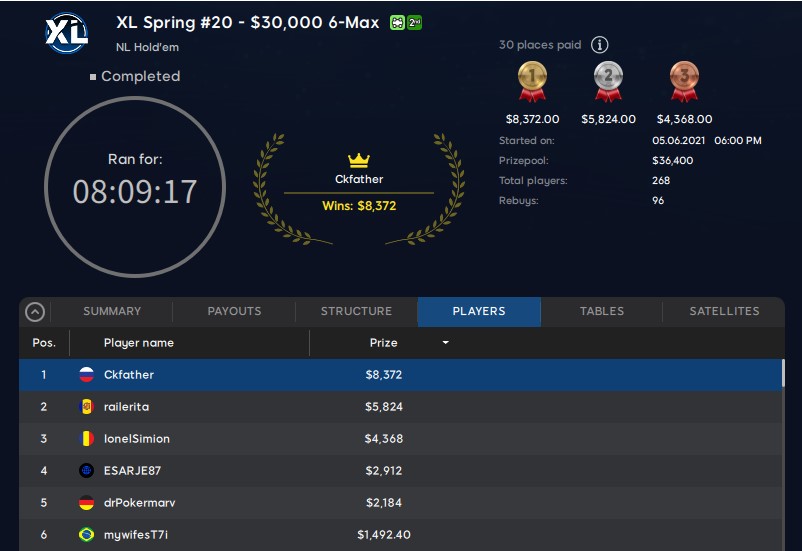 On Saturday, the weekend featured a day full of 6-Max tournaments. The first was the $109 buy-in Event #20: $30,000 6-Max, which surpassed its guarantee by attracting 268 players who rebought 96 times.
That resulted in a $36,400 prize pool paid out to the top 30 finishers including the following, just to name a few –
"888pruha" (29th - $291.20)
"KToFTW" (14th - $418.60)
"lonelSimion" (3rd - $4,368)
It took just over eight hours of play for Russia's "CKfather" to defeat Moldova's "railerita" in heads-up play to win a $8,372 top prize.
Meanwhile, it was the UK's "COMINGEAST" topping a 1,094-entry field to win the $16.50 buy-in Event #21: $15,000 Mini 6-Max for $2,954.16
While Ukraine's "vaduwka" prevailed over a 309-entry field in the $55 buy-in Event #22: $15,000 Late 6-Max, good for $3,553.56.
XL Spring Winners in Total
Date

Buy-in / Tournament

Entries

Prize Pool

Winner/ Country

Prize

Sunday,

May 30

$55 Event #1:

$50,000 Opening Event

1,353

$67,650

Christopher "MAKKAPAKKK" Johnson (UK)

$9,884

Sunday,

May 30

$16.50 Event #2:

$25,000 Mini Opening

1,520

$25,000

"Sultanhcik" (Ukraine)

$3,652.50

Sunday,

May 30

$5.50 Event #3:

$10,000 Micro Opening

1,735

$10,000

"lourimar" (Brazil)

$1,221.16

Sunday,

May 30

$33 Event #4:

$15,000 Late Opening

481

$15,000

"godfatheR2AA" (UK)

$2,743.50

Monday,

May 31

$33 Event #5:

$20,000 R&A Event

560

$20,640

"jpsalgadocr0" (Brazil)

$3,981.70

Monday,

May 31

$5.50 Event #6:

$8,000 Mini R&A

1,063

$8,000

"D.AQUINO92 (Brazil)

$1,306.40

Monday,

May 31

$11 Event #7:

$8,000 Late R&A

532

$8,000

"Invented21st" (UK)

$1,621.60

Tuesday,

June 1

$320 Event #8:

$50,000 High Roller

168

$50,400

"leblond1996" (Canada)

$11,718

Tuesday,

June 1

$55 Event #9:

$25,000 Mini High Roller

538

$26,900

"Pat14" (Canada)

$4,920.01

Tuesday,

June 1

$109 Event #10:

$20,000 Late High Roller

185

$20,000

"Smartestcat" (Belarus)

$4,650

Wednesday,

June 2

$109 Event #11:

$30,000 PKO

376

$37,600

"GoldHand2077" (Brazil)

$6,553.32

Wednesday,

June 2

$16.50 Event #12:

$15,000 Mini PKO

1,159

$17,385

"ZDmitryS" (Russia)

$2,389.12

Wednesday,

June 2

$33 Event #13:

$10,000 Late PKO

418

$12,540

"Nzol888" (Ukraine)

$2,132.54

Thursday,

June 3

$160 Event #14:

$40,000 PKO 9-Max

239

$40,000

"kalkiyali" (Germany)

$8,278.26

Thursday,

June 3

$22 Event #15:

$15,000 Mini PKO 8-Max

816

$16,320

"algsxr" (Canada)

$2,414.62

Thursday,

June 3

$55 Event #16:

$15,000 Late PKO 8-Max

253

$15,000

"rmilheiro" (Brazil)

$2,779.35

Friday,

June 4

$55 Event #17:

$30,000 DeepStack

643

$32,150

"Edi0908" (Germany)

$5,880.39

Friday,

June 4

$16.50 Event #18:

$15,000 Mini DeepStack

1,053

$15,795

"averygrande" (Canada)

$2,445.88

Friday,

June 4

$33 Event #19:

$10,000 Late DeepStack

464

$13,920

"Farzi1279" (Denmark)

$2,546.19

Saturday,

June 5

$109 Event #20:

$30,000 6-Max

364

$36,400

"Ckfather" (Russia)

$8,372

Saturday,

June 5

$16.50 Event #21:

$150,000 Mini 6-Max

1,094

$16,410

"COMINGEASY" (UK)

$2,954.16

Saturday,

June 5

$55 Event #22:

$15,000 Late 6-Max

309

$15,450

"vaduwka" (Ukraine)

$3,553.56

Sunday,

June 6

$250 Event #23:

$500,000 Main Event

1,654

$500,000

Denis "_DENGER_" Kuznetsov (Russia)

$69,050

Sunday,

June 6

$33 Event #24:

$50,000 Mini Main Event

1,618

$50,000

"eurisco" (Russia)

$7,305

Sunday,

June 6

$5.50 Event #25:

$15,000 Micro Main Event

2,235

$15,000

"Jumbomcgee" (Germany)

$2,071.50