Ever wanted to become a poker dealer? It's a job that is a must at a casino, and players who love cards might also want to carry that love over to the other side of the table. A good dealer knows the poker games, keeps the action moving, occasionally arbitrates disagreements, and runs the table in a friendly manner.
Those who deal often say they are fans of poker and love the action. Others may not play and just enjoy the vibe among the players. Whatever the reason, dealing can be a rewarding career.
Poker pros Mike Matusow, Scotty Nguyen, and Layne Flack have all worked pitching cards at some point. The role may be underappreciated at times, but major events like World Series of Poker wouldn't be successful without hundreds of dealers to keep those cards moving.
While you may have an interest in pitching cards, you might not know how to get started. Here's a guide to landing that job in a casino.
Table of Contents
Learning the Ropes
Obviously landing a dealing job without any experience or training probably isn't possible. Candidates must learn at an accredited dealing school and then search for a job. Only then can a potential dealer earn a gaming license to pitch cards at a casino legally.
Most gambling jurisdictions require a license and dealers in Las Vegas must be trained first, then get a job, Only then can they receive a permit. A gaming license in Nevada costs $75 and is active for five years. That cost can be more in other states, so check with each state's gaming commission. Usually, the license fee is the responsibility of the poker dealer and not the card room or casino property.
There are many options to choose when it comes to dealing schools, with costs for classes beginning at around about $500. In Las Vegas, several dealing schools offer training in most games.
For example, Chris Tidmarsh with West Coast Dealing School gives some insight on the training students can expect to be put through. The poker dealing program at his company features five weeks of training with 100 total hours. That includes 80 hours of hands-on training and 20 hours of lecture.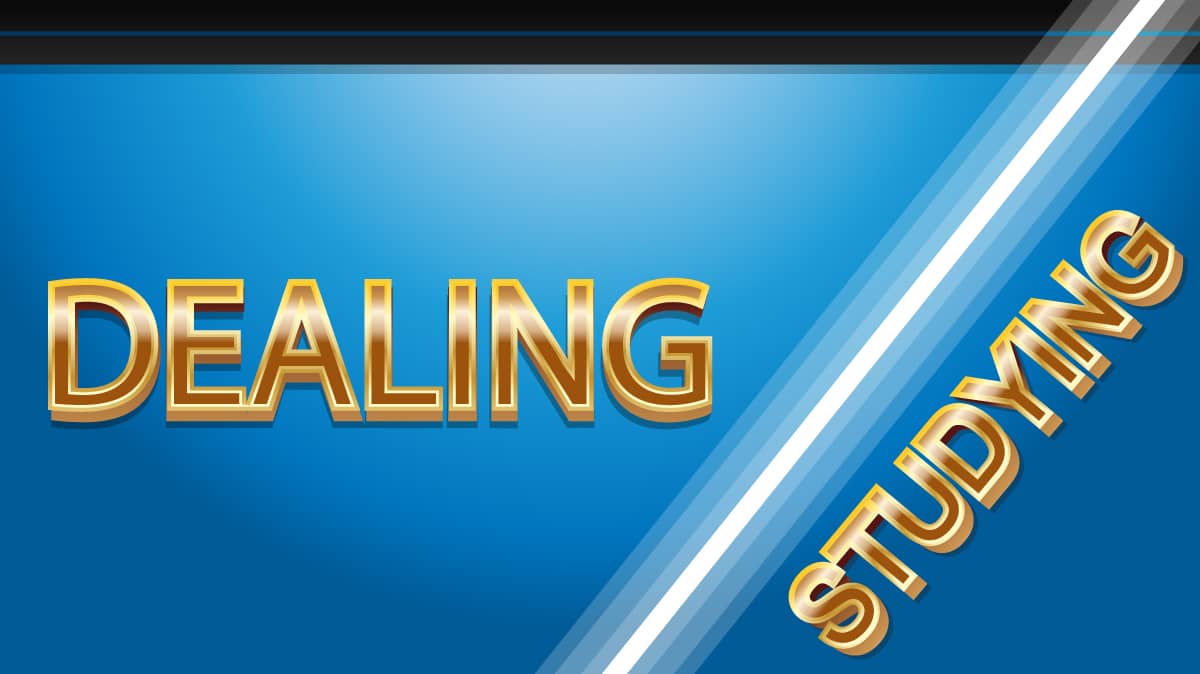 The program offers training on numerous games ranging from the more obscure, such as Crazy Pineapple, to more traditional games like Texas Hold'em, Omaha, and Seven Card Stud. Players learn the differences in managing no limit, limit, and pot limit games as well as how to properly shuffle and pitch cards per casino industry standards.
"We try not to leave any situation unresolved and strive to be sure each and every student will have complete, thorough, and in-depth knowledge of every poker game - and all the necessary rules, regulations, and procedures to be able to deal every one of them effectively," Tidmarsh says.
Tidmarsh claims his programme is comprehensive and that players learn not only all facets of dealing, but also numerous games to help make them successful and an asset to the card rooms.
"To become a professional poker dealer requires a lot of initial training," he says. "There are about 30 poker games currently being offered on the international poker circuit. So, learning all the skills and procedures to be able to effectively deal these games takes a lot of training. Check out this quick guide of how to deal poker.
That training is essential and can prepare a dealer to work in a professional manner. It's critical that those thinking of dealing realise that industry standards as a dealer may be much more than they expected from dealing their home games.
"Learning how to deal from your peers does not guarantee you the best training," he says. "If you are serious about becoming a professional poker dealer, it will pay you to seek professional training rather than learn second-hand information and risk being given incorrect information. I see so many dealers with flaws to their mechanics and procedures because of this. You only train once so why not invest and do it right the first time."
Salary and Job Placement
While poker dealing may be your goal, many in the industry say it is much easier getting a job dealing other table games in the casino first. That dealer can then work to transition into poker room dealing and even poker room management if desired.
"As a dealer school in the very active Las Vegas market, I will let you know the training is easy, but the job placement is very tough," says Jesse Lauer with PCI Dealer School about breaking into the industry as a poker dealer. "It's super easy to get into the World Series of Poker and Planet Hollywood Goliath tournaments as a dealer, but after that, the job market is very competitive."
Players hoping to deal at the WSOP must pass an audition that features the 19 games that are all part of the series' Dealers Choice tournaments. Dealers at the WSOP can expect to make up to $15,000 in just about a two-month period.
Beyond dealing poker as a career, it can also be a sweet side gig to those with a regular job. Most card rooms offer flexible work schedules, allowing the dealer to have another job or work multiple card rooms. It can be a great way to make extra money at peak times of the season. Tables games dealers may also want to get poker training to add to their repertoire or pick up other hours at another property to make some extra money.
While it may be tougher getting that job in the poker room after the WSOP, Lauer says his company has no difficulties finding work for properly trained casino dealers.
"We have the highest job placement rate with table games," he says. "There is job placement daily at great casinos with dealers that have been properly trained with blackjack, craps, baccarat, and roulette. We have people contact us daily with interest to be a poker dealer. We try to persuade people to go with regular table games as a profession as the job opportunities are so much better."
Those still with an interest in poker have a much better chance after first landing that casino dealing gig at blackjack, craps, or another game.
Beyond the WSOP, good casino dealers can make up to $95,000 a year at some of the larger high-end casinos. Poker dealers generally earn an average of around $30 to $40 per hour, but it could be as much as $50 an hour in a busy poker room. Dealers may also have to work their way up from smaller casinos to reach those higher-paying jobs.
Potential dealers must also realise that much of their salary will come from tips. Better dealers with good attitudes will rake in more dollars.
Working Conditions
You love poker and being in a casino, so dealing cards seems the like the perfect job. But there are some serious things to consider before signing up for training.
One major thing to think about: do your attitude and general disposition fit with a job as a dealer. Trainers offer some advice for those considering moving into the career, which often depends on making the game a great experience for players – win or lose.
"A person should think about whether or not they have customer service skills as you need to make tips to be a good dealer and make a good living," Lauer says.
Another thing to consider is the environment. Working in a casino can include long hours in a dimly lit room, smoke in the air, sitting for extended periods at a card table, and occasionally dealing with drunk, rude, or unruly customers. Losing players may not always be in the best mood.
Stretching across long and wide tables can lead to some pain and discomfort to the body. But, generally, dealing can be a fairly relaxed environment providing those getting into the profession have decent physical fitness.
Potential dealers must also think about another skill they may need while pitching cards – and may not necessarily consider.
"Counting numbers in your head constantly throughout a shift can be very tiring, mentally," Tidmarsh says. "Constantly manipulating numbers is mentally very challenging at times. But like anything, with practice, it does get easier."
If cards are your calling, there are numerous options for getting that training. Get your game face on and get started – shuffle up and deal!