The World Series of Poker (WSOP) was inaugurated in 1970 at the Horseshoe Casino in Las Vegas. Benny Binion decided to create a single tournament with a set start and stop time. A secret ballot would determine the winner among seven entrants.
Fast forward fifty-plus years, and the modern-day WSOP has over one hundred events. Its flagship tournament, the Main Event alone, regularly boasts thousands of entries.
The current Main Event broke all records with 10,043 entries generating a whopping prize pool of $93,399,900!
With the 2023 WSOP in full flow, what better time to look at five of the most significant moments in this most prestigious annual series?
1: The Hellmuth's Walk-ins
Hellmuth Main Event entrances have hardly changed the course of poker history. But they are one WSOP tradition that never fails to put a smile on our faces.
As one of the biggest characters in poker, Hellmuth loves to make a scene. Over the years, we've seen him walk in as a gladiator, an emperor, a boxer and a colonel (to name a few).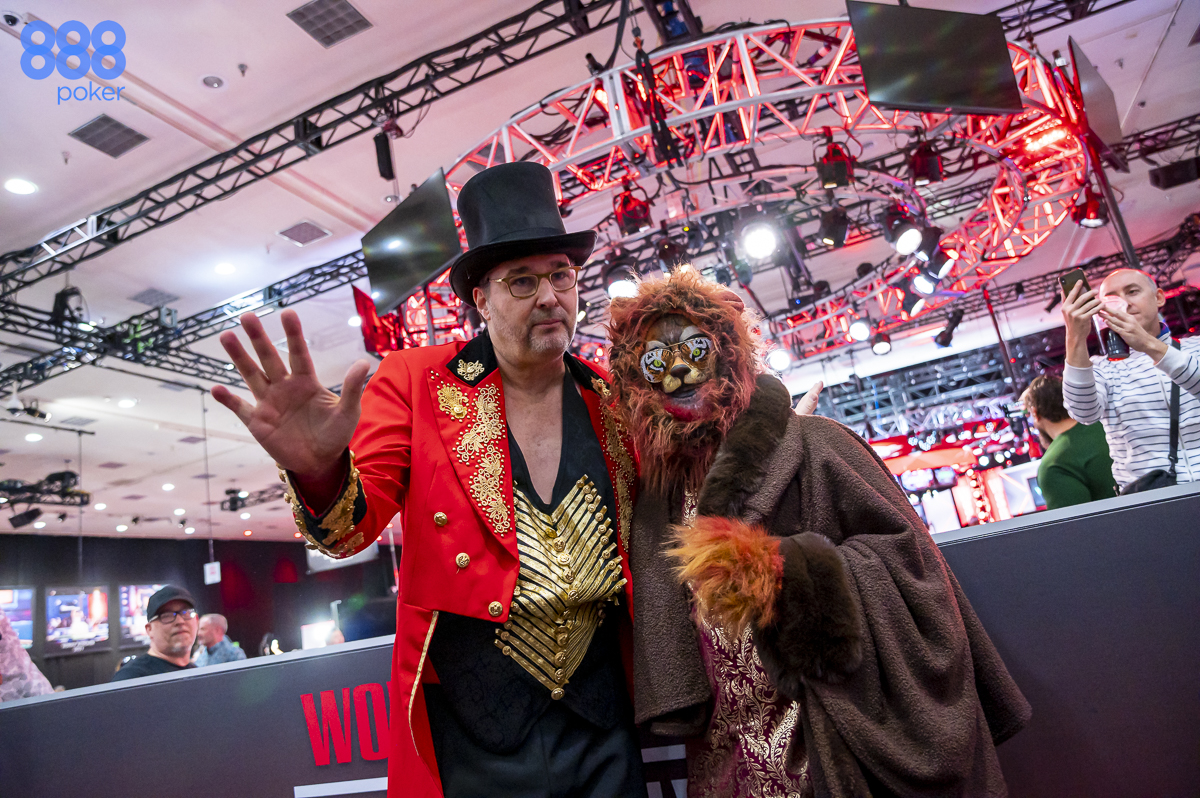 One year, he even planned to enter behind the wheel of a racecar. But he crashed in practice and had to limp in instead!
Phil goes all out, with an entourage of attractive ladies usually following behind. While it might seem a little narcissistic at a glance, it's all in the name of fun. It's the kind of thing that so many of his fans love him for doing.
Many amateurs play the Main Event for a chance to battle their idols too. So, there's probably a little EV in the Hellmuth walk-ins. As well as making the main event look more fun and welcoming, these PR stunts are a reminder that poker legends are present and accessible.
This fact encourages amateurs to play, adding more incentive to the player pool.
2: The Most Significant Suckout in History?
Few would argue that Moneymaker's Main Event win was one of the most significant things in modern poker. His victory ignited the poker boom and changed the landscape forever.
Suddenly, poker was seen as a way to change your life. Its popularity soared as a result.
It's easy to take the impact of the Moneymaker effect for granted, and yet it almost never happened.
With just ten players left in the event, Moneymaker looked down at AQo and open-raised to 60,000.
Phil Ivey (with 99) called.
Jason Lester (holding pocket tens) also called.
Chris found himself heads-up to a turn with Phil Ivey after firing a 70,000 c-bet on the QhQs6s flop,
Ridiculously, the turn was the 9s, which gave Ivey nines-full-of-queens and left Moneymaker with just 17% equity.
The chips went in quickly, and, thankfully for poker, Chris found an ace on the river to scoop the pot.
The rest is history…
But who knows what poker looks like in the 83% of alternate universes where Ivey wins?
The suckout itself wasn't particularly uncommon. But the context and occasion make this one of the most significant moments in poker history.
It was a double-whammy too: Chris had not just won a huge pot, he'd simultaneously bust a player widely regarded as the best in the world.
As Gus Hansen famously joked, 'The object of poker is to keep your money away from Phil Ivey for as long as possible."
The hand was monumental. Although Moneymaker undoubtedly played well (for 2003), it's hard to see how he would have got the better of Ivey without sucking out.
It's impossible to stress how significant this river card was for Moneymaker and the entire poker industry.
It was a huge hand for Ivey too. He seemed to take the beat like a champ at the table, But he recently described how 'the wind was knocked out of [him]' in an interview with Barry Greenstein.
He also revealed that he 'didn't really have much money' at this point. But acknowledges that 'it ended up being better for poker that Chris won.'
Thankfully Ivey recovered and crushed the game in the years after.
Fun Fact!
Many people don't know that Moneymaker's real name is Chris Smith. Just like McLovin in the movie Superbad, Smith became Moneymaker when he showed a fake ID that he used to use to go drinking with.
Chris Moneymaker was the name on the ID, and, in his words, ESPN just 'went with it'.
3: John Hesp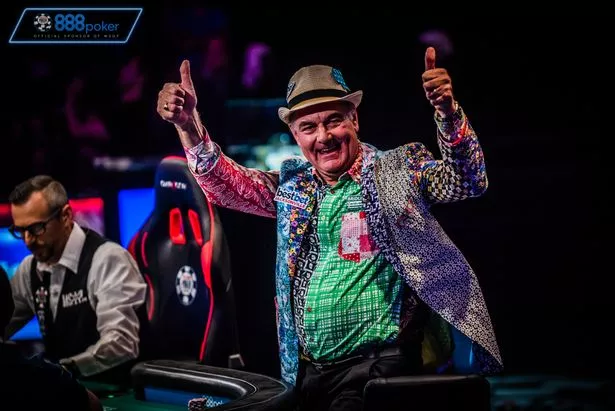 We've mentioned the monumental impact of Moneymaker's Main Event win. Many of you might not know that we almost saw a similar story in 2017.
More than a decade after the 'Poker Boom', the game was still very popular in 2017. But the number of players had begun to decline a little. The landscape had changed a lot too.
Training sites were offering solid content.
These mediums exposed many players to the strategic side of the game.
As a result, the average player was better than ever before. And this situation made the games far tougher.
By 2017, the average player's ability was wildly impressive. Some believed many amateurs played better than professionals had a few decades earlier. Even the micro-stakes tables were competitive and tough.
Some started to believe poker was dead.
They were wrong.
In 2017 a player called John Hesp took the WSOP by storm, busting pro after pro on his way to the Main Event final table.
Hesp was a rank amateur who ran a caravan business in the UK. As he explained, in interview after interview, his trip to Vegas was simply to tick, 'Played the Main Event' off his bucket list.
And he admitted he didn't think he had a chance of winning.
He was probably right! Although Hesp was clearly no idiot, he didn't play very good theoretical poker. He played some hands face up, overplayed others, and got involved in way more pots than he should have.
In short, John played poker like an amateur, which is unsurprising, since he'd never read a strategy book in his life. Not that it mattered. Just like King Midas, everything Hesp touched turned to gold.
He scooped pot, after pot, after pot, on his way to a final table chip lead.
In many ways, Hesp's run was a bit like Jamie Gold's in 2006, with both players doing random things and running incredibly well. There were a couple of key differences between the two.
For a start, Hesp's luck ran out, and he was unable to win the event like Gold did a decade before. But there was also a big difference in how the two conducted themselves at the table.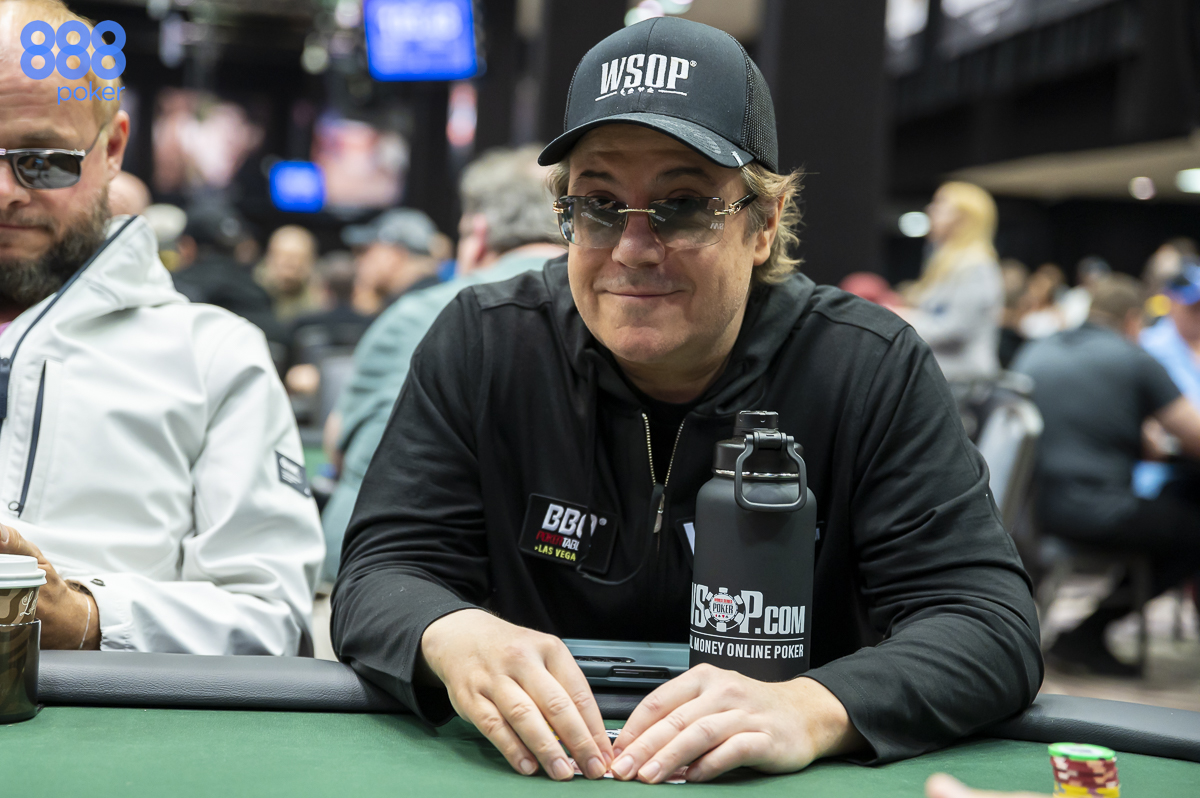 Gold seemed to want everyone to revel in his greatness. But there was no sign of an ego from Hesp. Instead, he wore his amateur status like armour and didn't pretend to be something he wasn't.
He was refreshingly honest and brought a bubbly, positive personality to every hand he played.
Everything about him, from his personality to his garishly colourful outfits, was endearingly authentic. This image resonated with his opponents and fans alike.
It was clear that Hesp didn't care about glory or fame. So, he was way more likeable than someone like Jamie Gold.
The table seemed set when fate saw him sitting at the final table with a commanding chip lead.
Hesp had it all:
The chips, the wardrobe and the marketability.
Poker-boom 2.0 was go-go-go!
Or at least it would have been if someone had remembered to tell the dealer!
Unfortunately, Hesp found himself on the wrong side of a cooler against second-place Scott Blumstein. He lost a colossal pot worth around 45% of the total chips in play.
He was unable to recover and eventually busted in 4th place.
It could have ended a lot differently. But Hesp's Main Event run reminded many of the beauty of poker.
It was fun and entertaining, and the $2.6m cheque showed that the poker dream was still very much alive.
4: Upeshka De Silva
Lockdowns, injections, and other general disruptions greatly impacted the WSOP in 2020. Global bans made it risky to travel and unsafe to be in a large, congested room.
So, the WSOP scrapped the live series in favour of an online version instead.
The new format saw a Main Event consisting of two legs in which US and non-US players would play online tournaments. Once players reached a final table, the action would pause, and players would play the final tables in person.
Winners of the US and non-US events would then play a heads-up match in Vegas, with the winner taking the title 'World Champion' and an extra $1m.
As you might expect, the format change greatly impacted player numbers. Both Main Event legs attracted less than 1,500 players combined.
Since the WSOP is the height of the poker calendar, it was a pretty gross situation for all. But things got far worse for one player in particular, namely, Upeshka De Silva.
After battling hard in the US leg of the Main Event, De Silva booked his place at the final table with 8th place chips. Unfortunately, he contracted the virus hours before the final table was about to kick off.
Naturally, there was controversy on Twitter, with many players debating how the WSOP should handle the situation. As he tends to, Joey Ingram offered a few reasonable suggestions. But the WSOP had already clarified the rules before the event started.
De Silva was disqualified and received 9th place money. Ouch!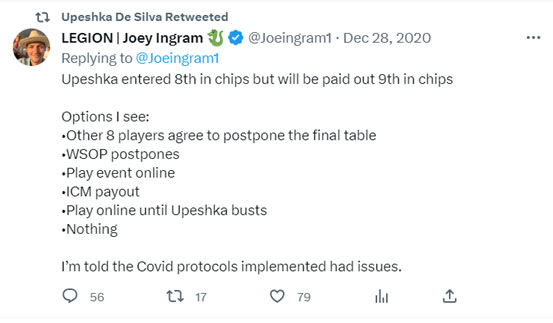 5: Bad Beat
This hand comes from the last fifteen of the 2010 Main Event, where Matt Affleck tangles with eventual champion Jonathan Duhamel.
Affleck was in great shape.
He had plenty of chips.
And Duhamel, the only player at his table who had him covered, was sitting on his right.
The hand began with Affleck looking down pocket aces on the button.
He 3bet Duhamel, who made a small 4bet.
Matt chose to get cute, calling and taking a flop in position.
After a check-call on the flop, Duhamel faced an all-in bet on a board of Td9c7hQd. After some deliberation, he called with pocket jacks. Matt was an 80% favourite to take an overwhelming chip lead.
The river was the 8d, which simultaneously sent Affleck to the rail and Duhamel into the dizzying heights of overwhelming chip leader. The fact that the river an 8 was particularly savage for Affleck.
Later in an interview, he revealed that he had lost his glasses and was struggling to distinguish eights from sixes.
Since Duhamel went on to win the event for $8m, this suckout seems to have much in common with the infamous AQ beat Moneymaker's put on Ivey in 2003.
But Affleck was far more animated than the Tiger Woods of Poker was.
His facial expression said it all. In a split second, we saw looks of terror, disbelief, and shock move across his face as he collapsed into his hands.
It's an expression poker players are all too familiar with and matches the sinking sensation we've all felt in our stomach after a bad beat.
The audience applauded warmly, but Affleck hardly moved. Instead, he stood shell-shocked, quivering-lipped, desperately trying to fight back tears. A second applause from a sympathetic audience snapped him back to reality.
With such a display of raw emotion, it's hard not to feel for Affleck, who took out his frustrations on a water bottle as he left the card room.
It was the second time he'd felt Main Event heartache in two years, and he'd done nothing wrong.
Affleck's emotional sincerity is a powerful reminder of what the WSOP means to people.
It's an example of how cruel the game can be.
If you make it to the WSOP, we hope you fare better during your time at the tables.