No game of poker would be complete without playing cards. With your next poker game lined up, a couple of decks of cards will definitely be on the table.
You can go the cheap route for a couple of dollars to ponying up some extra bucks for some high-quality plastic cards. There are many options for that next set of playing cards.
Here's a complete guide on what to consider when purchasing that next deck.
Quality Consideration
A player might be surprised at the number of options available for a good set of playing cards. There are several colours, designs, and manufacturers.
Here are some considerations to keep in mind for that purchase -
Paper and Composition – Playing cards are usually made of paper or plastic. Paper cards are made from what is called pasteboard, which is a firm card made of layers of paper stuck together. This makeup gives them a stiff construction so that they won't crumple like typical paper.

Texture and Feel – Make sure that the cards slide easily and are easy to manipulate when dealing or shuffling. Look for a deck of cards that's smooth to the touch and won't snag or hang against other cards or the table felt.

Higher-quality paper playing cards have a slick finish for easy play. The popular brand Bicycle notes that its cards "have an air-cushion finish for ease of handling and shuffling." One added thing to remember is to make sure the cards you're considering aren't too thick.

These can become difficult to shuffle because they may not bend much and cause some problems when dealing. No one likes a misdeal or slowing down the action.
Design – There are several types of card designs available. Check out the superheroes and dragons to more traditional intricate red and blue geometric designs. Many poker players might favour a more traditional look and quality cards.

There are also numerous options for playing card collectors, and they can also make for a great gift. A quick look online, and you'd find varying colours, both obverse and reverse, as well as some brilliant artistry and design work.

For example, there are decks with medieval artistry, dragons, cyberpunk, rainbow colour schemes, and many others.
Poker Card Types
Quality Cards Are Flexible and Durable
1. Cheapo-Chuckers
Players on a budget who don't care too much about quality or durability may find a few decks at a local dollar store or convenience store. Packages of 10 or 12 with red and blue decks can be found online around $10 to $15.
These cards are typically low quality but are undoubtedly cheap. They may do the job for a night, if even that, but will probably not make it for the next game.
The problems? There are several.
The poor paper quality of these types of cards means that they bend and tear easily.
No one should play in a game with bent cards. Those damaged cheap cards will have to be replaced often.
They also "thicken" a bit after a night of shuffling, which then makes shuffling and dealing them a little more difficult as the edges become worn.
This scenario also goes for the card faces.
The thicker cards may stick together and make dealing a challenge.
As the old saying goes, "You get what you pay for," and that sure applies to cheap playing cards.
They'll do the job temporarily, but make sure to buy a few extra decks for poker night.
2. Quality Pasteboard
Some cards made using paper and pasteboard can be better than others. Companies like Bicycle and Monarch make use of high-quality printing processes and paper coated with a glossy finish.
These cards can last longer and are perfect for an enjoyable night of poker.
Quality pasteboard cards should be fairly easy to shuffle and don't bend too easily.
They are the standard that many players might expect in a regular poker game.
Along with a decent shuffle and deal, these cards are reasonably durable and much more reliable than cheaper options. They may cost a bit more but are worth it in the long run compared to similar pasteboard options one might find in a dollar store.
These types of cards are readily available online or in the local department store. They may last a few poker outings but do have a shelf life.
They can bend, tear, or thicken over too many uses. So, buy a couple for that night's game and keep a couple in reserve. Another purchase option might be a quality used set from a casino.
These can be ordered online or found in some stores. Some may also have been labelled "defective" and rejected for a design flaw.
These frequently have a casino logo and graphics on the backs. That can be a cool feature, but make sure they're still in good shape and that any defects aren't visible.
3. Plastic Deck Perfection
Those looking for a much better playing card may want to up the ante with plastic cards. These higher-quality cards may be made from polymeric plastic film and cellulose acetate polymer. They can last for years and years.
Many players prefer these because they make it exceedingly difficult to bend or tear.
Quality plastic cards make it unnecessary to keep replacing pasteboard cards.
The semisynthetic polymer is used to make thin sheets and then laminated to produce the cards.
Vinyl plastics may also be used to make these types of cards.
Several companies are manufacturing great plastic cards. Some of those include Copag, Modiano, Kem, Faded Spade, and others.
Most of their offerings are of excellent quality and available online anywhere from $16 to $30. There are even more depending on player preference.
Some lower-quality plastic cards may even run for a bit less. But those above are some of the most popular and trusted cards in the industry.
888poker offers its own branded playing cards via the 888poker Shop.
This quality plastic deck of cards features a black and charcoal-designed backing boasting the 888 logo. Manufactured from high-quality, long-lasting plastic, they would shine at any home game.
Smooth to the touch and easy to deal and slide across the table, they can be a great way to spend some Gold Tokens or a voucher.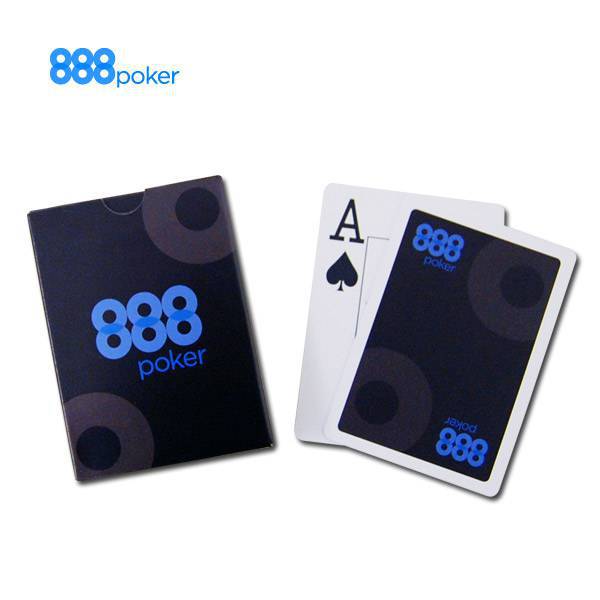 Other Card Options
The above cards are for more traditional table dealt poker games. But there are some other exciting options – either for playing for real or as a novelty. Many companies produce waterproof cards for a game by the pool or beach.
That next trip to the Bahamas or the French Riviera might include some poker in paradise. There are even card decks on the market for those occasions!
Are you looking to add personality to your cards? Bicycle even offers players the option to personalise their cards.
Players can use their logo or design to make something unique for a poker room or home game.
***
There's a perfect deck of cards for everyone whether the following is true –
Your card deck bankroll is big, and you're looking for the best.
You're on a budget and using a cheapo deck for some dime poker with college buddies.
Consider your design, quality, and durability needs, and then it's game time – shuffle up and deal.
Missed Deal
All card decks may look alike, but sometimes they're not. In 2012, poker pro Phil Ivey and an accomplice used a process called "edge sorting" to detect slight differences in card backs. The pair chalked up millions of dollars in winnings using this method in several Baccarat and Punto Banco games. The controversy led to litigation with two different casinos, one in the UK and one in the US. Their legal efforts to recoup some losses from Ivey continue even today.
Looking for a decent poker table? See 888poker's complete guide to buying a poker table here.
For our web story about poker playing cards, just click here.