Play enough poker, and there's a chance you'll see something truly bizarre.
With so many players battling it for countless hours, nerves become frayed. Inner demons can be unleashed, and substances take over those who overindulge.
The result? Some strange scenarios occur, based on personalities than poker manoeuvres or perhaps external forces at work.
Poker rooms worldwide see some intriguing events, from wars of words to fistfights to the even stranger.
Here's a look at seven truly fascinating situations that have broken out at the poker table.
1 – Throwing Shoes & Undressing at the WSOP
Sometimes going "all-in" can mean more than a player pushing in all their chips. That was undoubtedly the case at the 2019 World Series of Poker when one player began taking off his clothes and tossing his shoes at the dealer.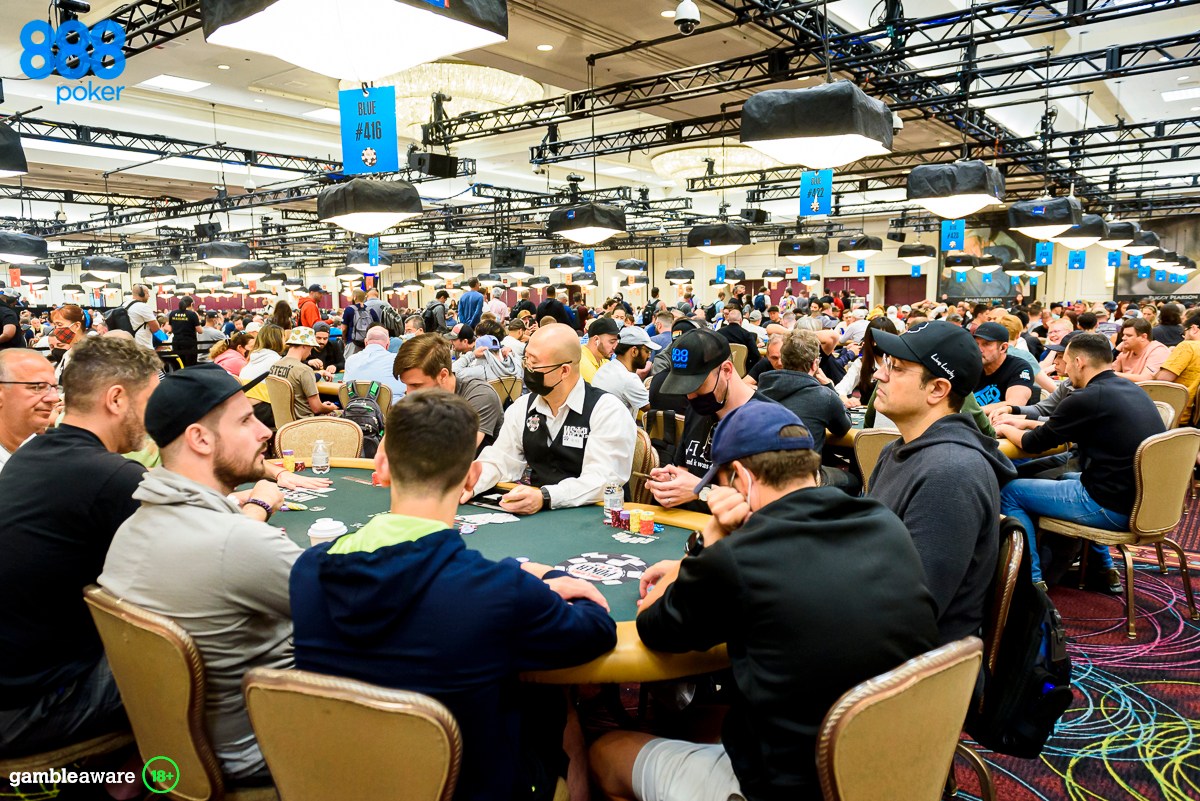 The player reportedly went all-in without looking at his cards, and things went overboard when the cards were tabled. The player first began by dropping his shorts for the entire playing field to see. The Pittsburgh Pirates fan then pulled his shorts back up to turn around and follow the action.
Next, he took off his shoes and socks, tossing a sneaker towards the table. The ever-professional dealer barely flinched, staying focused on the action. A floor person quickly intervened, and the now-barefoot man walked away as if nothing weird had occurred.
According to Card Player Magazine, the bizarre behaviour continued later in the day at the Luxor. He hopped atop a craps table and once again exposed himself, certainly a rough roll of the dice for the others.
The game was over when the naked gambler was eventually arrested.
2 – Chip Bandit Banished
Amazingly, on the same day as the first bizarre scenario, another crazy situation developed. A player named Georgii Belianin admittedly had too much to drink. What he thought would be a funny joke got him 86ed from the Main Event.
After winning a small pot, Belianin apparently raked in his neighbour's entire chip stack. The "joke" didn't go over well, and WSOP tournament director Jack Effel sent this rounder packing. Players at the table said that Belianin smelled heavily of alcohol.
Georgii Belianin (@GBelianin) addresses his Day 1c disqualification from the 2019 @WSOP Main Event. https://t.co/bmO3DqCSd4

— PokerNews (@PokerNews) July 9, 2019
He admitted as much when he took to Twitter to apologise for his behaviour:
"I really want to apologise to all players, staff, Mr. Effel, and the whole poker community for my unprofessionalism and misbehaviour in the WSOP Main Event," he noted. "I take full responsibility for my behaviour, that I really got drunk and could not control myself.
"I was up all night playing and drinking in cash games in Rio. By the time I realised what time it (was), I decided to go register into the Main Event. I don't remember much, I really did not want to cheat anybody, just a stupid drunk joke which landed me a night in jail for trespass."
What was the lesson learned? Keep your hands to yourself.
3 – Throwing Some Poker Punches
The Aria in Las Vegas has become a poker hotspot over the last decade. Players are used to battling on the poker felt. But in January 2023, two players decided to battle it out with their fists instead.
The brawl was captured on video as both players rolled on the floor, attempting to land a few punches. Security eventually intervened, and both players were undoubtedly shown the exit doors.
This fight isn't the only one that has broken out in a poker room in recent years. With the advent of cell phone cameras, many of these brawls are often captured on video.
Bobby's Room at the Bellagio hosts high-stakes action, with some of the biggest names in the game taking a seat at the table, including Doyle Brunson, Patrik Antonius, and many others.
The room has taken on quite an aura due to the nosebleed stakes and big names involved. But tempers can still flare, as a near-fight from 2011 showed.
Both players tossed out plenty of curse words and insults, but at least no punches were thrown.
4 – Bellagio Bandits
External events in a poker room may be more fascinating than the play at the table. Such was the case in November 2017 at the Bellagio when a bandit entered the property at about 3:45 p.m. They made their way to the poker room and robbed the cashier cage.
The masked man used a handgun and made off with an undisclosed amount of cash. The entire ordeal was captured on security video, and many players may not have even known the robbery had occurred.
At the time, one of those in the poker room was the award-winning actor and player James Woods.
He offered a description of what went down on Twitter.
"Bellagio staff were fantastic," he noted. "They surrendered the money quietly, so no customers would get hurt. Nobody even realised it was happening. Excellent staff, cool under pressure.
In true poker player fashion we all were focused on the hands we were playing and nobody actually realized it was happening. The gunman pointed his weapon at the cashier with his back to the room.

— James Woods (@RealJamesWoods) November 29, 2017
Two years later, in March 2018, the property saw another man attempt to rob the poker room. This crook's story didn't end quite so well. The robber attempted to steal a car and escape. But after a police shootout, He sustained a gunshot and died.
"The second robbery may have gone smoother for the criminal had there not already been a heavy police presence at Bellagio at the time," Card Player reported. "Undersheriff Kevin McMahill told ABC News that officers were already on site trying to locate a missing child when they saw the theft taking place on surveillance video."
The Bellagio has been a target for criminals through the years beyond the fictional Ocean's Eleven film. The book Storming Las Vegas detailed how a Soviet-trained Cuban commando committed robberies at casinos across Sin City, including the Bellagio.
5 – Silver Bars and Big Bucks
Russ Hamilton has quite an intriguing history in poker. The 1994 WSOP Main Event champion was allegedly a significant part of the UltimateBet cheating scandal and has mostly stayed out of the game since those events played out in the 2000s.
That '94 WSOP proved to be the high point of Hamilton's live tournament poker career. It was also the silver anniversary of the series, and organisers celebrated by paying $1 million to the winner and rewarding the winner with their weight in silver bars.
That gave Hamilton an idea. Players who knew him may have noticed he looked a little different at the final table.
With a shot at winning the tournament, he'd grown his waistline to maximise his silver bar bonanza.
"Russ knew if he were fortunate enough to win the championship, he would be wise to milk the victory for all that it was worth by packing on as many pounds as he could to his already hefty frame along the way," notes the book All In: The (Almost) Entirely True Story of the World Series of Poker. "While (his opponent John) Bonetti was acclimating to the rhythms of his new table, Russ ordered a steak dinner with extra everything."
Hamilton supposedly added four banana splits to his daily consumption to pile on the weight. After he won the tournament, Hamilton weighed in at 330 pounds, adding an extra $28,512 in silver for his victory."
6 – Crashing Out and a Night in Jail
Most players envision a fantastic experience playing in the WSOP Main Event. The dream of a deep run to the final table is top of mind for many, complete with a TV appearance.
In 2013, the tournament was memorable for poker pro Joe Serock but in distinctly different ways. He advanced to Day 2, but when action resumed, he was nowhere to be found in the Rio tournament area. His chair remained empty as his chip stack continued to blind off.
"The WSOP wasn't going that well; I made the final two tables of the first event but didn't final table," he said at the time.
"Then I came in about 55th in a $1,500 event but then came in eighth in the other $5,000 event. I had a pretty disappointing finish going into the final table that day, but I made money during the series, so I guess I can't complain. The Main Event started off okay. I had a decent table but ended the day just a little above starting stack."
That night Serock was riding his moped down Flamingo Road towards the Strip when a car suddenly pulled out in front of him. Serock reacted on instinct.
"I didn't feel like hitting the brakes, so I went into the next lane over, which was a construction zone," he said. "A few seconds later, I was heading right for a good-size missing chunk in the road."
Serock flew off the moped and hit the pavement. Blood covered his clothes, elbows, and knees. His toes were bloody and skinned up because he'd been wearing sandals and had bruises on his thighs. But luckily, nothing was broken.
An ambulance and police arrived, and Serock underwent a field sobriety test. He passed, but some unpaid tickets landed him a night in jail.
"So, I'm just sitting there, going insane because this happened almost literally the worst possible time, before Day 2 of the Main Event," he says. "The WSOP was at the top of my mind, along with my girlfriend worrying about me. I was just thinking about how all these stupid little things added up to missing the biggest tournament of the year after I already put down $10,000, and also this easily avoidable situation that now was making my girlfriend worried sick."
After getting bonded out, Serock made it back to play later in the evening, but his stack was down to about 11,000 chips. He then promptly lost more on the first hand.
Serock eventually hit the rail with some lessons learned. He's gone on to several big finishes and now has $4.3 million in live tournament winnings.
Joe Serock wins European Open Special Edition in Las Vegas for $113K https://t.co/QwJVZKOaVP @floesknows pic.twitter.com/443Mr5A1Wi

— PokerNews (@PokerNews) October 3, 2017
"I'm thankful for having such an awesome girlfriend and friends," he said. "That whole situation was total hell, and without those people making my life great, who knows how I would have handled it?"
7 – Settling for Second
Most players would love getting heads-up with a chance at winning some crazy money and a title. That wasn't the case, in January 2023, during a $400 buy-in tournament at the Potomac Winter Poker Open in Michigan.
When play reached heads-up, Jacob Mitich held a 6-to-1 chip advantage over his opponent William Pinkerton. Poker players know there's always hope in a heads-up situation, and the pots can swing back and forth.
It appears Pinkerton wasn't interested in any of that. He promptly conceded the tournament before heads-up play even began. The New Jersey-based player didn't ask for an ICM-based (independent chip model) deal, simply pocketing $13,582 for runner-up.
Wtf did I just read, the guy got to heads up and just gave up didnt even get a deal aaaa what???? #seeyaguystheretomorrow @PokerNews @MGMNH_Poker pic.twitter.com/cl0iqOBsk9

— Aubrey Williams (@TheAwwbrey) February 2, 2023
Mitich grabbed the title and $22,298 for first, but the surrender took him by surprise.
"Yeah, I definitely haven't had that happen before," he told Poker News. "It was extremely odd. As soon as the guy busted in third, the guy who I was heads-up with looked at my chips and said I'll just take second. I said, 'What do you mean you'll just take second?' and his response was, 'You have way too many chips; there is no way I can come back.'"
Mitich believed his opponent was a recreational poker player and playing for fun. Still, with almost a $9,000 difference between first and second, most players would have kept playing or, at least, reached a deal.
The turn of events was a bit of a decrescendo and perplexed the tournament staff.
"The dealer said, 'Alright, we're done here,'" Mitich said. "And the floor guy was a little confused, but he was just like, 'Alright, that's it, I guess.'"