The 2016 Super High Roller Bowl at ARIA in Las Vegas saw 49 players put up the $300,000 buy-in their shot at a $5 million first-place prize and one of the most prestigious titles in all of poker. Given all the action was filmed for worldwide broadcast on NBC Sports, we at 888poker thought it'd be fun to not only identify the biggest hands, but to also offer analysis on them straight from the pros.
In this hand, which occurred in the second episode of the 2016 SHRB, David Peters got his opponent, Brian Rast, to pay him off with king high. How did he do it? Peters explains in his own words below.
The Setup
Early in the tournament with the blinds at 4,000/8,000/1,000, action was six-handed when Rast, who was sitting with 373,000, raised to 18,000 from the button holding the K♥5♦. Peters, who had a stack of 317,000, defended from the big blind with the 8♥4♠.
"I was getting a good price versus a very wide button range with some connectedness, so I decided to defend," said Peters.
Stealing blinds is common in tournament poker, and one of the best times to do it is on the button when action folds around. That's because the button is last to act, and as we all know position is power in poker. However, given everyone is aware that people like to steal from the button, they don't tend to give them a lot of credit. They could be trying to steal with any two cards, which is a wide-open button range.
When the flop came down 3♠3♥8♣, Peters checked top pair and Rast, who had won the inaugural Super High Roller Bowl the year before, checked behind.
"On the flop, I'm pretty much always going to check that board," said Peters. "If he bet, I would have just called."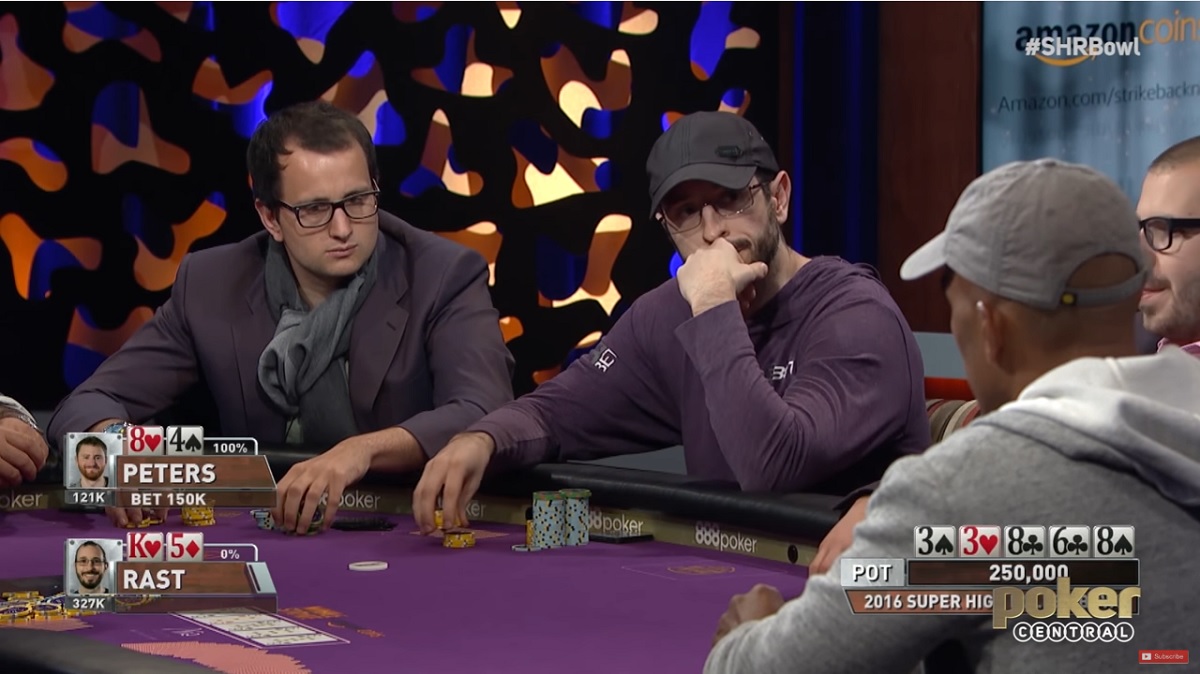 The Turn & River
After the dealer burned and turned the 6♣, Peters led out for 27,000 with his top pair and Rast called. When the 8♠ completed the board on the river, Peters fired out a big bet 150,000 into the pot of 100,000. That left him 121,000 behind.
"On the river, I look to see all the possible bluffs I could have in my range and with so many combos of 5-4, 7-5, 9-7, T-9, flush draws, and possibly some other turn bluffs as well, there are a lot of bluffs I can have," explained Peters. "So, I decided to go with big sizing to try and get max value. Plus, that sizing gives me more fold equity when I do have one of those bluffs, so it keeps me balanced."
As you can see, Peters wasn't thinking about the hand he had, but rather the hands his opponent might think he has. Instead of betting small hoping his opponent would pay off a full house, Peters put himself in Rast's shoes. He realised that if Rast held either an ace or king, he could very well put him on a busted draw and pay him off.
Armed with that belief, it was a matter of trying to find the right amount.
Rast thought long and hard before calling with his king high on a double-paired board.
"His river call is definitely reasonable," said Peters. "King high isn't much worse than any pair in this spot as he has to think I'm unlikely to play any ace high like this or anything worse than a big pair for value," Peters said of Rast's call. "Since I just defended pre, he can assume I probably either have a boat or a missed straight or flush draw with no showdown value, making king-high good. I'm sure he didn't like having a five in his hand, as that blocks a good amount of my bluffs, but still a tough spot with so many potential missed draws."
Unfortunately, this hand had little effect in the long run as neither player managed to cash in the tournament. However, Peters' play is indicative of how the top pros play. If there's anyone you might want to learn from, it's Peters, who won $7,271,415 in 2016 and finished as the Global Poker Index's 2016 Player of the Year.
Be sure to check back regularly as we continue to bring you more hands from the 2016 SHRB "Straight from the Pros."