The 2016 Super High Roller Bowl at ARIA in Las Vegas saw 49 players put up the $300,000 buy-in their shot at a $5 million first-place prize and one of the most prestigious titles in all of poker. Given all the action was filmed for worldwide broadcast on NBC Sports, we at 888poker thought it'd be fun to not only identify the biggest hands, but to also offer analysis on them straight from the pros.
In this hand, which took place in the third episode of the 2016 SHRB, 14-time World Series of Poker bracelet winner Phil Hellmuth broke down a hand he played against the red-hot Fedor Holz.
The Setup
On Day 2 of the tournament, the blinds were 6,000/12,000/2,000 and players were six handed. Hellmuth was sitting with 673,000 and raised to 40,000 from the hijack holding the 9♥9♦. The raise was on the large side at 3.33x the big blind, which the commentators immediately pointed out.
While 3-4x the big blind opening raises were common a decade ago, the game has since evolved with most players opening somewhere between 1-1.5x the big blind. The reason being is that most believe, at least when it comes to tournament play, it accomplishes the same thing without putting as many chips at risk.
"I oftentimes open for a lot more than what everyone else considers standard (they fluctuate between 2.1x to 2.5x)," says Hellmuth. "Obviously 'standard poker theory' is against a 3.4x raise. Obviously, I see advantages that others may see and disagree with, or may not see."
The interesting part about Hellmuth's large raise is that he balances his range. For example, while a lot of players would only raise so big with premium poker hands, which is a limited range of starting cards, Hellmuth is capable of doing it with any two cards. In hands where he has to showdown his cards, his opponents see both good and bad starting hands. So, in the future, when his opponents try to put him on a hand, it's hard to do considering he has balanced what he plays.
Back to the hand, Holz decided to defend the big blind with the A♣7♥ and it was heads-up action to the 10♦2♦2♣ flop.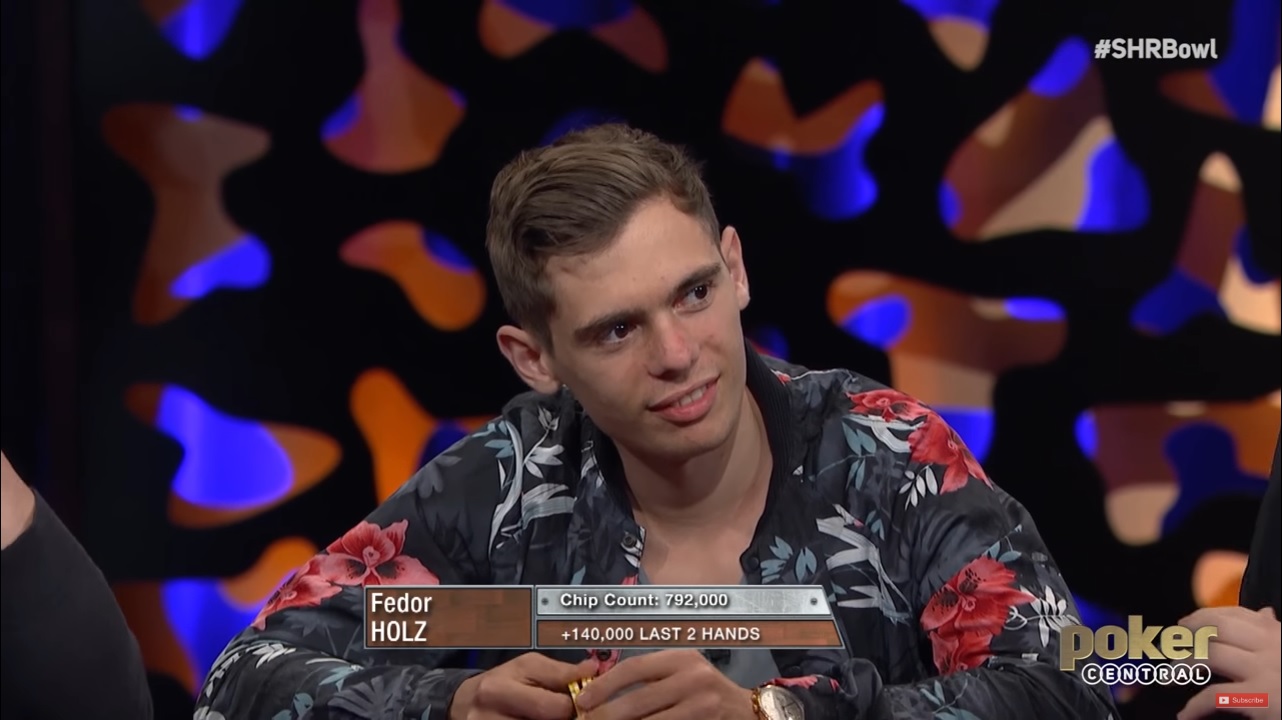 The Flop and Turn
Holz was first to act and checked. Surprisingly, Hellmuth quickly checked behind.
This was a curious spot for Hellmuth to check back given the board texture. His pair of nines was very likely good, and chances were Holz was drawing to one if not two overs. Why give your opponent a free card to pair up?
A lot of players would continue on this flop, and even Hellmuth admits his check was a bit tight. "I was protecting with a super conservative check," he explains. In other words, Hellmuth was playing pot control with the intent of either betting the river or calling a bet from Holz if a scare card peeled off.
When the 10♣ appeared on the river, Holz checked for a second time, and Hellmuth bet 38,000. Holz thought about it for a bit and ultimately laid down his ace high. Given there was two pair on the board, Holz laying down his ace kicker was a bit of a surprise.
"It was a good lay down," Hellmuth admits. "If I opened for 2.5x and the check on the flop, then he calls with ace high. My strong preflop bet sent a signal that I was strong. I liked that he said, out loud, that I had nines or eights. Good read kid!"
It may have been a small pot, but two things made it interesting. The first was Hellmuth's preflop raise size, and the other was that it was between a living legend and the hottest young gun in the game.
"What he has done over the last year is impressive, and he deserves props," Hellmuth says of Holz, though he isn't quick to give too much. "Two of the young poker superstars that play with him regularly are not sure that he is great. And I noticed that he had the worst hand A LOT in the WSOP $111,111 One Drop for big pots and that is not sustainable. We have seen some players crush for a year or two -- I could name a dozen of them -- and then fade away. Fedor has a chance to be special, and to be around for 50 more years. We will see."
Even if he doesn't, the $16,484,153 he amassed in 2016 will go down as one of the biggest years in poker history.
Be sure to check back regularly as we continue to bring you more hands from the 2016 SHRB "Straight from the Pros."