Poker players may be a mathematical and logical group of people, but many also look for an edge when it comes to bringing a little luck to their side of the table.
Chip protectors or card guards have become a way to express some individuality at the poker tables as well as an attempt to bring some luck from the poker gods.
Whether a favourite sci-fi character or a coin representing a much-beloved soccer team, card protectors add some personality to a person's game.
Table of Contents
Purpose of a Card Protector
Obviously, the nature of luck may not be logical and can also be in the eye of the beholder. But a player's chip protector may have some significant personal meaning. That piece of metal or plastic sitting atop a player's cards may also just be a bit of a fun unrelated to the game – perhaps a cartoon character or lucky symbol.
A little rub of that card protector may bring a bit of magic two those cards, or so the thinking goes. Whether that happens or not, the idea of lucky card protectors only adds to the unique personality and culture within the game of poker.
A quick walk through any poker room or major tournament and numerous lucky objects and symbols will be on the felt.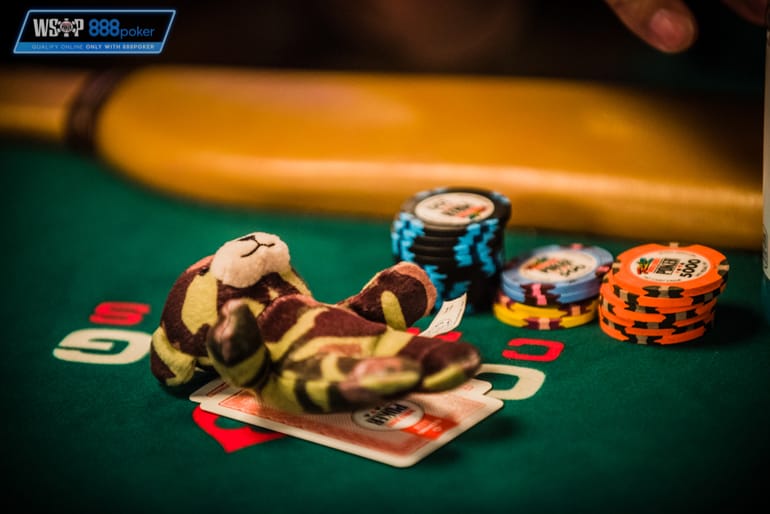 In a more practical purpose, card protectors follow an essential rule at the tables. It's up to each player to protect his or her own hand. Adding something atop your hole cards makes it difficult for the dealer to believe the hand has been folded and slide them into the muck.
Beyond that, card protectors offer something to fidget with other than the poker chips themselves. Fidgeting with that lucky piece can help pass some hours at the tables.
While some players simply add a chip to the top of their cards, others prefer something a bit different. That lucky silver dollar or Lego figurine might rub off some of its magic powers and keep that deep tournament run going. As the old saying goes, sometimes it's better to be lucky than good.
Design and Appearance
Most chip and card protectors are pretty simple. They have a real job to do, protecting your cards from getting folded, but a little style or story adds to the whole presentation. An interesting card protector can even be a talking point with other players on occasion.
Everyone has their own.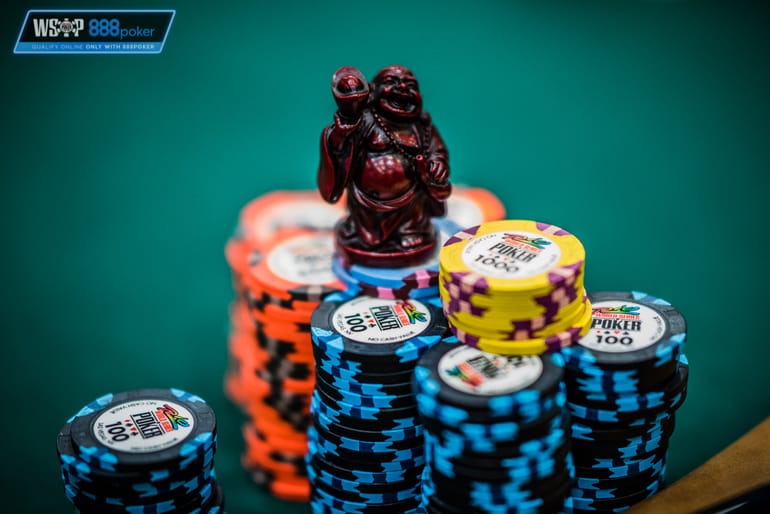 Coins and Medallions
When it comes to card guards and chip protectors, coins of some kind are some of the most popular. In the U.S., shiny vintage silver dollars seem popular. A medallion sporting a popular sports team is another option many players favour.
A quick look online a player can find almost any kind of chip protector imaginable –
Horseshoes
Four-leaf clovers, poker sayings ("A chip, a chair, and a prayer.")
Skulls
Flags of various countries
Famous poker players/gunslingers from the Old West, animals
Just about any graphic or design one might imagine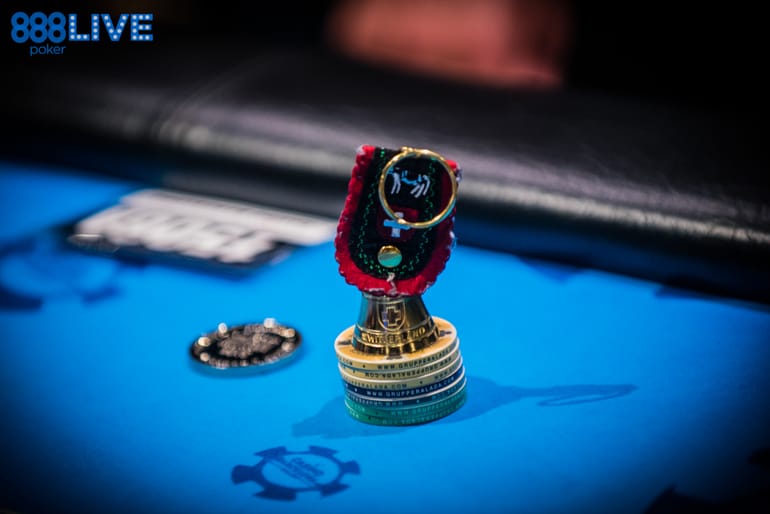 Another popular option is a vintage poker chip from a famous casino. An old chip from the Binion's Horseshoe held in a plastic protective covering might be a popular item.
Old Vegas is always en vogue and shows off some of poker's fascinating history.
Card Creatures
Many poker players may be animal lovers, and that often applies to their chip protectors as well. Tiny dogs, squirrels, dinosaurs, turtles, roosters, and numerous other mammals, reptiles, and birds can stand ready atop a player's cards.
Like their poker-playing owners, these beasts stare down opponents and stand ready in case one of those comes for those chips.
One of the most famous card-guarding creatures has been seen frequently near long-time poker player Humberto Brenes's chip stack. The Costa Rican poker pro has two World Series of Poker bracelets and may be quite the card shark – and that includes his card protector.
Many poker fans may recall seeing his tiny grey carnivore gobbling up opponents' chips in back-to-back deep runs in the WSOP Main Event in 2006 and 2007. ESPN cameras have captured many of his shark-attack tactics.
The Shark has swallowed up plenty of winnings through the years, and Brenes now has $6.2 million in live tournament winnings. His card-protecting companion is still a mainstay each summer at the WSOP in Las Vegas – ready to bite.
Something a Little Different
Some players move beyond these traditional card protectors and look for even more unique items. Star Wars items seem to be popular with science fiction fans, and miniature Millennium Falcons and other ships from the film franchise have been seen in poker rooms ready to defend from the dark side.
Luke Skywalker, Princess Leia, Han Solo, and even Darth Vader have been known to leave Coruscant and the Death Star behind on occasion for a trip to the poker room.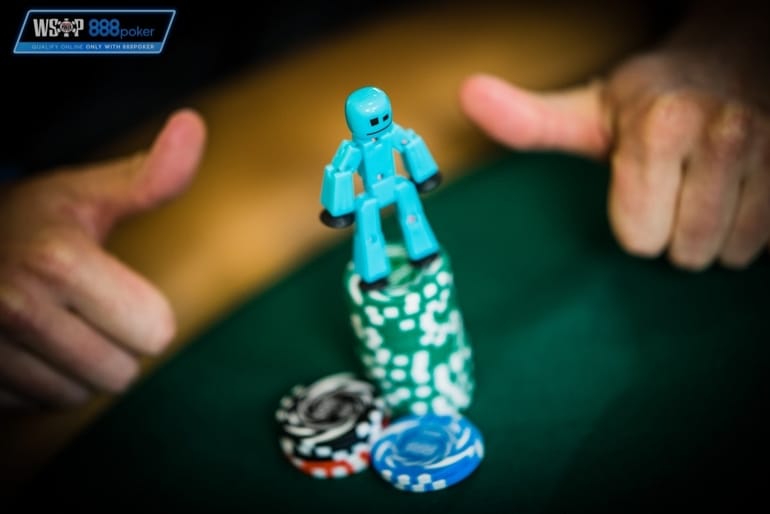 Lego characters and structures have also been popular at the tables. Hopefully, these players' skills at building with those tiny plastic blocks carry over to building chip stacks as well. Lego Stars Wars characters? Perhaps they bring both building skills and the ability to use the Force on opponents.
Card protectors can be used to pass some time at the tables, so some players go full fidget. Those time-killing fidget spinners that were all the rage in 2017 can also double as card protectors.
Spin-and-win is the name of the game. apparently.
Card Protectors and Lucky Charms of Other Famous Players
Card protectors aren't merely for recreational players. While they may have considerable skills at the tables, some of the biggest names in poker have also brought some lucky charms to the felt.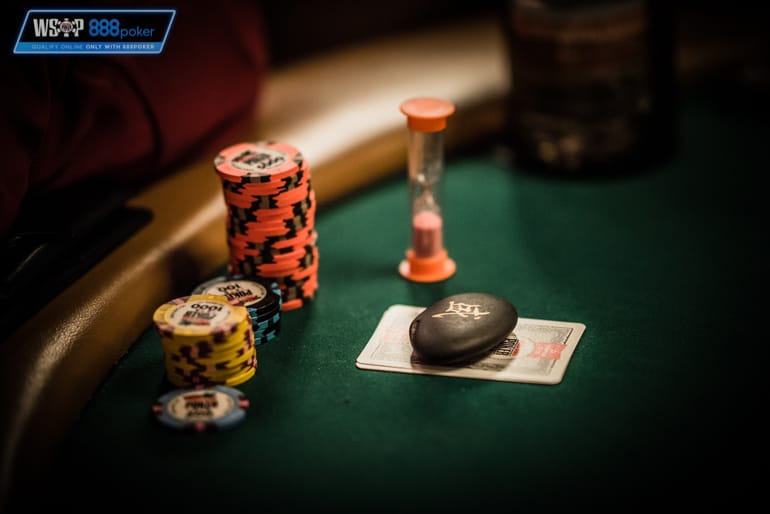 One of the most recognised may be 2004 WSOP Main Event champion, Greg Raymer. He even earned the nickname "Fossilman" for his lucky fossils he brought to the table each day.
A collector of these ancient pieces of antiquity, his love of fossils and using them at the tables continues, and he now has more than $8 million in live tournament winnings. Along with his fossils, Raymer also brought another interesting talking point to the tables.
Who could forget those reptilian sunglasses he donned at the tables throughout the Main Event? The fossils and glasses helped add up to a score of $5 million and etched his place in poker history.
A lucky charm for the Gold Father or Poker? Card-playing legend Doyle Brunson has been known to use his "Casper" card protector through the years as well.
The lucky charm is black anda functioning lighter featuring part of his nickname "Dolly" and the Ghostbusters logo.
Two-time WSOP Main Event champion Johnny Chan also has a well-known card protector/lucky charm. His is of the citrus variety – an orange. The 10-time WSOP bracelet winner is a legend of the game and was even featured in the film Rounders.
Chan has been bringing a full-size orange to the tables for decades, but his choice of fruit card protector has more to do with fragrance than luck.
He began adding the fruit to his time at the tables when poker rooms in the '80s and '90s were known for plenty of cigarette smoke.
When overwhelmed by some polluted air, he could take a quick whiff of that orange for some citrus-smelling relief.
Card Protectors – Not a Good Idea?
Not everyone subscribes to the belief that a card protector is necessary or even a good idea. Long-time poker pro and coach Jonathan Little believes they just aren't needed and can hurt a player's game.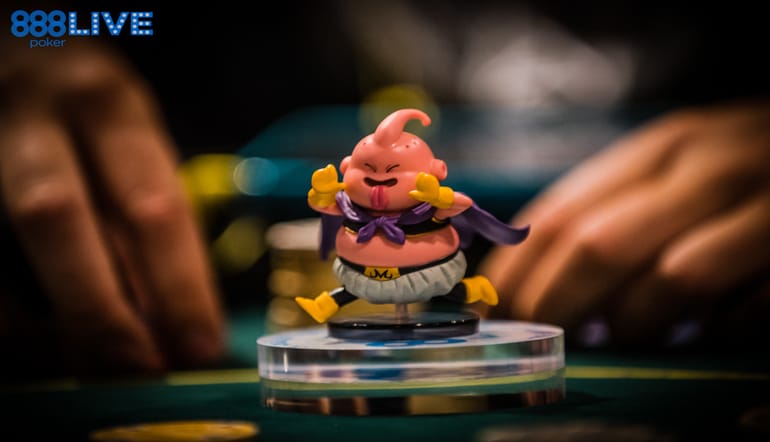 He believes they only had some extra possibilities for reads from opponents.
"The reason I am adamantly against using card protectors is because they introduce one more physical element that can give off information about the strength of your hand," he notes in a blog post on his website.
"I have spotted countless tells due to people using their card protectors in different manners based on their hand's strength."
That's certainly something to keep in mind, but it's a good bet those sharks, shiny coins, and who knows what else will keep showing up at the tables.
Those players will continue hoping those charms and objects bring a bit of good fortune – and maybe chomp into an opponent's chip stack.