"Let me tell you, it was the worst bluff of the year, but it worked out for one reason: I bluffed myself out.
The reason I lost is because I underestimated my opponent.
I didn't care at the end, I was so tired. I couldn't focus."
That was Sammy Farha speaking about a legendary hand at the 2003 WSOP Main Event. The old-school pro, all $5,000 Italian suit, designer shades, and unlit cigarette, had started his heads-up against the goateed online qualifier from Tennessee, Chris Moneymaker, with a game plan: play small-ball, don't get into too many big pots, wear the guy down.
It didn't work.
"I knew Sammy's game plan going into heads-up. I knew that if he thinks he's that much better than me, he's going to want to keep the pots smaller and use his experience to try to whittle me down," said Moneymaker.
I knew what he wanted to do to me and I just was not going to let that happen."
The Arrival Of The Young Champions
At 27, Moneymaker was one of the youngest ever Main Event champions, and his win inspired a new generation of players to take up the game.
But it did something else: it marked the rise of even younger players taking up poker, a generation of fearless, hard-training, internet-savvy upstarts who were not afraid of winning - or losing.
The old school "couldn't focus"; they were "tired".
And the WSOP is benefitting. Entrants are growing but are getting younger too. With more online satellites and packages than ever, the aggressive youngsters with buy-ins and travel money to burn are filling out the conference halls at the Rio each and every year.
What factors have led to this change? By analysing statistics from over 40 years of WSOP Main Events, together with historical events and interviews with leading players, we try to discover the make-up of tomorrow's champs. We will conclude that the next generation of poker champions will:
Be slightly older than the young phenoms of the past few years – around a magic age of 25-30
Have more experience, with proven cashes BOTH online and offline
Be fitter and better prepared
Be well-trained
The Rise of Poker
Since the first WSOP back in 1970, when a small group of hardened road gamblers battled it out in a steamy Downtown Vegas cardroom, the numbers of WSOP entrants has steadily gone up.
The buy-in back then was $10,000, and that has not changed. As Texas Hold'em has grown in popularity, so have the Main Event numbers.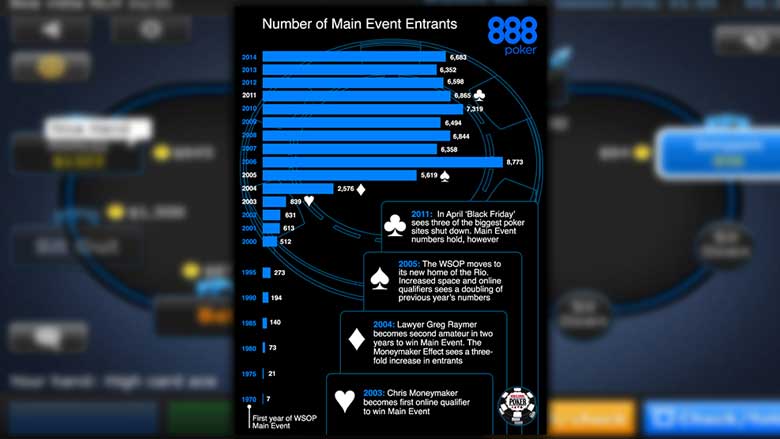 Looking at our first graph, we can see a steady rise in numbers. There have been significant leaps, most notably in the early 1980s – when the first satellite qualifiers were introduced – and again after Moneymaker won.
The 'Moneymaker Effect' led to a surge in numbers the next year of over 300%. Another amateur triumphed in 2004, a lawyer called Greg Raymer, and another boom year followed, with 5,619 players decamping to the Rio as Aussie Joe Hachem took his country's first title.
Americans young and old took to the internet to play poker and, despite the arrival of the Unlawful Internet Gambling Enforcement Act (UIGEA) in 2006, a record 8,773 runners fought the Main Event that year.
As several major online poker sites left the US and took their satellites with them, numbers dropped to 6,358 in 2007, but these numbers held, even during the dark days of Black Friday when the biggest sites who had defied UIGEA and remained in the US, were shut down.
Despite many Americans being denied the chance to bag a seat on the cheap via an online qualifier, there are more opportunities to qualify at live cardrooms and casinos across the US.
The Kids Begin to Dominate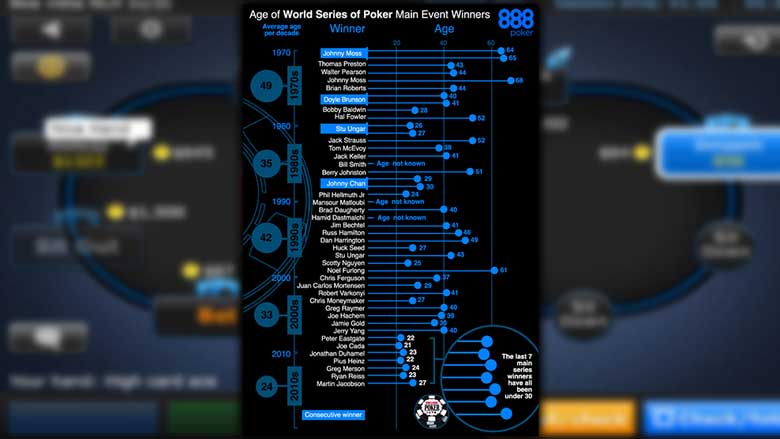 Something continued to happen as numbers grew - the age of champions lowered.
As you can see in our second graphic, amateurs like Raymer, Jerry Yang and Jamie Gold were in their late 30s when they won, a significant drop from the 40 and 50-year olds of the 1970s and '80s.
In 2008, the arrival of the young pro was confirmed with Peter Eastgate's win. A shy pro from Denmark, Eastgate smashed the record for a Main Event champion when he won the title at the age of 22. He qualified for his seat at a major online poker site.
A year later, Joe Cada broke the record again by over 300 days.
But these are no mere blips: as Graphic 2 shows, the average age of champions across the decades is getting lower too.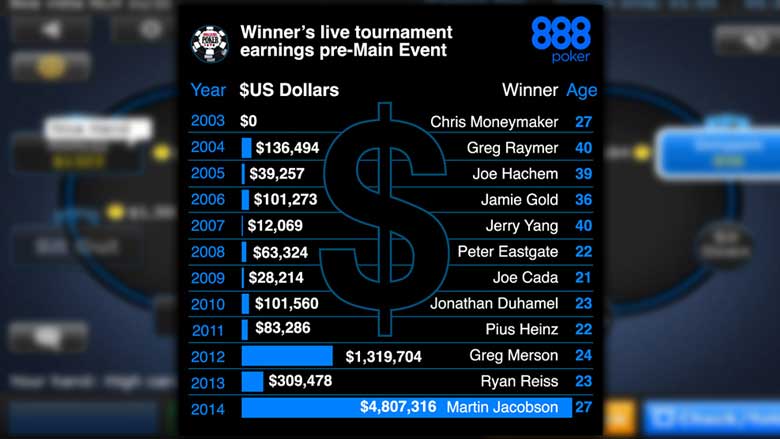 Indeed, at the final tables themselves, average ages are getting lower. Looking at Infographic 3, 2004's final table featured a 40-year-old winner in the shape of Raymer, but also the 58-year-old Dan Harrington (winner in 1995) and a young David Williams, who was 24 when he finished second.
In 2006, however, when Jamie Gold took down the record $12 million prize, the final table had an average age of just over 27.
In 2009, when Cada won, it was a relatively young table with an average age of just over 31, while last year's table possibly set the trend for November Nines to come as Martin Jacobson et all formed a table with an average age just hovering below 28 years old.
And it isn't just the average age of the table overall; the runners-up are turning out to be equally as young as the winners.
Why Are the 20-Somethings Dominating?
So, why is there a rise in young players killing the Main Event?
It can be put down a range of factors, so let's take a look at why the champions of today and tomorrow are so much younger than 20 years ago:
Preparation and Stamina

"I remember we had 17-hour days and I was sleeping during my 90-minute dinner break," recalls Dennis Phillips, who was 54 when he finished third at the 2008 WSOP Main Event.

"The year I did it [in 2008], the days didn't finish until midnight and in some cases the early hours of the next morning."

According to Dennis, it's all about the right preparation.

"You need to eat ahead of time, adjust your body clock, and take breaks whenever you can. I would see players - both young and old - eat silly meals and lose chips and betting wrong after 10pm at night.

"The Main Event is a long and tiresome ordeal, physically and mentally. It's more difficult for older players now."

Buy-Ins and Chip Stacks

The $10,000 buy-in has remained constant in the WSOP's 45 year-history. That has made the $10,000 much more affordable to today's pros.

There are more staking opportunities today than ever before as well, meaning the buy-in for talented youngsters is not out of reach.

And while sponsorship (which often carried free WSOP buy-ins) is not as prevalent as it once was, the young pros who enjoyed sponsorship before 2011 are reaping the benefits of that experience now as they get a bit older.

But on a tournament level, WSOP chip stacks also play a part.

Mohsin Charania is a talented young American pro with over $4.5 million in career cashes. He's won over $500,000 playing online but has won EPT and WPT titles, and has major WSOP cashes to his name.

"The WSOP organisers altered the starting stacks from 20,000 to 30,000 a few years ago," he says.

"That extra play has helped young kids who have online experience play more hands. Those extra 10,000 chips have proved invaluable for the deep-stack event."

Online = More Hands

These days, champions have honed their skills playing poker online. Take Annette Obrestad, who won the WSOPE at the age of 19 in 2007. Her online alias, "Annette_15", gives us a clue to how old she was when she started playing.

In fact, Obrestad was polishing her skills playing for fun online before hitting the big tournaments. She brought with her to London that year experience that seasoned pros had taken a generation to acquire.

There are, of course, nuances to the live game that online pros need to adjust to, but you cannot negate the thousands of hours of experience gained online to a pro's overall skill set.

The Arrogance of Youth

While gamblers will gamble, young pros have more gamble in them. They understand the need to be aggressive, fearless and bold. Younger pros often go straight from college to being a full-time poker pro so do not have the fear of a 9-to-5 job in the backs of their minds.

And with so many games around, what does dropping $10k mean when there's plenty more available by logging on to your favourite poker site and taking down a few cash pots?

Many younger pros have yet to start families too, and can devote more time to playing and studying the game without the distractions of a partner and kids.

Training and Social Media

The pros of today not only get the volume in, but they also spend hours sharing hands with fellow pros and watching videos, as well as getting professional coaching.

Sponsorships might not be so common, but staking and coaching deals are. They not only prepare players for the financial and poker skills needed at a Main Event, but also handling the mental questions that every player faces.

Experience Will Out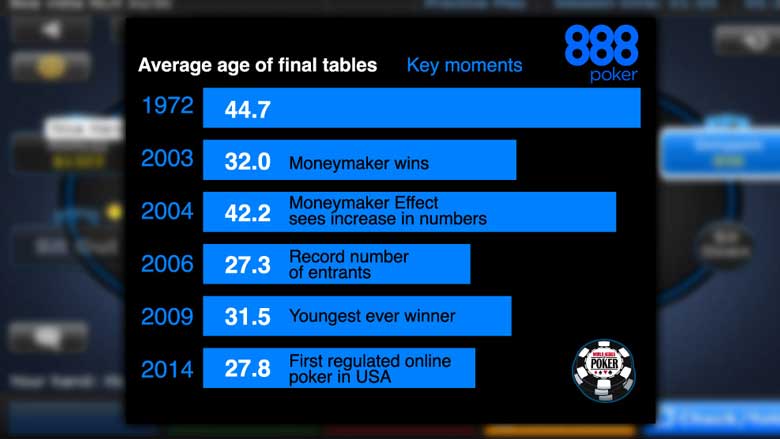 For a while it looked like the Main Event winner would be 21 forever, all bravado and a lifetime of experience learned playing on the Internet. However, it seems that - in the last couple of years, at least - you need to be a little more experienced on the live circuit in order to do well at the WSOP.
Take a look at our fourth infographic. As you can see, in 2003, when amateur qualifier Moneymaker won, he had the grand total of $0 in live earnings prior to his WSOP Main Event triumph.
Raymer, meanwhile, had just over $136,000 and Gold $101,273 when he won a year later. As the age of the eventual winners came down, so did the amount won pre-final table. (Eastgate had won $63,324 prior to his 2008 win, while Cada had just $28,214.)
It is understandable, perhaps: at 21 you simply do not have time to get too much live experience. But something is happening. Players are coming to the WSOP Main Event final table slightly older now – and more experienced – with more previous cashes and titles to their name.
2012's champion, Greg Merson – before hitting the final table – had already won a WSOP bracelet that year (in the $10,000 Six-Handed No Limit Hold'em) for $1.1 million. That was in addition to four previous career WSOP cashes, plus results on the World Poker Tour and European Poker Tour. On the side, Merson had secured over $350,000 in online tournament earnings.
Meanwhile, Martin Jacobson, last year's $10 million winner, had already recorded multiple EPT and WSOP runner-up spots before capturing that elusive big title. His career haul prior to the 2014 title amounted to just over $4.8 million.
There are just so many more tours around the world for players of all skill levels to get practice and earn money, and many players who had previously earned their money online are making the move to live games where they see more value.
In fact, a brief look at bracelets across the entire WSOP won by under-30s has drastically changed.
In 2006, when Gold destroyed the record Main Event field, not one player under 30 recorded a bracelet win. The following year, it was just two. Last year, however, there were over 10 bracelets won by the under-30 brigade.
Conversely, in 2006, WSOP seniors (with an average age of 59) secured a raft of titles. In 2014, just three players aged 50 or over, including veteran Ted Forrest, won gold bracelets.
Predicting the WSOP Champions of the Future
The trend in young WSOP winners (last year's champion Jacobson was a relative 'old boy' when he won at the age of 27) seems set to continue.
Young players train harder, gamble harder, and last-longer. Many visit the gym and lead relatively healthy eating regimes; all grist for the treadmill of two solid Main Event weeks.
They are also more experienced. They spend hours on video sharing platforms like Twitch, may have coaching, and share hands with fellow pros and discuss them on forums.
But it is not all about online experience. The champions of tomorrow need to prove themselves in, and be engaged with, the live arena.
The online "phenoms" like Tom "durrrr" Dwan, Annette Obrestad and Viktor "Isildur1" Blom have struggled to replicate their online form in live settings. They get bored with the long days needed to record a prize that can be won in mere hours on the Internet. Or, their hyper-aggressive online skills do not work in a multi-day event the WSOP that carries so many twists and turns.
"Joe Cada is probably twice the player now than when he won [in 2009]," adds Phillips. "[But] he's really improved his game. He'd actually have a better chance now of winning than back then.
"There are limited places around the world where you can play live poker at 18. You can't come straight from the internet to sit down at live poker. There's an adjustment period for the live game where there are so many other nuances to think about."
Only 29-year-old Chris Moorman, who has secured over $8 million in online tournament earnings, has made a tentative transition to the live tourneys, both in terms of stamina and style. The Brit pro now has over $4 million in live tournament earnings since 2008, his first major flag coming in 2014 when he won the WPT LA Poker Classic.
In 2003, when Farha misread his opponent and fell at the final hurdle, he later claimed: "I was so tired, I wasn't myself. I'm a cash game player and tournaments are really exhausting. I made an error of judgment."
Could Lower Buy-Ins Trigger A New Poker Boom?
Turnouts for Main Events may never reach the 8,773 from 2006, but new low buy-in events like 2015's Colossus (which attracted a record 22,374 players) may show the way for WSOP events to come. While the experienced, young pros take down the ever-present Main Event, amateurs can get their 15 minutes of Moneymaker fame destroying the Colossus.
In five years' time, the WSOP Main Event final table probably won't be contested by an exhausted old-school cash player like Farha OR an amateur like Moneymaker, or for that matter a just-legal pro like Cada or Eastgate.
All eyes will be on the Rio come November to see what type of player will be carrying the torch for the next generation of poker world champions.