LAG stands for "Loose-Aggressive". These players have a tendency to play a wide range of hands preflop (significantly wider than a TAG – tight aggressive). LAGs will follow up this preflop wild aggression with even more postflop aggression.
To properly assess a LAG player, we can use the following statistics to analyse their tendencies.
VPIP – Voluntarily Put in Pot – This stat tells us which percentage of all hands a player decides to play preflop. The majority of LAGs have a VPIP ranging between 25% and 35%. A player who plays 25% VPIP is essentially a rather loose TAG, while a player who plays 35% is verging on being a "maniac" (one step above LAG).
PFR – Preflop Raiser – This statistic records what percentage of all hands are played aggressively preflop. The value of PFR will always be lower than (or at most, equal to) the value of VPIP. This is because it's impossible to play a hand aggressively without voluntarily putting money into the pot.
Seeing as LAGs prefer to have the betting lead, there will rarely be a difference of more than 5% between a LAG's VPIP and PFR. If the difference is greater than this we are often dealing with a "loose-passive" as opposed to a "loose-aggressive".
Therefore, a player with a PFR of 20% is considered to be a loose TAG, while a player with a PFR of over 30% is verging on being considered a "maniac" as opposed to a LAG.
Table of Contents
The Fundamental Weakness of LAGs
The LAG style is frequently stronger than the TAG style. However, it's not the style of choice for most beginning players because it requires a larger degree of skill than TAG style poker.
We know that aggression makes a lot of money in poker, and this is exactly why LAGs do so well. However, it's possible for us to use a LAG's aggression against them.
In most cases, LAGs do very well against TAGs. If you've seen the article on exploiting TAGs, you will recall that the way we beat a TAG is to start playing very aggressively in situations where it appears they are uninterested in the pot. If we are a TAG player and we find a LAG using this type of strategy against us, what must we do in order to defend?
The trick here is to resort to a tighter more passive style and set many traps for our loose-aggressive opponent. Rather than immediately betting for value when we are strong, as is typically the case with tight-aggressive strategy, we want to do our absolute best to appear weak and induce bluffs from our opponent.
Another adjustment we can make is to slightly tighten up our hand-selection preflop. It's useful to understand that, with 100bb stacks, this is not strictly necessary, but it can make the game a lot easier without any real drawbacks.
Understanding the Type of LAG
Before we go any further, it's important for us to understand that there are different types of LAGs. There is the type of LAGs that gives respect to aggression and will be capable of laying down hands (good LAGs). And, then there are the types of LAGs who are overly aggressive but are at the same calling-stations, incapable of folding to aggression.
Type 1 – Good LAGs will fold vs aggression
Type 2 – Bad LAGs, verging on maniacs, won't find the fold button
Against the second type, we have no option but to tighten up and repeatedly set traps for our aggressive opponent to fall into. However, raising for value often ends up being a good option also since we don't need to worry about our opponent folding too much.
Against the first type of opponent, we don't always need to tighten up that much. We can fight fire with fire by playing back aggressively and generating folds. That said, against this type of opponent we must continue to play passively with our value-hands after we set a trap. Raising can potentially mean that we miss value because they will correctly identify that we are strong, and make the fold.
Let's put our counter-strategy together and take a look at some examples.
Counter-Strategy 1 – Setting a Trap
Below is an example of how we can exploit a LAG by setting a trap. This particular LAG will fire 3 streets aggressively as a bluff after we check the flop. They sense weakness and correctly pounce. It's going to be a big mistake for them, in this example, because we will pre-empt their approach.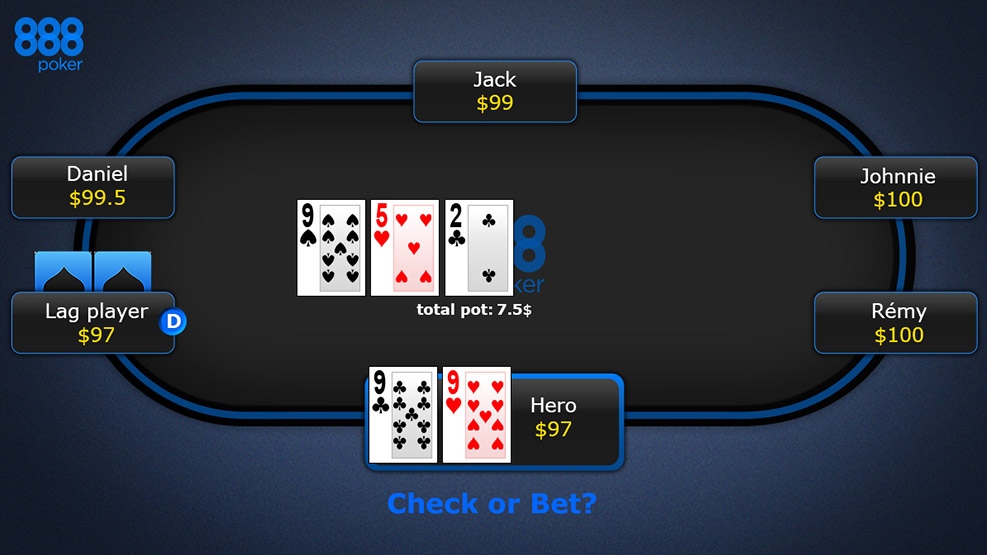 6 handed, NLHE
UTG (100bb)
MP (100bb)
CO (100bb) Hero
BTN (100bb) LAG
SB (100bb)
BB (100bb)
Hero is dealt 9h9c
UTG folds, MP folds, Hero opens to 3bb, BTN cold-calls 3bb, SB folds, BB folds.
Flop (7.5bb)
9s5h2c
Hero Checks
Against an average recreational player, this would be a pretty bad decision. We can easily extract 3 streets of value with our top set. It is the stone cold nuts on the flop and will usually still be pretty strong by the river.
However, the problem with firing this hand against a LAG (especially if we have a tight image), is that they will get out of the way. If we signal we are weak by checking, they are going to pounce on us, trying to force us to fold. If you've read the article on Exploiting TAGs, you will know that this is the correct strategy to use against a tight opponent. We can counter this by not being so obvious regarding the type of hand we hold. If we are genuinely strong, we need to employ deception and make it look like we are weak.
The best strategy in this particular hand would be to check/call flop, check/call turn, and check/raise river (or call, provided we are not already facing an all-in bet).
Counter-Strategy 2 – Adjusting Preflop Ranges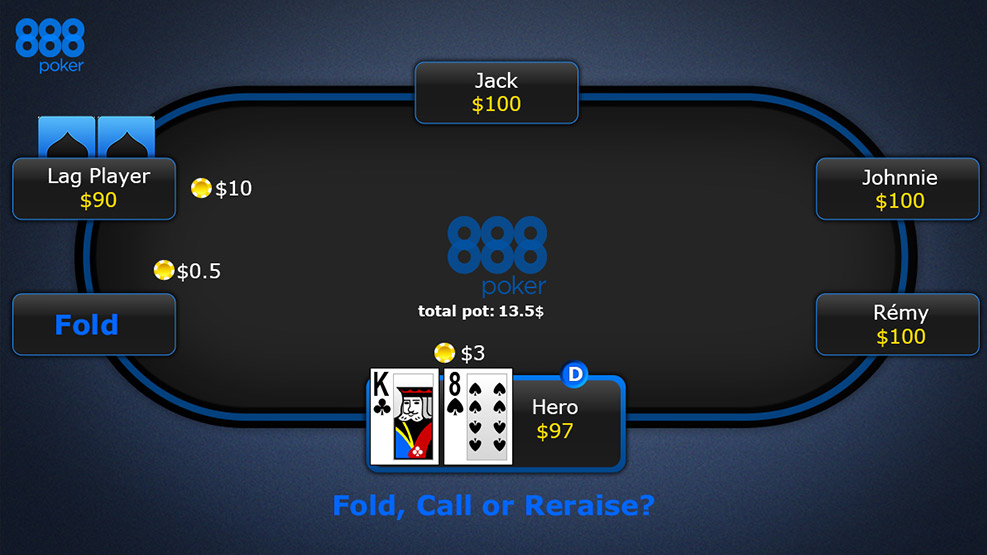 6 handed, NLHE
UTG (100bb)
MP (100bb)
CO (100bb)
BTN (100bb) Hero
SB (100bb)
BB (100bb) LAG
Hero is dealt Kc8s
UTG folds, MP folds, CO Folds Hero opens to 3bb, SB folds, BB 3bets to 10bb.
We have been opening on the BTN and getting 3bet all day by an aggressive player in the BB.
What should we do?
The first step is to understand that it is acceptable to slightly tighten up our opening range. Something like K8o should be one of the weaker hands that we are routinely opening on the button. It's okay to simply fold this.
Our opening range will become stronger and 3betting will be a lot less profitable for our opponent in the BB as we wake up with a premium hand much more often. Keep in mind, that it is not theoretically necessary to tighten up our opening range when facing a 100bb LAG, but it can make the game so much easier, without damaging our winrate.
Something else we can try is to experiment by seeing if our opponent is capable of folding that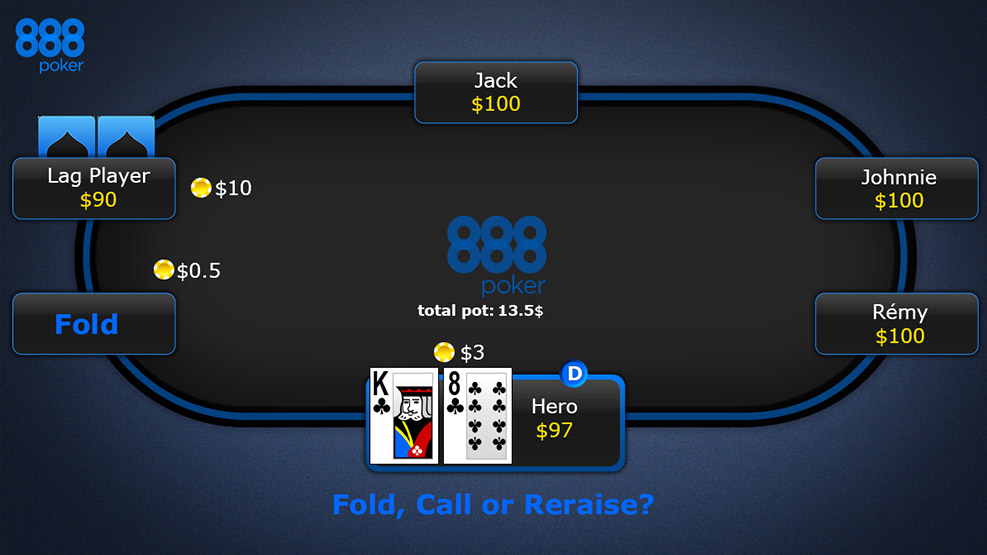 6 handed, NLHE
UTG (100bb)
MP (100bb)
CO (100bb)
BTN (100bb) Hero
SB (100bb)
BB (100bb) LAG
Hero is dealt Ks8s
UTG folds, MP folds, CO Folds Hero opens to 3bb, SB folds, BB 3bets to 10bb, Hero 4bets to 23bb, BB folds.
Notice in this scenario we have a slightly better holding, our K8 is now suited. This is typically a good hand to 4bet bluff because:
It still has some playability when called.
The King serves as a blocker
A blocker is a card that is favourable for us because it "blocks" certain hands our opponent might hold. For example, in this scenario, we are typically worried that our opponent might 5bet us with a hand like KK or AK. This is made less likely by the fact that we already hold one of the Kings.
Not all LAGs will fold to 4bets. However, many will fold more frequently since their 3bet range is so wide.
Counter-Strategy 3 – Playing back against good LAGs
The key to defeating a good LAG is understanding and pre-empting the spots they are likely to play aggressively, and then utilising their own aggression against them.
For example: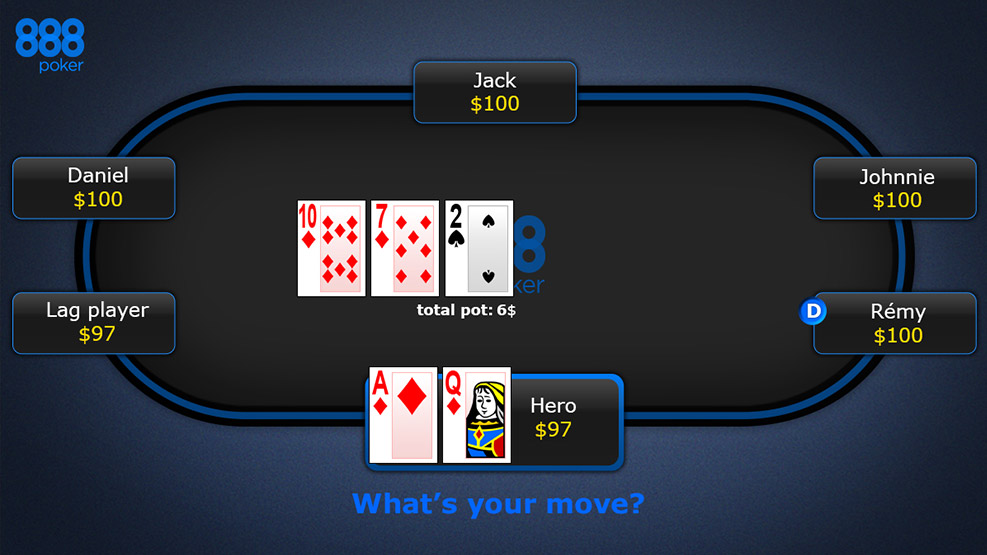 6 handed, NLHE
UTG (100bb)
MP (100bb)
CO (100bb)
BTN (100bb)
SB (100bb) Hero
BB (100bb) LAG
Hero is dealt AdQd
UTG folds, MP folds, CO Folds, BTN folds, Hero opens to 3bb, BB calls 3bb.
Flop (6bb)
Td 7d 2s
Hero checks, BB bets 4bb, Hero check/raises to 12bb.
Note that we could have simply fired a cbet in this hand and it would have been very profitable. This is the standard option in most cases, simply to semi-bluff. But, against a LAG, it might be even more profitable to check/raise.
If we cbet, they will continue mostly with hands that have connected in some way with the board, even if only marginally. However, if we check there is a chance they will perceive this as weakness and bet the flop with 100% frequency. In other words, by checking, we allow them to put more money into the pot with a much wider and weaker range of hands before attacking.
We could extend this principle even further:
6 handed, NLHE
UTG (100bb)
MP (100bb)
CO (100bb)
BTN (100bb)
SB (100bb) Hero
BB (100bb) LAG
Hero is dealt AdQd
UTG folds, MP folds, CO Folds, BTN folds, Hero opens to 3bb, BB calls 3bb.
Flop (6bb)
Td 7d 2s
Hero checks, BB bets 4bb, Hero check/calls 4bb.
Turn (14bb)
Jc
Hero checks, Villain bets 10bb, Hero raises to 27bb
Most LAGs just won't see this coming. As soon as we checked the flop, they assumed that we had a very weak range and would not be capable of check/raising them. This caused the LAG to over-extend, putting money into the pot with a range that is so wide, it can't be defended.
On the turn, there is a decent chance that we get a fold, but even if we don't, we are in reasonable shape to spike a draw on the river. Assuming we get called, we have also set up roughly a pot-sized bet for the river, which we can either use to bluff with or value-bet with, depending on the river card.
Putting it Together
The way we defeat a LAG is by tightening up our ranges and by setting traps. In most cases we know that aggression makes money, but when facing a LAG playing passively can easily make the most money.
We also need to consider which type of LAG we are playing against. Some LAGs are bluffable, some aren't. Versus the non-bluffable LAGs, we are essentially resorting to playing a very tight strategy for value. We let them win a bunch of the smaller pots and then win big when we have a decent value-hand.