Multi-table Tournaments or MTTs, as they are more commonly known, are rocking the pok-er world. From single tournaments to poker series to poker festivals, there is an event to suit every level and style of poker player.
So, just what makes MTTs so popular amongst poker players – both beginners and pros?
Firstly, let's look at the top players in this field, examine why the play MTTs and what poker tips you can pick up to up your tournament game.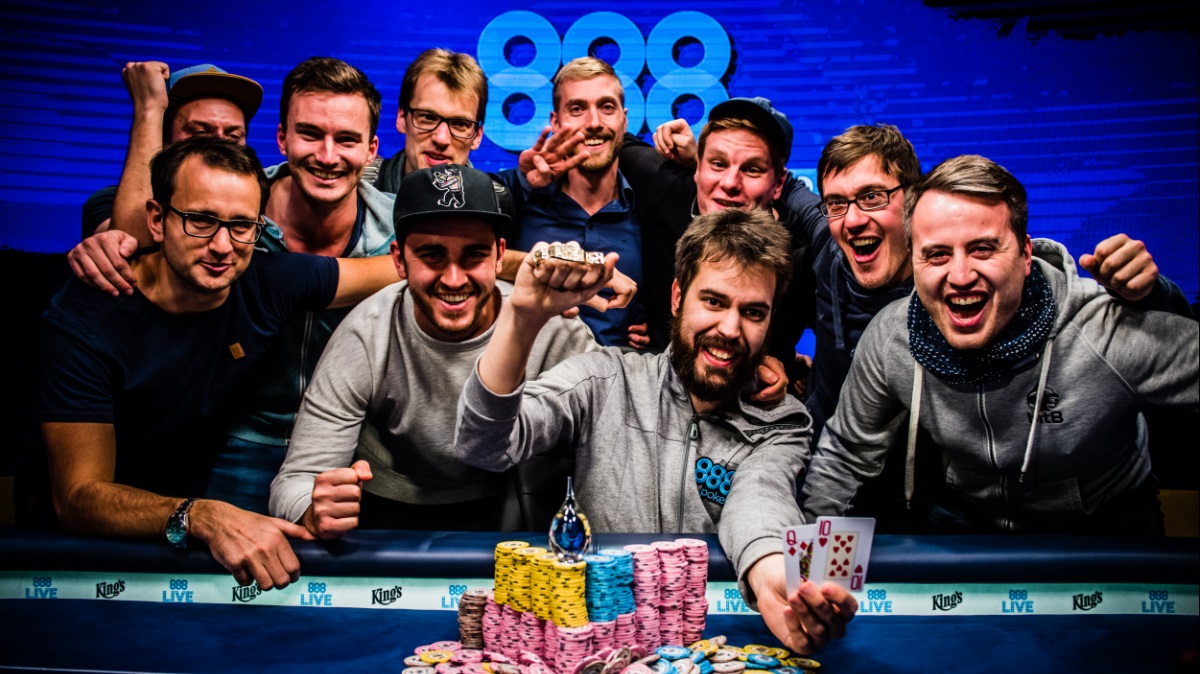 Table of Contents
Let's Hear it for the MTT Champs
2012 - Dominik Nitsche tops a field of 4,620 players in the 1K No-Limit Hold'em event, to win his first WSOP bracelet and $654,797 crisp dollar bills. Two years later at the age of 23, he will break Phil Ivey's record as the youngest player to win 3 bracelets. His fourth bracelet was probably the sweetest one of all - winning the €111,111 High Roller for One Drop for €3.5 million at the 2017 WSOPE in Rozvadov.
2014 - Martin Jacobson, already a well-respected poker player at the time, joins the highly prestig-ious club of WSOP Main Event winners after beating 6,628 players -10 million dollars in 10 days! Just another day in the office for the number one ranked on Sweden's all-time money list
2017 - The all-time leader in career online poker tournament earnings as well as holding a record-breaking 26 triple crowns, finally gets his first WSOP bracelet in the $3K 6-max event. 959 players entered and, at the end it; the British Pro was the last man standing – taking home $498,682.
Putting Live Tournaments Back on the Map
Last year was marked as the year of the raise in live poker. After 6 years of decreasing numbers of players who played the WSOP Main Event, 7,221 players choose to cough up $10,000 to participate in the most prestigious poker tournament in the world.
It was the 3rd largest field of all time, after 2006 (8773) and 2010 (7319). In 2016, the number of live high roller events (25K and above) increased by 69% compared to 2015. Also, PokerGO, the leading poker network, started to produce and broadcast all the greatest live events, including the WSOP Main Event, the Super High Roller Bowl, the German High Roller and more.
That being said, one of the most significant changes in the poker industry came last year with the establishment and rebranding of new poker festivals by the leading online poker operators. Those festivals, which are usually aimed at recreational players with affordable buy-ins, will normally last between 5 to 10 days and take place in tourist cities like London, Barcelona, or in famous, large casi-nos like Rozvadov and Campions de Italian.
"I always try to choose my poker trips based on destination and the size of the field," says Martin Ja-cobson "The WSOP is a no-brainer because it attracts the largest field and I enjoy my time in Vegas. Barcelona would be another great example where the city is just unbelievable in every sense and, therefore, the tournaments sees growing numbers year after year."
"A festival which has multiple tournaments with a range of buy-ins is always a good choice," says Moorman. "You don't want to go to just one event where, if you bust, you have spent the money to travel and don't have multiple shots to make some money."
Just like 888poker Live events, those festivals, usually characterised by low to medium buy-in tour-naments and soft fields, will most probably include an Opening Event of 200-330 average buy-in, a Main Event with an average buy-in of 550-1650, and a High Roller event of 1,100 to 2,200.
In between, you can find other events like 6-max, NLHE Freezeouts, Turbos, Hyper-Turbos, Omaha and more. When investigating the Main Events at those festivals, we can see that all of them have more or less the same blind levels and structure –
25-30K starting stack
40-60 minutes levels
2-3 starting flights
1 re-entry per flight
more than 500 entries
- creating an average prize pool of 300 to 1M with about 20% for first place.
15 Top MTT Strategy Tips from the Pros
Dominik Nitsche, and Martin Jacobson are some of the best players in the world when it comes to multi-table tournaments. They are the kind of players you can only hope won't be seated on your left when playing live poker.
Although there's a bigger chance you'll have to face one, two or all three at an 888poker LIVE event; they agreed to reveal some of their best MTT poker tips and strategies:
Play a lot more hands during the first levels. Suited connectors go up a lot more in val-ue versus off suit broadway cards that could get you in trouble trying to win a big pot. There is a lot more value in hands like straights and flushes where people could overvalue a hand like QJ-off, which made top pair. If you hit a jack-high flop and start getting raised, you could be in a tough spot and get yourself in trouble. This is in comparison to a 20bb stack where the reverse is applicable. (Moorman)
Be on time. As always, the weaker players will be giving away a lot of chips, and they're easiest to get when the blinds are lowest. A lot of edges in tournaments come from getting the weak players' chips. Don't miss out on your chance to be first! (Nitsche)
See a flop with a pocket pair. There is so much value in hitting a set, whereas deeper in a tournament small pocket pairs are usually pretty standard folds unless you are in late posi-tion or the blinds. (Moorman)
Adjust to your opponents correctly! I think a lot of players either over-adjust or don't adjust at all. Balance is key. Just because your unknown opponent is taking a line that screams strength doesn't mean you should fold the 2nd nuts to him (or her). Save the hero folds for later when you either have a really good read or played thousands of hands with that opponent. There is a good chance your opponent might just be over-valuing their hand.
Pay attention to peoples' cards even when you aren't in the hand. One thing I try to do is watch someone during a hand and try to work out if they are weak or strong. When I get to see their cards at showdown, I note whether I was right or wrong and continue watch-ing them, to determine how they act when they are both weak and strong. People will give a lot of information away; you just have to pay attention. For this reason, I try to avoid wear-ing headphones at the table. (Moorman)
Control the shove charts. Shoving charts can be a good ground for knowing when to move all-in, but it's important to adjust it depending on the calling frequencies of the oppo-nent. In tournament poker, it is an underrated skill to know all of this information close to perfectly because you will often find yourself playing for multiple hours short stacked. To be making zero mistakes at shorter stack depth is a big edge to less experienced players, who often make huge errors that could be easily fixed. (Jacobson)
Look at your stack in comparison to everyone else's when going into a final table and spot where the big stacks are seated at the table. This will affect your strategy greatly. One mistake I often see people make is trying to play too many hands with a medium stack when they have the big stacks on their left. In this situation, you should just be open folding a lot of marginal hands that can't play back against the 3-bet because you should expect the big stacks to be 3-betting a lot of your opens because of the ICM pressure they can put on you. (Moorman)
Defend the big blind slightly tighter in late stages vs big stacks than you would in the mid stages of a tournament because the big stacks can put a lot more pressure on you post flop, making it harder for you to realise your equity. (Moorman)
Be incredibly careful not to put yourself in a situation to bust before the short stack on final tables because this is basically throwing money away. Marginal hands will be-come much trickier to play. By just folding them you will almost certainly be able to ladder up an extra spot at least.
Don't make a deal until you get 3-handed unless you are playing above your bankroll. (Moorman)
If someone starts talking while you're thinking, they usually want you to call. (Jacobson)
Learn live reads. There are a few everyone should know. The main one being the general "strong means weak and weak means strong". You get to the river in a spot where you sus-pect the villain has a lot of medium-strength hands, but you are unsure if they will fold. The action is on them, and you have position. You bet the turn, and they decide to call. Now, on the river, the 3rd diamond or an overcard hits, and now they start to think. IF they now reach for chips (or even just quickly glance at their chips) and then decide to check, they are always weak. Plain and simple. It's one of the oldest tells in the book - and one that's sure to earn you a lot of money from weak players. (Nitsche)
Play the opposite of how your opponents are playing. For example, if the table is play-ing tight then you can open up and play more aggressively, and vice versa. (Jacobson)
Gain information by talking to people and hearing their background. For example, players will often voluntarily tell you this is their first tournament, which is useful to know. (Moorman)
Keep in mind that most reads you pick up are polarised; meaning they can either be very strong or very weak. Don't make the mistake of calling someone just because their hand was shaking (this tell is usually a sign of strength) unless you are absolutely sure your read is cor-rect. Two to three showdowns would be nice. (Nitsche)
Run good all and see you at 888poker Live London 8/2 – 11/2/2018!